Glitter & Glam Opens a Spa Just for Kids in Paramus, New Jersey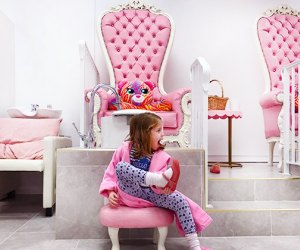 Got a little prince or princess in need of some pampering? Glitter & Glam, a kids' salon that opened in the Paramus Park mall late last year, serves up a posh but affordable splurge for New Jersey families.
The new kids' spa offers manicures and pedicures, hair styling, makeup (or face painting), facials for tweens, and of course, birthday party packages. The interior is all glammed up in princess pink, with touches of tulle and glitter everywhere.

Kids get pedicures in princess-worthy seats.
I visited one weekday afternoon with my 4-year-old. It was fairly quiet, though there was a birthday party going on in the back room that sounded like a lot of fun. We were able to get my daughter in for a manicure-pedicure combo right away, and she was thrilled to be seated near two "big girls"—sisters, 8 and 11, who were there with their mom. Kids are given pink robes to wear, sized just right. Blue ones are available, too.

My daughter's manicure was a glittery hit.
Our manicurist, a young mom to a toddler, was sweet, gentle, and engaging, plus great at her craft. She suggested a glitter top polish, and the result was a manicure that lasted longer than my daughter's past forays into manis!
The front room is made up of high-backed, pink thrones used for the pedicures; comfortable, overstuffed seating for waiting parents; and vanities used for hair styling, plus a small retail section. There's a back room for birthday parties, and even a runaway for modeling new looks.

Warning: the retail section has lots of cute stuff for sale.
There are all sorts of fun accessories for sale, of course. My little fashion plate had picked out a set of butterfly wings, an emoji key chain, multiple hair accessories, and two tutus in a matter of seconds. We negotiated it down to a blue, zebra-print tutu on sale for less than $15. Consider yourself warned.
The spa welcomes all ages, but the sweet spot is something like 5-8, with plenty of those younger and older enjoying their glam time, too. You can choose from among packages like a mani-pedi (starts at $24.95) or a deluxe, walk-in makeover "Glam Package," which includes a braid or up-do, glitter makeup, princess sash, and a runway walk (starts at $79.95). There are many options for add-ons and even a "Pirate Package," including a Captain goody bag and sword and eye patch, for those who are not into princesses.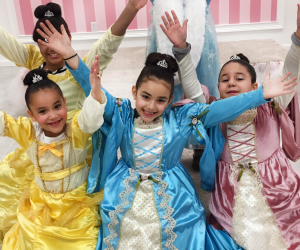 Birthday parties include princess dress-up, pampering, and more. Photo courtesy of Glitter & Glam.
Birthday party packages begin at $499.95 and include princess dress-up, a runway show for all the partygoers, and more. Saturdays were booked for a solid two months when we visited, so get your request in earlier if you're looking for a weekend shindig.
The only thing lacking is the ability to get a mani-pedi with your mini me, but owner Yelitza Liranzo says mommy-and-me options, including tea parties, are coming this spring. Liranzo, mom to two young girls and stepmom to a third, says a trip to Disney with her kids inspired the new business. After years as a retail manager, she made the leap with the opening of Glitter & Glam in December 2016.
Glitter & Glam is located at 700 Paramus Park, in the Sears wing of the mall. It happens to be adjacent to the FREE Tot Lot play area, so if you have little ones in tow, they can hang there while big sis or bro get glammed up. Reservations are suggested but not required. Open Monday–Saturday (the mall is closed on Sundays).
Unless otherwise noted, photos by the author.