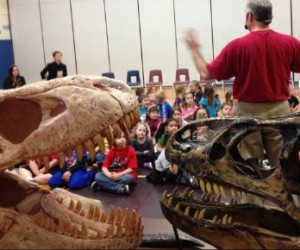 Best Dinosaur-Themed Birthday Parties in New Jersey
Though you can't invite a real T. rex to your child's birthday party, you can certainly find places in New Jersey to host a dino-mite party with a prehistoric vibe. Here's a roundup of venues offering parties that are literally out of this world—or at least out of this time period! Some will even bring the party to you! Oh, and don't forget to check out our NJ Kids' Birthday Party Ideas Guide, which is chock-full of birthday inspiration.
Dinosaurs Rock — Various locations
Specializing in dynamic, hands-on parties for kids ages 3 to 13, Dinosaurs Rock brings its museum of real fossils to your home or another venue. Each party includes at least 25 fossils (such as an authentic T. rex skull), touchable specimens (think dinosaur eggs and footprints), a fossil dig, and games (a dino egg hunt, dino races, and a dino ring toss). Price vary depending on how many (genuine!) specimens kids take home. You can also rent a seven-foot Deinonychus skeleton for unforgettable photo ops.
Field Station: Dinosaurs — Leonia
This 20-acre venue is home to more than thirty life-size, realistic dinosaurs! The history of dinosaurs is presented in a campground-like presentation with surprises throughout. Expeditions take every family on a shared adventure as they check out the dinosaurs and participate in other fun activities, including the paleontologist's campsite, games, a fossil dig site, and the new 3-D movie Sea Rex: Journey to a Prehistoric World. Birthday parties take place in a yurt and include admission to the field station, a designated party planner, cupcakes, optional lunch, and VIP seating at the main show, called "the Feeding Frenzy." Every birthday child gets a photo op with the Mighty T. rex, a hat, and a special gift. Though the venue is closed from November to April, they can also bring the party to your home or another venue.
Imagine That! — Florham Park
Dinosaur theme parties at this interactive children's museum include one hour in a private party room, a dinosaur puppet show, paper goods, a plush toy dinosaur favor, food, and unlimited time to explore the 16,000-square-foot museum, home to more than 50 kid-centric exhibits. The birthday child also receives a free pass for a return visit.
The Morris Museum — Morristown
At the museum's Expedition Dinosaur theme party, kids visit the Dino Den gallery, where they can hold an authentic T. rex tooth, a stegosaurus tail spike, and a megaraptor claw, plus learn about dinosaurs that once roamed New Jersey, and/or create a dinosaur fossil cast or mold. The "deluxe" party level offers one of the two activities; the "premier" level gets you both. All parties include exclusive use of a party room for two hours, setup and cleanup, a party specialist, a self-guided activity for the guests, and one hour of time in the museum galleries.
Rutgers Geology Museum — New Brunswick
At the museum's two-hour "Fossils and Dinosaurs" party, kids ages five and up can choose either a guided tour of the museum and a scavenger hunt or a scavenger hunt and two dino-themed crafts, including stegosaurus hats, fossil necklaces, dioramas, movable dinosaurs, and fossil-footprint tracks. For crafty dino enthusiasts ages 6 and up, the museum offers a "Paint-Along" party package, a 1.5-hour lesson in painting on canvas—and kids can try their hands at a dinosaur and volcanoes landscape, among other themes. Parties are available on Saturdays only.

Snakes-N-Scales — Wanaque
These reptile experts bring the party to your home or another venue with their traveling show of some of the world's oldest reptiles, including a live crocodile turtle, alligator snapping turtle, American alligator, and boa constrictor. Your child and friends will learn about dinosaurs by comparing the parts they left behind as fossils to present-day animals. Kids can even touch some of the fossils, dinosaur replicas (such as a T. rex tooth and claw), and live animals—and maybe even dinosaur coprolite, a fossilized piece of poop—with staff permission.
Image: courtesy of Dinosaurs Rock
This article was first published in 2014, but has since been updated.