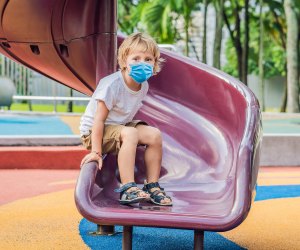 Playgrounds Re-Opening: Which Los Angeles Parks Are Opening Their Playgrounds and When?
LA County Health officials have at long last announced that parks and playgrounds around Los Angeles can reopen, after a closure of more than six months for the relentless COVID-19 pandemic. It's not surprising that all over the Southland parents are scrambling for shoes and asking each other "Where? When??" The problem is that, as encouraging as the October 5 announcement sounds, practical answers to "Which playground??" are not so easy to come by. But go ahead and find that other shoe, because some playgrounds have already begun reopening.
California's Rules on Re-opening Playgrounds
Of course, any reopening involves three layers of approval these days: state, county, and city. The California Department of Health approved outdoor and community playgrounds for reopening last week—subject to county health authority approval, and following California rules for reopening outdoor playgrounds. These rules include common sense requirements like wearing face masks, washing hands, keeping a distance of 6 feet from people in other households, and limiting visits to 30 minutes (no hogging the swings!). Eating and drinking in playgrounds are not allowed, as that would require removing face coverings.
Once these rules were made public on September 28, the ball was in the county's court.
Los Angeles County's Rules on Re-opening Playgrounds
LA County took the serve on October 1, announcing that playgrounds in the county are, indeed, allowed to open (along with "card rooms" apparently, making the whole thing feel rather like a scene from a 1950s musical). The county passed the ball fairly quickly, however; its rules, such as they are, say to wear a mask, physically distance, and then it's up to the city.
Worthy of note is that the same announcement that allowed for playground reopenings also opened up the option for schools in LA County to apply for waivers for the first time, allowing elementary schools wishing to bring children in grades K-2 back to campus in a limited fashion the mechanism to do so. This is big news for distance learning families; the application process is pretty involved but can allow for young kids to have an in-person school experience in groups of 12 or fewer, at schools that qualify.
City of Los Angeles Rules on Re-opening Playgrounds
Once the county passed the ball to the city, this brought us to a beleaguered guy at LA Parks, who attempted to answer our questions but had no more information than the city park service has on its website. The long and short of it is that there are far too many parks with too many playgrounds and too many individual situations in LA for anyone to be able to sum up a plan. Some parks are using their playgrounds exclusively for safer learning camps that support families struggling with distance learning. Others have erected temporary homeless shelters to cope with the crisis. In short, only some parks will be able to safely open their outdoor play equipment according to the state's guidelines, and each individual park has been given autonomy to make this decision on site.
The lone rule available to date, either to the public or to city park staff, is the following:
As of October 5, all playgrounds and outdoor fitness equipment can be reopened for public use with mandatory social distancing and limited use up to 30 minutes. Playgrounds will begin to re-open individually as reconditioning cleaning, signage and safety inspections are completed.
So, Is My Local Playground Open?
All of this is a long way around to say, if you want to know the plan for your local park's playground, you will need to call that park--particularly in the city of Los Angeles.
Some cities within LA County other than Los Angeles have begun to share information about their parks' playground reopenings. Here are some cities with playgrounds that are already open or opening this week:
El Segundo (8 local playgrounds open October 2)
Malibu (all local playgrounds open October 5)
Culver City (all local playgrounds open October 5)
Glendale (all local playgrounds open October 7)
Santa Monica (12 playgrounds open October 9)
Little by litte many more local playgrounds should begin to reopen, in accordance with the guidelines above. Staying in touch with local park staff is the way to be the first to know. And respecting the rules, of course, is the best way to make sure that once playgrounds open, they can stay open!
To find out when other business types might reopen, the state has a very useful tool for checking info on any business type in any county.
Meanwhile, if you're looking for things to do this fall, check out all of these Halloween activities for LA families!