KidStock
Pretend City Children's Museum

Artificial Intelligence with Scratch Online Camp
Young Gates - Kids Online Personalized Classes

Online Robotics Camp
Young Gates - Kids Online Personalized Classes
Sign up for our free newsletters.
Stars on Ice: Then and Now Tour with Dorothy Hamill (Review)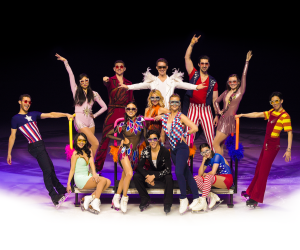 3/4/13
- By
Roberta B
Stars on Ice has returned from its pandemic hiatus for a glorious 2022 tour, following up the exciting winter Olympic season with a skate-and-run visit by the entire US Olympic team. Stars on Ice is the ultimate skating show, and an Olympic year is probably the most exciting time to see it, with all of our young star athletes fresh from international success. If you've only seen an ice show hosted by a giant mouse and a Disney princess, it's high time you checked out the inspiring athletic power house that is Stars on Ice—a grand scale stadium show that features fabulous costumes, uplifting music, and seemingly impossible physical feats on blades. What's not to love?
Headlining this year's show is the remarkable young man who brought home the gold medal in 2022 by performing non-stop quad jumps, Nathan Chen. Freed up from the restrictions of competition rules, Chen switches to non-stop backflips on ice, thrilling the crowds. He is joined by teammates Karen Chen, Vincent Zhou, Maria Bell, Jason Brown, and young teen sensation Alyssa Liu. Also fresh from Olympic successes are pairs Knierem & Frazier, Chock & Bates, and Hubbell & Donohue. Rounding out the cast is a medalist from the 2018 Olympic team, Mirai Nagasu.
Stars on Ice always treats audiences to the most talented and accomplished crew of skaters to be found in a single rink, but Olympic years in particular bring extra pop, with athletes joining at the peak of their career and performing not just individually and in pairs, but also as one big, über-talented group. This is a show in which the chorus is made up only of stars.
Olympic champion Scott Hamilton originally founded this show decades ago, when he was released from the Ice Capades on the premise that male skaters don't sell tickets; his touring brainstorm has been proving the theory wrong ever since. Male and female champions alike let loose, spinning, jumping, and contorting with a refreshing style that is distinctly un-princessy, giving audience members of every generation and both genders plenty to applaud.
Competitive skaters seem to revel in shaking off the limitations of judges and competition, cutting up the ice with their boldest, flashiest, wackiest moves. The joy is palpable and infectious as they all skate to music they love and share moves that make them and us smile. Everyone gets to perform favorite bits for sheer joy, and no one looks stressed. When Maria Bell fell on a jump, she popped right back up with a laugh, a shrug, and a wave—no medals lost, no tears.
Stars on Ice has made its one and only stop in SoCal, but tickets are already on sale fpr next year.