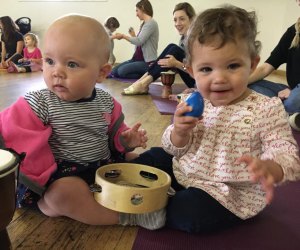 Not Your Run-of-the-Mill Mommy and Me Classes
Sometimes the hardest thing about parenting can be getting out of the house. Especially in the early years, that Mommy or Daddy and Me class might be the only outing you manage all day—even all week. It had better be good. If you're in search of a better reward for your packing and planning than another verse of The Wheels on the Bus, try bringing your SoCal babe to one of these oh-so-LA activities! From sensory conditioning to social justice, cellular rejuvenation to baby drum circle, you might just find your funky tribe amongst these diverse offerings.
Outside the Box — Woodland Hills
(818) 348-PLAY (7529)
The name says it all. OTB's active classes for babies focus on "sensory conditioning." This means stimulation through various forms of play, and experimenting with different materials. Babies might stick their feet in goop, or roll around with some pasta, or squeeze slime. Class wraps up with some baby massage. Outside the Box also offers eclectic classes for toddlers and older kids, like FLOW, which teaches children "how to be fluid with their bodies, loving with their hearts, observant with their minds, and whole with their spirits." Outside the Box allows you to pay by the class or purchase monthly packages.
Mommy and Me Longevity Class – Mar Vista and El Segundo
(310) 909-8758
Regina Bernstein hosts Longevity Energetics classes utilizing something called The Light of Life and cellular rejuvenation, which aspires to connect with a non-sectarian spiritual energy. "Great health benefits mentally and physically," says Alison Ashley, who takes her one year-old, Enzo. "Kids respond to the energy right away." The class description promises energetic movements and the quietude of cellular rejuvenation. "It's definitely unique and nothing like it," says Ashley. Classes are currently held in Mar Vista and El Segundo. Email directly for more information.
Toddler Totes – Los Angeles Zoo and Botanical Gardens
(323) 644-4211
Little ones (24-35 months) can learn about real live zoo animals in the Toddler Totes classes at the Los Angeles Zoo. What's more tot-thrilling than zoo animals? In each 75-minute class a parent/toddler duo might explore the zoo grounds, listen to an animal-centric story, or experience a live creature encounter. Each class is themed (e.g. Terrific Tails or Wiggle Squiggle Zoo), and they're generally offered on Wednesdays, Fridays, or Saturdays, with discounts for Zoo members. Classes for older children are also available.
RELATED: Los Angeles Kids' Classes and Enrichment Guide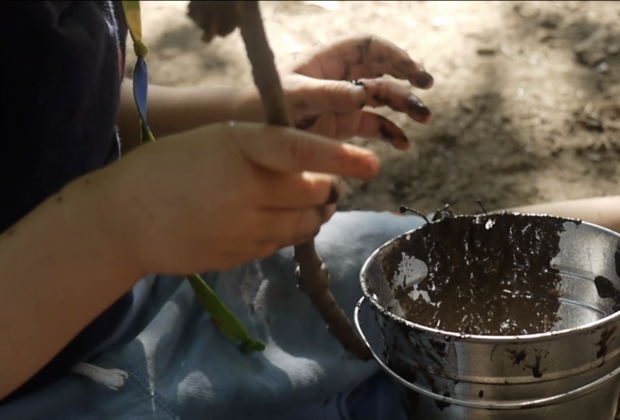 Tinkering in mud at Tinkergarten (photo credit: Tinkergarten)
Tinkergarten – various parks
(413) 397-2800
Tinkergarten uses the outdoors as a classroom for play-based learning for children 18 months to eight years. Hang out outside and explore nature with your little one! Classes are held at parks (like Griffith Park) and led by local community members. An activity such as collecting leaves might kick off class, then little ones (AKA "expolorers") participate in Circle Time with songs or rhymes, and/or a book. Next comes a problem-solving activity in which Explorers must use elements from nature to figure out what to do. Tinkergarten is a nationwide organization; visit the website for a location near year you. A Griffith Park class is currently offered on Saturdays.
FamilySong – The American Legion Hall
Traci Green (of the popular local kids' folk band The Hollow Trees) leads an energetic baby drum circle each week. The world music song circle features a wide variety of instruments for little ones (age 0-6) to use, and lots of catchy tunes performed by Traci and Alan Bernhoft. Count on plenty of singing, dancing, and boot-stomping for all. "Maxine (19 months) absolutely loves it," says one mom. "She dances around the hall, singing, clapping, shaking things. It's well worth the $8 per class." FamilySong is located in the American Legion Hall, near Green's popular children's resale shop, The Green Bean. Only adults pay (not kids), and package deals (via punch card) are available.
crEATe – Zimmer Children's Museum
(323) 761-8984
The Zimmer has some unique offerings, like crEATe which is an edible art class for babies! Designed for crawling babies up to 18 month-olds, little ones work on fine and gross motor skills exploring artistic techniques "with a yummy twist." Babies might paint with fruit pops, play with noodles, or make sculptures out of veggies. crEATe is offered in six-week sessions, and each class includes museum admission. Drop-in classes can be an option, depending on availability.
Social Justice Playgroup – MOMS Club of Northeast L.A.
Open to MOMS Club members, the Social Justice Playgroup usually has a theme to its meetings. Member Holly says, "We do a craft or activity that is age appropriate. For instance we did handprints in different colors for one, and we planted a seed in a pot for Cesar Chavez. Then we read a book that is about inclusion and diversity." The group's mission is all about raising consciousness and dialog around issues of identity and diversity, as a way of "resisting oppressive power structures within ourselves, with our children, and within our communities." Meetings are free, and open to all ages.
Top photo: FamilySong in Eagle Rock courtesy of Adrian Chebuske