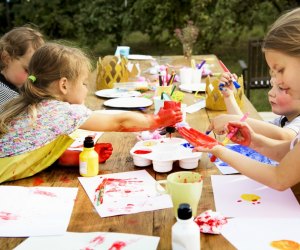 Summer Camp Open Houses and Tours at LA Day Camps
The approach of spring, for many parents, is also the beginning of the season of worrying about how to survive summer vacation. Picking the right summer camp can be overwhelming, especially if your little ones will spend a big chunk of their summer there. Our Camp Guide is a great place to start gathering ideas, and we recommend searching the listings in our camp directory, too. But what can really help narrow down the field is checking out camps in person. That's where open houses come in. They offer a fun way to get information about activities, see how your kids take to the environment, and talk in person with camp directors to see whether you've found a good fit.
Below is a list of open houses offered over the next several weeks; these are great opportunities to talk to the people who might be spending the day with your kids. Click on a camp name to get more information about the camp's programs.
LA Camp Open Houses
​Tumbleweed Day Camp
Brentwood
Open Houses: Sundays, March 5, March 12, March 26, and April 9, 12pm-3pm
Tumbleweed Day Camp, which is in the mountains above Brentwood, offers activities for the whole family at its Open Houses. Parents get a chance to talk with camp directors, learn about activities, and tour the facilities, while kids just get to have fun. No RSVP is required.
AstroCamp
Idyllwild
​Open House: Sunday, March 12, 1:30pm-4pm
​Astro Camp offers a sleepaway Summer Adventure Camp in the mountains outside LA. Families are invited to come up to see the camp and meet the summer director and other staff at the Astro Camp Open House. RSVP is required.
Monarch Camp
Van Nuys
Open House: Saturday, March 18, 2pm-4pm
No RSVP is required to attend the camp's Open House at its Los Angeles Valley College home.
​Camp Wildfolk
West Hollywood​
Open House: Saturday, March 25, 10am-11:30am or 12:15pm-1:45pm
Camp Wildfolk offers an Open House Adventure Day featuring a tour of the site at Larchmont Charter School, Fairfax Campus, a question and answer session with the club director, and activities geared toward kids ages 3 to 15, including camp games and playground fun. There is a morning session and afternoon session. RSVP is required.
Camp Kinneret​
Agoura Hills
Open Houses: Sunday, March 26, and Sunday, April 30, 1:30pm-4:30pm
The Open Houses at this camp offer families the opportunity to tour the camp site, meet some of the summer staff members, enjoy some crafts, and speak with the leadership team. No RSVP is required.
​Got Game Camp
Los Angeles
Open Houses: Thursday, April 6, and Thursday, May 4
Got Game Camp takes place on the Hancock Park Elementary campus. RSVP for the Open Houses is required by calling (310) 975-8524 or sending an email.
Gray Studios
North Hollywood & Buena Park
Tours ongoing
Gray Studios offers Make a Movie one-week day camps from the week of June 19 to the week of Aug. 7. Families can arrange a tour and get more information by sending an email.
Summer Fun and Camp Fair
Hollywood
March 12, 10am-2pm
The Summer Fun and Camp Fair at the Stratford School in Hollywood offers a great opportunity to meet many camps at once. The fair features camp options as well as ideas for family fun throughout the summer months. Representatives from various camps can answer questions on philosophy, ratio of counselors to campers, locations, and daily schedules. There is a scavenger hunt and raffle as well, to keep everyone entertained.
Many other camps also set up private tours outside of open house times, so it's always a good idea to contact any camp you are interested in to see if you can get a look around and meet the people involved.
Photo credit: Shutterstock