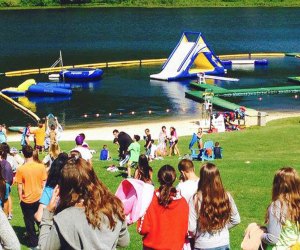 Suffolk County Summer Day Camps for Long Island Kids
When school doors close for the summer, camp doors open wide, and kids across Long Island gear up for new adventures and experiences. Camp should be fun, and families have so many great choices in Suffolk County. Whether you have a first-timer or a seasoned camper, parents want to make the right choice for their kids. We're here to help with our list of the best camps for canoeing, sports, art, learning, and most of all, having a blast.
These Suffolk camps offer activities and events to keep kids happy all summer. Different camps offer different amenities and programs, including half- and full-day options, door-to-door transportation, and travel programs for older campers. Many camps hold open-house events and tours, so bring your kids and pick the one that suits your needs.
We've also got our picks for great Nassau County summer camps. For more summer camp ideas, check out our Long Island Summer Camps Guide and our directory of LI camps.
Camp Edey — Bayport
Run by the Girl Scouts of Suffolk County, Camp Edey offers tuition discounts based on the number of weeks of enrollment. Bus service is available for those who choose the day camp option, or campers can elect to stay overnight. Activities include horseback riding, swimming lessons, and archery. Financial aid is available.
Camp Harbor — St. James
Campers are encouraged to have fun, explore their interests, and learn new ones at Camp Harbor. This seven-week program for kids in preschool through eighth grade includes academic enrichment, sports, arts and crafts, instructional swim, nature, group challenges, and science and technology workshops. Manners, good sportsmanship, and courtesy are all part of the character education at Camp Harbor. Flexible schedules are available and a discount is applied for early registration. Kids can be signed up for one week at a time and for half days or full days.
RELATED: New Summer Camps and Programs for LI Kids in 2019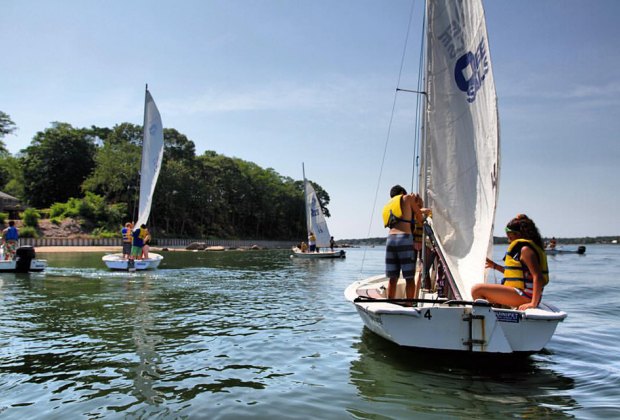 Waterside activities are featured at Camp Quinipet on Shelter Island.
Camp Quinipet Day Camp — Shelter Island
Camp Quinipet sits on a large, partially wooded peninsula with wonderful water views from almost everywhere. There is no swimming pool, but there is a sandy beach and a dock with all sorts of watercraft. The camp offers a sleepaway program, day camp, and a sailing school. Quinipet is more rustic than fancy, but it does have comfortable lodgings that include bunk beds, electricity, bathrooms, and air conditioning. The staff is friendly and professional. Activities include fishing, yoga, sailing, rock band, and arts and crafts. Day camp is from 9am to 4pm Monday through Friday, and is structured to have the feeling of an overnight experience without a sleepover. The camp is owned and operated by the United Methodist Church and includes some progressive Christian programming, but children of all faiths are welcome. Campers register by the week.
Camp W Day Camp — Melville
With a range of programs to fit the needs of campers in pre-K to ninth grade, Camp W is here for kids to have fun and make friendships. Kids can make this camp experience their own by choosing areas of interest each day during three choice periods. Choose from GaGa ball, rocketry, the camp newspaper or show, magic, hip-hop dance, and more. Campers can register by the week for sessions that last from 8:45am to 3:30pm. Early care is available from 7:30am to 8:30am, and late care is from 3:30pm to 6pm. Fees include lunch, day trips, electives, and pictures.
Camps 'R' Us — Saint James, West Islip
Activities include sculpture, mosaics, go-karts, swimming, and bowling. This Islandwide favorite offers discounts for children of employees/volunteers at some local companies, including hospitals, fire departments, and banks. Campers can register for full days (9am to 5pm) mini days (9am to 2pm,) or half days (9am to 12pm.) They can attend from two to five days a week for up to eight weeks. Early and after-care hours are available.
Crestwood Country Day Camp — Melville
Established in 1956, Crestwood offers a range of sports and activities, including swimming, gymnastics, soccer, volleyball, arts and crafts, dance, a mini zoo, zip line, paddle boats, super slides, and carnivals. Bus service from most nearby neighborhoods is included in the cost of tuition, and early and aftercare programs are available.
Kenwal Day Camp — Melville
This camp's property measures 20 acres. The camp has eight zip lines, sports fields, courts, a lake for boating, four pools (one with a giant slide), and playgrounds. Kenwal offers a range of sports, swimming instruction, drama, music, arts and crafts, and a nature program. Children spend part of each day in general activities, and then have the choice of focusing on a particular interest or skill. Younger campers have the option of registering for only 2, 3, or 4 days a week, and there are overnight trips for teens. Sibling discounts are available, and there is also a reduced rate if you do not need transportation both ways.
RELATED: STEM and STEAM camps for kids on Long Island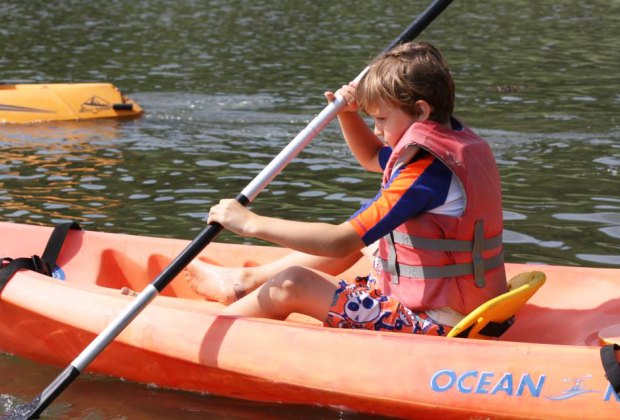 Knox School's harborfront campus offers ideal access to water sports.
Knox School Summer Adventures — St. James
Knox is a full-feature day camp with a waterfront campus at Stony Brook Harbor. It offers swimming, kayaking, field sports, tennis, horseback riding, science, drama, music, dance, and more. It also offers a travel program for children entering seventh through ninth grades that takes kids to museums, zoos, and water parks. Knox offers a flexible schedule, so you can choose the days and weeks that work for your family. Early-bird rates get you a discount if you apply before March 15. Before and after-care is available.
RELATED: Indoor Swimming Classes for LI Kids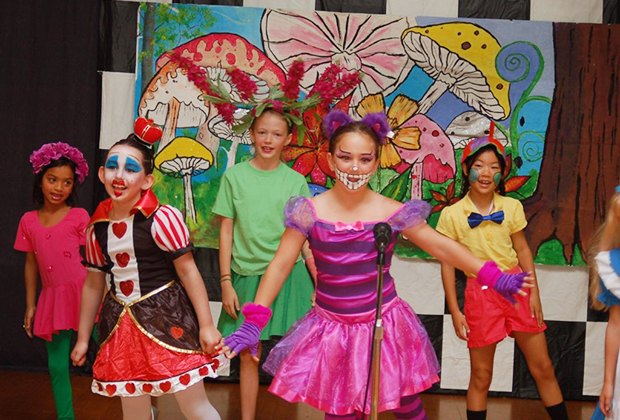 Introduce your child to theater at a Laurel Hill School camp.
Laurel Hill School Summer Camps — East Setauket
The Laurel Hill School is a private school on a large, well-kept campus. With a new outdoor classroom, rock climbing wall with a swing shot, and daily swimming lessons through a Red Cross program, this camp gives parents peace of mind and offers kids lots of great experiences. Facilities include in-ground heated pools, flume slides, and sunning decks. Specialty activities such as sports, drama, science, and academic enrichment are offered.
Usdan Summer Camp for the Arts — Wheatley Heights
For more than 50 years, Usdan has been bringing world-class artists and musicians to campers. With award-winning programs, many campers return year after year to practice their art, whether it's music, painting, photography, dance, theater, or video game design. The Usdan campus houses more than 70 studios and theaters, including a 1,000-seat amphitheater, all in beautiful, natural surroundings, where campers can hike, explore, play sports, swim, and more. Tuition includes transportation, and scholarships are available.
YMCA of Long Island Summer Day Camps — Bay Shore, East Hampton, Holtsville, Huntington and Patchogue
Suffolk County YMCAs offer both traditional day camps and a variety of specialty camps. Summer programs and classes for children include crafting, theater, and coding. Membership in the YMCA is required for all camps. Sibling discounts are available. Extended days, transportation, and lunch service all can be added to the experience for an additional fee.
Young People's Day Camps of Suffolk County — Kings Park
This American Camp Association-accredited day camp two minutes from Sunken Meadow State Park offers sports, hiking, swimming instruction, arts and crafts, music, drama, martial arts, and dance. Also enjoy field trips to museums, bowling, and amusement parks. Registration for more than two weeks includes a discounted price. Fees include door-to-door transportation from nearby communities, and financing options are available.
This post is updated annually. Photos are courtesy of the camps.