Toyota Symphony for Youth Review: Holst's The Planets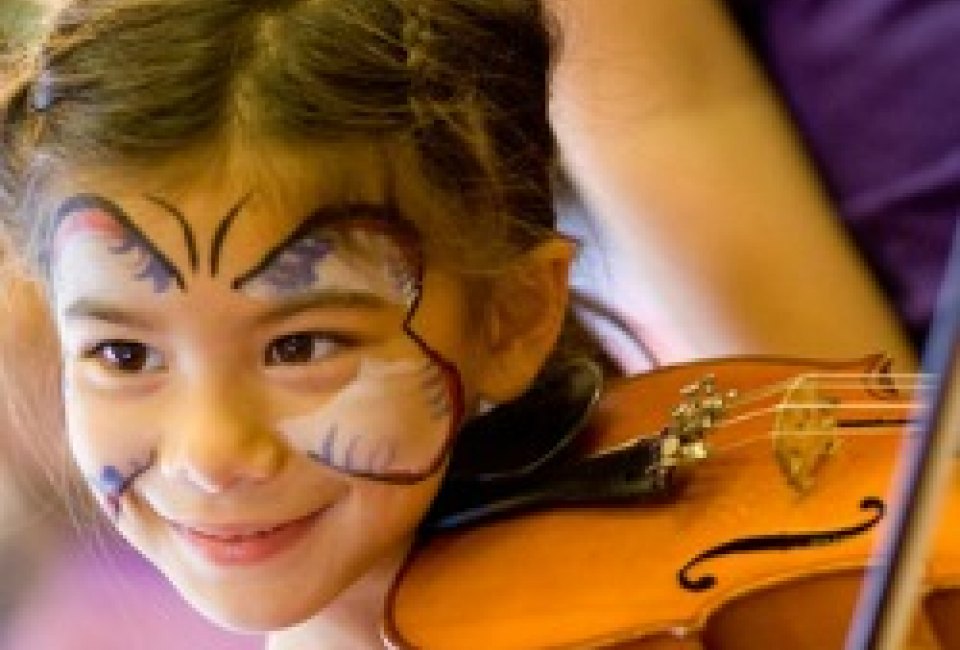 3/5/12
- By
Roberta B
You know what's funny? I thought I had already been to one of the Toyota Symphonies for Youth. Perhaps what I remembered was a World City, or a Drum Downtown, or one of the other wonderful programs the Music Centers offers for families. But the moment we arrived at the Disney Concert Hall on Saturday morning for Holst's The Planets, I realized that this was an experience I had not had.
During the hour before a concert in the Symphonies for Youth series, the entire concert hall and its surrounding areas are alive with more kid-friendly activities than anyone could possibly do in a scant hour. We stepped off the escalator and were instantly drawn into a well-organized craft project (with a planet theme). There were signs guiding people to other rooms and other floors where families could take dance lessons, enjoy interactive storytelling, or fiddle around at an instrument petting zoo. Meanwhile, outside the hall, astronomers from the Griffith Observatory had set up a special telescope that allowed kids to safely peer at the sun from up close.
All of this before the show even begins.
If you've been to the Disney Concert Hall, then you know that there isn't a bad seat in the house. We sat watching the orchestra file in and warm up, from our satisfying vantage point. I became just a touch concerned, though, as I looked through the program, trying to find something to read to my son about what he was about to see. He enjoyed the puzzles and games in the program - a very nice touch - but I assumed I would need something to prepare him for what this long piece of music without words was going to be about, apart from the planets projected on the walls around us.
I needn't have worried. We got no farther than a single chord into the piece before a performer of unimaginable energy - Jon Monastero - stepped onto the stage. Not only did he offer explanations at the beginning of each movement; he also provided fabulous (and somehow appropriate) slapstick throughout the movement. The content of Monastero's text was sufficiently detailed to offer new information to an audience member of any age, while the manner in which he delivered it was sufficiently goofy to keep the youngest in the palm of his hand. It is no exaggeration to say that I did not hear a single child fuss during the 45-minute performance - a ringing endorsement all its own.
I was certainly not surprised that the concert was excellent and a treat for me. I wasn't even surprised that my son enjoyed himself. I was, however, surprised at how much my son enjoyed himself - and at how much the LA Philharmonic achieves its goal of creating classical music fans in the next generation through these Symphonies for Youth. Bravo!
Places featured in this article:

Sign up for our free
newsletters.
Mommy Poppins is a family activity website that helps people find things to do with kids.
©
2023
MommyPoppins. All Rights Reserved.
mp-prod4-v4.32.99
Sign up for the Mommy Poppins Newsletter today!
i