Long Weekend Trips: 8 Family Getaways and Day Trips near LA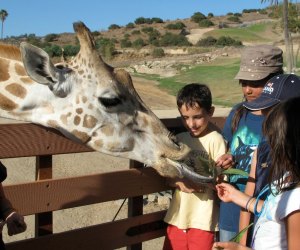 Labor Day weekend approaches, and that means that if the kids are not already back to school, they're about to be. Traditionally Labor Day is the last hurrah of summer, but frequently by the time it arrives we moms are all hurrahed out. If you haven't made a plan yet or just can't face hitting the airport with half a million other summer junkies, we can think of a few places close to home that are an easy drive for an overnight, or even a day trip - letting you enjoy the day without the labor!
Palm Springs
Sure, it's hot, but that just makes the pool (or water park, or aerial tram) feel so much better! Stay over a night or three to enjoy everything at a slow pace, or do a hit and run in a day. If you get an early start, Palm Springs is only two hours away. If you leave Friday at 5pm, try to watch your language - there are kids in the back seat.
Santa Barbara Zoo
Want a really easy day trip? Consider the Santa Barbara Zoo. It's an easy zoo with all the classic critters, and in half a day you can see them all, plus feed the giraffes and the penguins. Make the visit really relaxing by ditching the car at Union Station and taking the train into Santa Barbara.
Channel Islands
We all know the lovely island of Catalina, but sometimes we forget that she's not an only child. She has five sister islands off the coast of Ventura that together make a national park, and boats to these unpopulated island treasures leave from Oxnard and Ventura. Anacapa and Santa Cruz islands are easy day trips, and any of the islands can offer a rustic, quiet camping experience. As a bonus, there's a high likelihood of spotting whales, dolphins, and sea lions en route.
Huntington Beach
The Hyatt Huntington Beach is a heavenly family getaway that's barely even away. Beach, pools, pampering - this place has it all. But if you don't feel up to springing for a room on a holiday weekend, it's almost as easy to drive the hour to Huntington Beach and pretend; day passes to the decadent pool experience are $25. You can splash and sip cocktails all day, watch the sunset on the beach, then slide those sleeping kids into their own beds after a short drive home.
Newport Beach
If, on the other hand, you were thinking of something even more decadent than the Hyatt, type Pelican Hill Resort into that GPS and get ready to die and go to heaven. No detail is missed in this breathtaking beachside resort; and the way the luxurious grown-up paradise manages to be kid-friendly, too, is a miracle to behold. Ask about Camp Pelican, which is a great way for kids and parents to have some fun separately during the day.
Idyllwild
Altitude is a great way to escape the heat, and you don't have to go all the way to Big Bear to find it. Idyllwild is a - pardon the obvious - idyllic little mountain village that feels so much farther from LA than the two hours is takes to drive there. Enjoy hiking, rock climbing, and live music at several of the village's inviting restaurants. Even the roadside motels are cute in Idyllwild.
San Diego Zoo Safari Park
Lots of people think the San Diego Zoo Safari Park (formerly known as the Wild Animal Park) is the same thing as the San Diego Zoo - which is good news for those of us who know that it's not remotely close to its more famous partner park. At two hours away from LA, the pseudo African safari can be a day trip; or one of the not-so-fancy hotels of Escondido's many strip malls can make it a slower paced overnight. Splurging on a family photo safari ride with a naturalist really makes the day among the fauna a lifelong memory.
Last Minute Campgrounds
Our final suggestion is to jump in the car early Friday morning to get first picks at one of the many campgrounds in SoCal that either don't take reservations or hold several sites back for drive-ups. Pack the car the night before and get ready to camp where the wind takes you!
Looking for more weekend getaway ideas? We've got 'em!
Originally published August 27, 2012