How To Camp with Kids: Family Camping Tips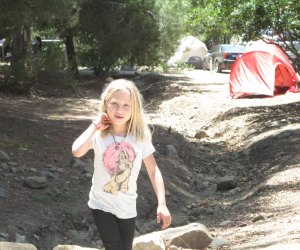 As you may have noticed, we've been trying to get more of our Mommy Poppins families out camping, so we've been sharing some great Los Angeles area campgrounds and even offering up several places that accommodate last minute camping. Basically, if you want to sleep in a tent under the stars this weekend, we're there for you. But it's possible that some of you feel overwhelmed at the prospect; maybe you've never camped before, or maybe you just haven't yet figured out how to fit kids into that thing you used to do with the backpack and the camp stove. Either way, we can have you packed and ready for the campsite in no time!
In general, the biggest difference camping with kids is the importance of creature comforts. Adults are more likely to have a sense of humor about roughing it than kids; if you plan a trip that involves bringing kids on a long hike with a heavy pack, on a hot day to a place that has no toilets, chances are you'll be losing your audience. The transition to camping life is so much easier if you opt for car camping somewhere relatively close to home with flush toilets.
Gear
As with so many things, camping gear can be as simple or as complicated as you choose to make it. Have nothing? No problem. Adventure 16 and REI have rental departments where camping novices (or people between tents) can gear up just for the weekend. This can be a great way to try out different size tents. Those spacious three-room suites that sometimes go on sale at Costco might be great for a large family, but they can be challenging to put up if your only helper is under four feet tall. Best to go with the smallest tent that will accommodate your family on a first time out.
If you're camping with young kids, a family camp bed can be a great way to go. Bring the largest air mattress you can fit in the tent, and make it up with sheets and blankets just like at home - only with plenty of extra blankets along just in case (be sure you have a pump, too!). We love to use flannel sheets for extra coziness. Having a comfy bed waiting at the end of the day is a great way to make bedtime appealing for new campers, and a great way for everyone to keep warm together on a chilly night.
Camping with babies can be a breeze, too, with the right gear. Carriers are great, of course, and a nursing pillow by the fire works a charm under a cuddly blanket. At bedtime, a Moses basket is wonderful way to keep the littlest camper warm and tucked in all night long.
Food
Some of us used to get pretty gourmet in our twenty-something camping days. Some of us were that cool. But all of us are parents now, so why even talk about it? The absolute best thing to cook over a fire with kids is hot dogs on really long skewers.They can do it themselves while you dig the plates, ketchup, and buns out of the car.
Most campsites have a grill that goes over the fire pit, where you can also line up ears of corn, kabobs, burgers - you name it. Bring along an old frying pan and/or old saucepan, and the sky's the limit - you can make a box of mac 'n' cheese, eggs and bacon in the morning, instant oatmeal, or even soup (cartons are great for camping!). One of our favorite camping staples is instant pancake batter in a jug that just needs water to start pouring.
The key word is easy; the less food prep in the dark while applying bug spray to toddlers you have to do, the better.
Location
Making a first camping trip close to home (within an hour or two) takes out a lot of the stress. If you're at Leo Carrillo and it starts to rain, home is not far away.
Most campgrounds have one or two group sites, and if you can get a couple of families to go on the adventure with you, group sites are a great way to go. No need to worry about the neighbors when you brought them all with you.
You must not forget...
Obviously flashlights are key - enough for everyone to have his or her own. Consider bringing along a headlamp, too - allowing grown-ups to work hands free. And anything that glows in the dark will make kids happy.
Plenty of firewood can be the difference between a wonderful camping trip and an awful memory. Don't skimp on wood! It's for sale by the bundle at most grocery stores - and sometimes at the ranger station, too.
Drinking water is not available at most campsites, so come with enough for everyone in your family for the entire trip. Tip: freeze drinking water in ziplock bags to use as ice in your cooler, so that as it melts it becomes extra water.
Make sure your bug spray includes protection against ticks.
Put together a first aid kit that includes tweezers and a needle for splinters, a bee sting kit, and a lighter (so that when you lose yours, you know where there's an extra). If you're heading for the woods, include some Tecnu poison ivy scrub, too.
Finally, if you have a smart phone, it's fun to download the Google Sky Map application before heading out. When the stars start coming out, you can be the smarty-pants who knows what they're all called!
Originally published July 4, 2012