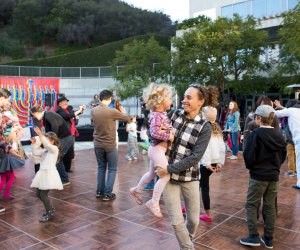 18 Hanukkah Celebrations for Kids in LA and Orange County
However you spell it—Hanukkah, Hanukka, Hannukah, Chanukah, or Channuka—SoCal is a great place to be for the Festival of Lights. Home to a Jewish population larger than that of Jerusalem, Los Angeles is all about "lighting candles, wearing sandals, by the sea" (at least, that's why Tom Leher spent Hanukkah in Santa Monica). Giant menorahs light up open spaces from The OC to the Valley.
Some of this year's events may be affected by our recent fires (most notably the festival at the Shalom Institute, typically one of the LA's biggest). But be assured that there are plenty of celebrations to fill the 8 crazy nights, including the popular event at the Skirball Center, as well as numerous local events and candle lightings to burn the sunset oil all week long.
Hanukkah 2018: December 2 - 10

Menorah Workshop
November 25, 2018
You do have a menorah, don't you? Uh oh, better get to Home Depot in Costa Mesa where Chabad Center for Jewish Life is hosting a free Menorah Workshop.
SIJCC Festival of Lights
December 1, 2018
This winter block party in Silver Lake has plenty of stage entertainment, carnival games, food trucks, face painting, play zones, and everything else that makes for a good afternoon's entertainment.

Become a LEGO Maniac with Master LEGO Builder, Adam Ward
December 2, 2018
At Hanukkah time we are all "the Special." Kids can learn to make a 3D LEGO dreidel with a LEGO Master Builder.

Menorah Lighting @ PLATFORM
December 2, 2018
Guests can nosh on hot latkes at this menorah lighting ceremony, which features an appearance by rockers Dov Rosenblatt & Ami Kozak from Distant Cousins.
Palisades Menorah Lighting
December 2, 2018
Chabad of Pacific Palisades gets us in a Festival of Lights mood with snow play, rides, Hanukkah crafts, bounce houses, hot food, and more with honored guest Billy Crystal.
Skirball Hanukkah Family Festival
December 2, 2018
The Skirball Center celebrates Hanukkah with stories, music, crafts, and the museum's annual family Hanukkah tour.
Promenade Hanukkah Menorah Lighting
December 2-9, 2018
Each night at sunset, for the whole week of Hanukkah, the giant Menorah on Santa Monica's Third Street Promenade is lit with song and free celebration.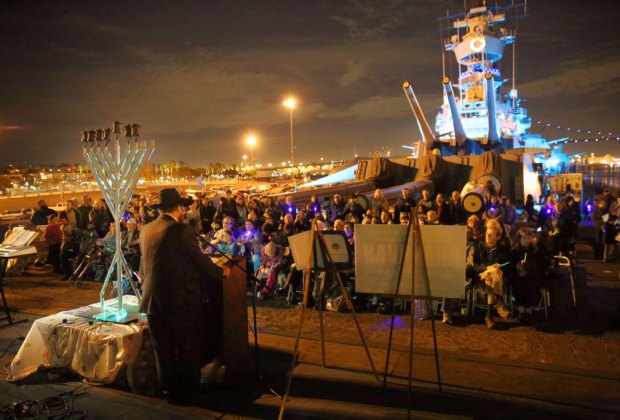 Hanukkah aboard the USS Iowa. Photo by The Chabad of the South Bay
Hanukkah Aboard the Battleship
December 2, 2018
The menorah lighting on the Battleship Iowa includes a special armed forces tribute, latkes, hot chocolate, dreidels, and chocolate gelt.
Menorah Lighting Ceremony
December 2, 2018
Fashion Island in Newport Beach invites the community in for free candle lighting, songs, and treats.
Hanukkah Fun at the Farmers Market
December 2, 2018
LA's Original Farmers Market focuses its free holiday celebrations on Hanukkah and a giant LEGO menorah.

Rodeo Drive Menorah Lighting
December 2, 2018
Not everything on Via Rodeo is pricey; this Hanukkah celebration with song, crafts, and food is totally free.
Hermosa Beach Pier Hanukkah Celebration
December 2, 2018
Another big celebration in the South Bay takes place on the Hermosa Pier, with gifts for kids, face painting, crafts, latkes & donuts, and a performance by pop singer Yehuda Glantz.
Hooray for Chanukah
December 2-10, 2018
Pretend City Children's Museum in Irvine offers activities every day of the festival as part of normal museum admission.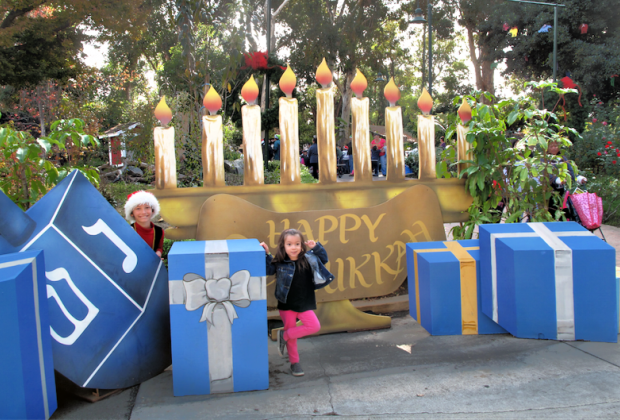 Photo by Mommy Poppins
Mar Vista Hanukkah Celebration
December 4, 2018
Do Westsiders sing Hanukkah songs better with donuts in their mouths? Only one way to find out.
Manhattan Beach Menorah Lighting Ceremony
December 5, 2018
The Menorah Lighting Ceremony at Manhattan Village Mall features music, dancing and singing, hot latkes and donuts, dreidels and gifts, arts and crafts, and a special Hanukkah presentation.
Donut Menorah
December 6, 2018
Now that's the kind of wall I like: a wall of donuts! It's time to make the donut menorah at Del Amo Fashion Square.
Hanukkah Concert and Celebration
December 7, 2018
Malibu Jewish Center's 18th annual Hanukkah concert celebrates the Festival of Light with music.
Hanukkah Festival at Vintage Grocers
December 9, 2018
The 8th day of Hanukkah is marked with music, arts & crafts, dreidel games, donuts, latkes, raffles, and prizes.
Hanukkah at the Zimmer
December 9, 2018
The Zimmer Museum celebrates Hanukkah with festivities of light and gratitude, and free museum admission all day.

Outlets at San Clemente Menorah Lighting
December 9, 2018
This family-friendly celebration includes entertainment for children, balloons, traditional activities, hot latkes, doughnuts, and gelt.
Hanukkah Family Fun Day
December 9, 2018*
The fate of this year's Hanukkah celebration remains to be seen, as the usual location, Camp Shalom, suffered significant damage in the Woolsey Fire. We will share info as soon as the Shalom Institute is able to to make a plan.

Hanukkah in the Foothills 2018
December 10, 2018
On the closing day of Hanukkah, families can learn about Hanukkah while enjoying traditional food and music.
And, of course, keep checking our daily events calendar, where we're adding more Hanukkah events all the time!
Originally published December 16, 2011