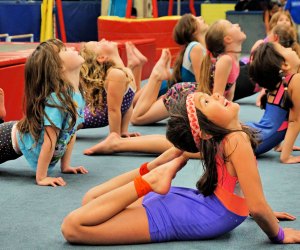 LA's Best Gyms and Tumbling Classes for Kids Who Love To Bounce
Every kid loves to jump around. While some kids channel that energy into competitive gymnastics programs at LA's gymnastics schools, others (toddlers particularly) really just want a place to bounce, tumble, climb, and swing. If you are looking for tumbling classes that are completely child-centered, fully non-competitive, and possibly closer to home (not to mention great options for birthday parties and summer camp), one of these kids' gyms may be just your speed.
Many gyms have just one location, but others, like My Gym and Little Gym, have multiple locations. Children's gyms typically offer fitness and tumbling classes for a variety of age groups, from baby mommy & me classes to more advanced tumbling (many gyms do not have classes for tweens/teens). Some offer dance and martial arts as well. Many offer a free introductory class, making it easier to find the best fit for your family's needs.
Downtown
The Klub Gymnastics
1683 Blake Ave
Los Angeles, 90031
323.227.5582
These 45-minute Parent and Me classes give kids a chance to swing, jump, roll and even hop on a trampoline (a favorite activity is parachute time) and if your kid would rather wander than focus on the instructor? There's a designated space designed specifically for their level of activity where they are free to roam.
Westside
Broadway Gymnastics School
5433 Beethoven Street
Playa Vista 90066
310.302.0035​
Little ones want to take a tumble? Kids 1 and a half to 4 can take Tumbling Toddlers, which is a 45 minute class that calls on parent participation (classes are broken up int o kids age 1 and a half to 2, 2 to 3, and 3-4).Kids age 3 and a half to 5 can move into Broadway Bounders to cover basic gymnastics such as cartwheels, climbing, hanging and jumping. Children with special needs can also find therapeutic gymnastics programs for kids 1 and a half to adulthood.
Dan the Man Superkids Gym
2347 Pontius Ave
Los Angeles 90064
310.268.8300
Dan the Man's classes include gym classes for kids from 12 months to teens with songs, equipment, and games for the little ones. Beginning gymnastics classes are available for kids as young as 3 years old, and there are specialty classes for toddlers that include gymnastics, yoga, circus acrobatics, and group skills.
JAG Gym
8640 Hayden Place
Culver City 90232
310.287.9886
With classes for kids 6 months old and up, JAG Gym offers Jungle Jym-Tastics for the preschool set to work on playground readiness with gymnastics equipment scaled to fit little hands. Circuits and stations mean no down time so little kids just might be ready to nap when class is over (hopefully).
Joey's Gym for Children
275 S Robertson Blvd
Beverly Hills 90211
310.855.0146
Not many gyms offer classes for non-crawling infants, but Joey's Gym has a class just for those aged 4-11 months. Other parent & me offerings keep those up to age 3 busy, while classes for those ages 3 to 8 to do not require parent participation. A special siblings class lets those ages 1 to 8 learn and play together. Older kids work on sports and then specific gymnastic skills.
Santa Monica YMCA
1332 6th St
Santa Monica 90401
310.393.2721
In addition to toddler gym classes and swimming lessons, the Santa Monica Y offers a sports skills program for kids 3-6 to teach gross motor skills and gamesmanship. For Y members only. The Santa Monica Y is not part of the YMCA of Metropolitan LA system.
The Valleys
Matrix Gymnastics
20844 Lassen St
Chatsworth 91311
818.998.6879
Want your kid to be introduced to Olympic-level equipment like vaults, bars, and beams while still having loads of fun? These classes (offered in a meticulously clean environment) lets "little ducklings" play with parachutes, jump into loose foam cube pits, bounce in enclosed and netted trampolines, and have fun. Classes range from a Mom, Pop, and Me for kids walking to age 2, Tiny Tots (for 2-year-olds), Mini Mites (for 3-year-olds) and Super Hero's class for kids age 4 to 5.
Dream Elite
21150 Califa St
Woodland Hills 91367
818.805.9165
With a separate section just for little tumblers, this 12,000 sq. ft facility has all of the equipment for big gymnasts, plenty of space for little gymnasts, and a private party room. Classes include a Mommy and Me class for kids 2 and a half and younger, a Mini Tumble Stars class for kids 2 and a half to 3, and a Tumble Stars class for kids 3 and a half to 4 and another for 4 and up.
Tumble Tykes
20855 Ventura Blvd
Woodland Hills 91364
818.888.7604
Located right off the 101 Freeway, Tumble Tykes has classes for toddlers from 18 months to 3 years old, and the 45-minute classes emphasize core strength, balance and coordination while still letting kids have tons of fun.
Junior Gym
14720 Oxnard St
Van Nuys, CA 91411
818.785.2177
A "quasi-structured" Parent and Me gymnastics program is available for toddlers age 15 months to 3 years, while a beginning tumbling class is available for 3-year-olds and an intermediate tumbling class is for children age 3-4. While still meant to be fun and stimulating, the intermediate class has more of a class structure as opposed to free play.
Gymnastikids
2237 E Colorado Blvd
Pasadena 91107
626.796.5437
The Parent and Pal program is a chance to let your little one (from walking age to 3-years-old) interact with other kids while working on coordination, balance, and confidence in a 45-minute class. After that, a Tiny Twisters class for kids 3-4 teaches basic gymnastics skills. There is also plenty of parking, free wifi, and a collection of toys for waiting siblings to play with.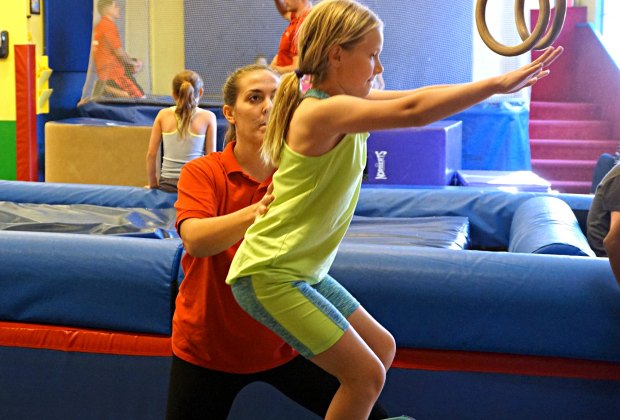 Photo courtesy of Fun & Fit Gymnastic Centers
Fun & Fit Gymnastics
1919 W Burbank Blvd
Burbank 91506
818.845.0700
26620 Valley Center Dr #108
Santa Clarita 91351
661.255.7244
Fun and Fit's philosophy is to develop a child's self esteem through success experiences in a non-competitive environment. Every child's performance is only compared to his or her own previous performance. Because of this, this gym is a bit different—there are no online schedules or registrations, as the staff evaluates children before putting them in a class. There are gym classes for walking to 3, gymnastics classes for 3-17, tumbling and tramp for ages 6 and up, and cheer classes. There is a demo team that performs, but no competitive team.
Multiple Locations
YMCA of Metropolitan Los Angeles
Various Locations
Every YMCA offers somewhat different programs, but most have a variety of children's programs. Downey offers a gymnastics program for ages 3-17. Other branches offer parent & me toddler gym classes and preschool/elementary sports programs, parent & me swim classes, swim lessons, adventure guides, and more—we recommend visiting your local Y to get the most up-to-date information on its current offerings. Most programs are available to non-members and members.
YMCA of Orange County
Various Locations
Parent & Me, dance, T-ball, basketball, yoga, soccer, swim, and more! When it comes to kids' activities, never forget the Y. Every location has different offerings—classes, sports, and times may all be different, so you may need to search for your preferred program. Or simply choose the most convenient location.
The Little Gym
Various Locations
In greater LA, there are independently owned Little Gyms throughout Los Angels. Because this is a franchise, you might want to check out more than one location—each may have a slightly different vibe. The Little Gym offers parent/child classes for infants to 3 years, and then gymnastics classes up to age 12. There are also classes in sports skills, dance, WonderKids enrichment, and karate.
My Gym
Various Locations
Also a franchise, there are independently owned My Gyms throughout Los Angeles. With all of these options, you might want to visit multiple locations to find your favorite. Classes typically start at age 3 months with parent & me and run through age 14 (cardio kids classes). Sibling classes are available, as are martial arts, my gym art, all star sports, and parents' night out.
post originally published 6/4/12