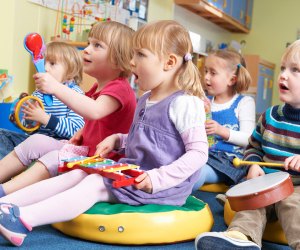 The Best Music Schools for Westchester Families
Living in such close proximity to New York City makes it easy for Westchester families to enjoy some of the best musical performances in the world. For all of the budding musicians inspired by the great artists of today and of days gone by, Westchester is home to many wonderful music schools and conservatories that help prepare children for a lifetime of music appreciation while teaching them to march to the beat of their own inner drummer (or violinist, or pianist...you get the idea).
We've rounded up premiere music academies and schools for Westchester kids. Whether your infant is just beginning to respond to sounds beyond the "pop" of a bottle warmer or your teen is preparing to apply to college, these music schools offer programs for all ages and musical interests.
Looking for more class ideas? Check out our growing Westchester Classes Guide and Class Directory.
Belle School of Music - White Plains
283 Tarrytown Road
Belle School of Music offers programs from early toddlerhood all the way through adulthood at locations in Scarsdale, White Plains and Yonkers. Using their own patented approach that blends contemporary innovations with the traditional approaches of Russian, American and Japanese instructional methods,
Belle School of Music
provides piano and keyboard instruction for ages 4 and up. Families can choose between group or individualized instruction based on how their children learn best--or mix it up and try both! Belle School of Music also offers a wide range of summer programs to keep your kids playing all year long.
Crestwood Music Education Center - Eastchester
453 White Plains Road
Blending group and individual instruction for its youngest students, Crestwood Music Education Center starts families with the Suzuki Method of teaching, engaging both parents and children in the learning process. For older children, private instruction is available on a variety of instruments while intermediate and advanced musicians can participate in the school's chamber music ensembles or jazz program. Lessons run in 16 session cycles throughout the year.
Bennett Academy of Performing Arts - New Rochelle
225A Main Street
Bennett Academy offers music lessons in any way that works best for budding musicians (and parent schedules)--group and private sessions (with an online component) as well as in-home lessons. In addition to learning how to play instruments ranging from piano and drums to strings, clarinet and saxophone, students learn music history, theory and composing techniques. Bennett Academy also offers Mommy-and-Me classes and partners with after-school programs and youth community centers for group sessions.
Music Conservatory of Westchester - White Plains
216 Central Avenue
Founded in 1929, Music Conservatory of Westchester has a long standing history of providing children in our area with music instruction. Children can begin attending classes at Music Conservatory of Westchester as early as 4 months old-- "First Notes" classes for babies and toddlers eventually leads to Music Skills and Suzuki Method classes for preschooler and young children. In addition to everything you would expect to find at a top notch music school, Music Conservatory of Westchester also offers individual, group and adaptive programs for Musical Therapy.
Larchmont Music Academy - Larchmont
2089 Boston Post Road
Celebrating their 16th anniversary, Larchmont Music Academy is the perfect place for children and adults of all ages and levels to develop the joys and love of music. LMA offers incredible programs for everyone including educational and fun Kindermusik classes for babies, the Suzuki Program, large and small instrumental ensembles and private lessons on all instruments. Performance opportunities are provided regularly within the community at local libraries and nursing homes, as well as at Carnegie Hall! The faculty of artist teachers carefully and joyfully guide each student to meet his or her fullest potential.
Lagond Music School - Elmsford
9 Haven Street
If contemporary music is your child's passion, check out Lagond Music School. Lagond's approach dedicates the same rigorous attention to theory, composition, practice and performance that is usually reserved for classical training. Live performances are a large part of the program at this charitable non-profit. Their college prep program has prepared students for success at top universities and music conservancies.
Hoff-Barthelson Music School - Scarsdale
25 School Lane
Boasting over 40 Chamber Ensembles, Hoff-Barthelson Music School offers a wide variety of classes for musicians of all ages and abilities. The youngest learners (4 months and up) begin in their Dalcroze Eurhythmics classes and move through a carefully sequenced set of classes as they grow, progressing towards Suzuki Pre-Twinklers and beginning group and individual lessons with the recorder at age 5. As part of a community outreach program dedicated to providing FREE musical training to underserved students, Hoff Barthelson Music School also has satellite locations in Valhalla, Hastings, Mount Vernon and Port Chester.
Cortlandt School of Performing Arts - Croton-on-Hudson
24 Old Boston Post Road
The Cortlandt School of Performing Arts is a relative newcomer to Westchester's musical scene. A kind of grassroots venture, Cortlandt School of Performing Arts grew out of a love of music on the part of its owners and local contributions to the effort through the crowd-funding site, Kickstarter. Now beginning its 3rd year, the school offers group classes for preschoolers through 8th grade and private lessons for musicians of all ages. Instruments are available for sale or rent on site.
Bedford Music - Bedford Hill
317 Railroad Avenue
With lessons available on 10 instruments (including voice!), Bedford Music is one of Northern Westchester's go-to sites for musical instruction. Group classes begin at age 4 with the Little Stars, an interactive experience which provides a hands-on opportunity for kids to try piano, viola, violin and cello. Older kids can get involved with musical theatre, music theory, and string or chamber music ensembles. Private lessons are available throughout the school year and summer for both adults and children.