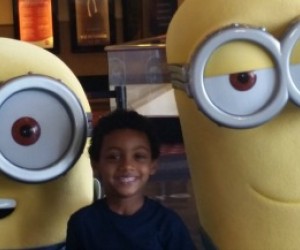 Minions Movie Parent Review: Nothing Mellow About These Yellow Fellows
The much anticipated Minions Movie, prequel to the popular Despicable Me movies, opens this weekend in a burst of yellow. Kids and their grown-ups love Minions – the movie and the characters. The audience I watched with was thoroughly enchanted by the Minions, who are indeed adorable. Their silly gibberish, peppered with recognizable words and a smidgeon of Spanish, is hilarious. But what do they get up to in this prequel to Despicable Me, and is it suitable for your kids? We'll try to help you decide.
Minions (PG) has a simple premise: A minion's existence is entirely dependent upon having a master. The film travels through the ages, from T-Rex to Napoleon, as the minions search desperately for someone to follow. In a sequence narrated by Geoffrey Rush, the minions pass through the caves of Lascaux and journey to ancient Egypt. It's "history light," but this mom will take what she can get; at least the kids are getting some exposure to culture.
While minions make for cute supporting characters in the Despicable Me franchise, I'm not sure how much I love the idea of a movie about creatures who are destined to follow. Young kids likely won't appreciate the irony, and many of us parents are trying to teach our children to be leaders, not followers.
OUR LATEST VIDEOS
The Minions set off on a hitchhiking trip to a convention for villains and are quickly picked up by a seemingly wholesome family who just happen to be violent, gun wielding bank robbers. Their heist is played for comic book laughs, but gunplay is gunplay for parents who have strong feelings about weapon use in kids' films.
Once they arrive at Villain-Con, the minions hope to meet with the world's first female super-villainess, Scarlett Overkill (voiced by Sandra Bullock). Like so many of her kind, Scarlett was a sad little girl who has transferred her anger into a mission of world domination. Her motto, "Doesn't it feel so good to be bad?" appeals to the Minions (and my kids) who literally throw themselves at Scarlett's feet. Scarlett's wimpy but handsome husband (Jon Hamm) hooks the newly minted henchmen up with various weapons of mass destruction, including a lava gun, and the action begins.
In no time at all, our Minion heroes fall from Scarlett's favor and are condemned to the dungeon. This is one place where parents of little kids will want to be thoughtful about what their children are seeing. The minions are tortured on a rack, and one ends up in the stocks. It's all done in good animated fun, but as a parent I'm not too comfortable making light of torture, even when it is likely to be barely noticed by the kids – and maybe that's the problem. If they aren't noticing and reacting to a scene of torture, are they becoming anesthetized?
The film has a fun soundtrack with recognizable hits by The Doors, Stones, and even the Beatles, which helps to keep things moving for us grown-ups. And the London setting is used well; the minions even have tea at the Ritz.
Kids will love Minions, and though there are some darker elements, those elements are handled in a way that most kids won't even notice. I saw Minions with eleven year olds who loved the movie and were drawn to the cute and funny aspects of the story. I don't feel that they were particularly entertained by the fighting and explosions, and parents of younger kids may want to know that there are lots of naked butts, the aforementioned torture sequence, and quite a bit of comic book style violence. That said, the younger kids in our audience all seemed focused on the comedy. Minions may not be for every parent, but it sure seems to be for every kid.