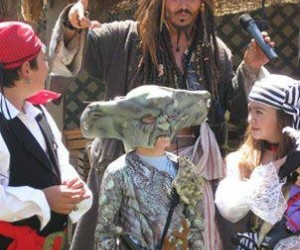 Fun & Free Things to Do with LA Kids this Weekend: Watermelon, Pirates & Dreamworks Animation July 19 - 20
I know it feels like the summer is just getting started, and I guess in some sense it is. In the "oh my gosh there are so many things I haven't done yet!" sense: totally true. Have you danced under the stars at the pier? Have you delighted to Shakespeare by moonlight? Have you eaten fried everything at the OC Fair or splashed in the water or taken in a concert at the Hollywood Bowl? Well then, your summer has barely begun.
But in that other sense, the "how many days of summer break remain?' sense, oh boy, we're in trouble. Without actually putting a date on it, I will just say that some of us may be in one-month countdown mode for the dreaded Back to School. So all of you who are thinking "sounds great, I'll get to it later": there is no later. It's now or thanks for playing, better luck next summer.
What's a Momma to do? Check out our calendar. Make note of the super awesome fun times contained therein. (Might I suggest: Piratical, princessical sing-a-long, storylicious entertainers, out-of-this-world family night, free sweet treat, and gabba-rific meet and greet amusements?) Lay out your blanket, break out the sunscreen and let's get this party started!
Keep reading for some of our most summery picks for this weekend ....
ALL WEEKEND

Princess and Pirates Sing-a-Long Concert - Culver City
Cinderella, Snow White, Peter Pan and Princess Aurora are some of the favorites that show up in the latest production from Lythgoe Family Productions; (we loved their Panto-style Aladdin last winter!)

Watermelon Festival Arcadia
The official melon of summer (if it's not, it should be) is celebrated all weekend with continuous live entertainment, carnival rides and free watermelon!

Planes: Fire and Rescue 3D (PG) with Live El Capitan Show - Hollywood
Dusty the crop duster is back, this time embarking on a new adventure: joining an aerial fire-fighting team. El Capitan's exclusive live preshow is a Summer Beach Party with Mickey Mouse and friends.

Ringling Bros. and Barnum & Bailey Presents Legends! - Ontario
The Greatest Show on Earth moves on to Ontario this week. (Next week: Anaheim!)

Old Pasadena Film Festival - Old Pasadena
Free screenings around Old Pasadena include The Fly (with Vincent Price) and Suddenly Last Summer on Saturday. Sunday's highlight is the rescheduled screening of Attack of the Killer Tomatoes.

Family Amphitheater Performances - West LA
It's a weekend full of stories at the Skirball! On Saturday, the Story Pirates share interactive, theatrical storytelling. On Sunday, Master Storyteller Michael McCarty presents enchanting tales from around the world.

The Quibbling Siblings - Culver City
Free outdoor theatre for kids at Carlson Park! This year's story is based on a Grimm Brothers tale.

Pirate Days Festival - Ventura
Aaarh! Thar be pirates at Ventura Harbor Village!

Griffith Park Free Shakespeare Festival 2014 - Griffith Park
This weekend's performances of Twelfth Night include preshow performances by Invertigo Dance Company and a Sunday Players in the Park family workshop.

SATURDAY JULY 19

DreamWorks Animation in Concert - Celebrating 20 Years - Hollywood
Can you think of a better way to introduce kids to the Hollywood Bowl? The Hollywood Bowl Orchestra performs the scores from favorite Dreamworks Animation films, including Shrek, How to Train Your Dragon, Madagascar and Kung Fu Panda. (also on Friday)

Kids Sports Day in the Park - Mid-Wilshire
Kids can get moving at this fun sports-inspired event, with yoga, martial arts and soccer, as well as healthy snacks and giveaways.

Nothin' But Sand Beach Cleanup - Manhattan Beach
The monthly beach clean-up is in Manhattan Beach for July.

WFamily Summer Family Funday - Canoga Park
Is there a party in your tummy? Brobee from Yo Gabba Gabba! pays a visit to Westfield Topanga Mall.

Wee Rock! Kids Music Festival - Glendale
Who rocks? Wee Rock! Favorite kid-friendly performers including DJ Young 1, Rhythm Child, and The Hollow Trees get kids movin' and groovin' at the Americana at Brand. (Plus an appearance by Sabrina Carpenter of Girl Meets World!)

Family Art Day at the Festival of Arts - Laguna Beach
Kids can get in the artistic spirit in this day filled with a marionette show, ceramics, face painting, hat making and a free lunch for kids.

All Aboard the Girl Scout Train - West Covina
Girl Scouts of Greater Los Angeles visit Plaza West Covina for a scavenger hunt, STEAM activities, games, crafts, snacks & more

Meet Paris Berelc of Disney Channel's "Mighty Med" - Orange
Paris Berelc, star of Disney Channel's "Mighty Med," meets with fans at Village at Orange, as part of a Radio Disney afternoon of fun.

Mini-Concert and CD Release Party with Dan Crow - West La
Children's entertainer Dan Crow sings songs about playgrounds, macaroni and cheese and owies, at Children's Book World.

Redondo Beach Summer Music Festival - Redondo Beach
Redondo Pier has Classic Rock Revolution: they rock, they dance, they party.

Street Food Cinema Exposition Park/ Pasadena
Exposition Park has a John Hughes double-feature: Pretty In Pink and Weird Science. Pasadena's Brookside Park screens the David Bowie/ Jennifer Connelly film Labyrinth.

Family Night - Downey
A Rocketry-themed night at the Columbia Memorial Space Center? Why, that's (a free outdoor screening of the) Incredibles!

Marina Del Rey Summer Concert Series: Pop Saturdays - Marina Del Rey
Indie Artist Yuna performs R&B, electronic, folk, and pop under the stars at Burton Chace Park.

Movies on the Green - Woodland Hills
Warner Center Park screens last year's Saving Mr. Banks, with the story behind the classic Mary Poppins film.

Grand Performances Summer - Films & Concerts - Downtown
Grammy-winners Quetzal celebrate their 20th Anniversary at California Plaza.

SUNDAY JULY 20

Free Lollypop at See's Candy - Participating Locations
Don't be a sucker - get your free See's lollipop before they're all gone!

Family Flicks: Curly Top -Westwood
The Hammer offers a free screening of Curly Top, starring everyone's favorite Depression-era moppet, Shirley Temple.

Doggie Street Festival 2014 Century City
Dogs are celebrated at this annual fest at Westfield Century City Mall that aims to help increase dog and cat adoption. You might even find a furry friend to call your own!

Kidzone 1st Anniversary - West Hills
KidZone celebrates its first year with a party!

Family Sunday/ Kids Run the Bases: Angels - Anaheim
Kids can run the bases after the Angels/Mariners game at Angel Stadium

Zimmer Sunday Family Programs - Mid-Wilshire
Still feeling World Cup Fever? The Zimmer is "Kickin' it for the Cup" using storytelling and games to samba the way through Brazil

And don't forget these concerts in the park:

Manhattan Beach Summer Concerts in the Park - Manhattan Beach
The Blue Breeze Band, known for Motown, R&B, soul, funk, jazz and blues, is in Polliwog Park Amphitheater.

2014 Summer Concerts in the Park - Thousand Oaks
Does anybody really know what time it is? Kenny Cetera's Chicago Experience ( a tribute to the Music of Chicago) is at Conejo Community Center.

Playa Vista Concert in the Park - Playa Vista
Don't stop believin'. Journey cover band DSB plays Playa Vista.

South Pasadena Summer Concerts - South Pasadena
There's something funky at Garfield Park: funk band Retro Soul.

2014 Music in the Park - Laguna Beach
Lisa Haley and the Zydecats bring the sounds of Zydeco to Bluebird Park.

Concerts on the Green - Woodland Hills
Mama Mia! Arrival from Sweden performs the music of ABBA in Warner Center Park

Sierra Madre Concerts in the Park - Sierra Madre
Head over to Memorial Park Bandshell for Decades of Rock playing Rock & Roll covers.

LevittLA Summer Concert Series - Children's Concerts in MacArthur Park – Downtown
It's Youth Talent Night at MacArthur Park's Levitt Pavilion. (And as we all know, our youth have got some serious talent!)

And yes, there are many more activities listed on our daily events calendar. Just a crazy notion, but why not check it out! Whatever you choose to do this weekend, we hope you have marvelous time.
.