Children's Music Review: Jason Didner and The Jungle Gym Jam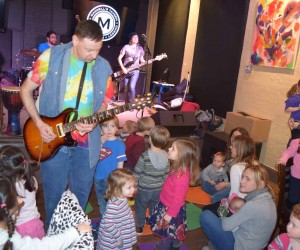 It is commonly thought that exposing children to music at an early age helps to kick-start their learning. If nothing else, it gives them an opportunity to have a rich sensory experience through rhythm and movement. Whether little ones prefer attending live music shows or taking classes to learn how to make their very own beats, parents can't go wrong by encouraging them to tap their toes and sing their hearts out.
Interactive rock and roll "kindie" band Jason Didner and the Jungle Gym Jam came to WXPN in Philadelphia on Saturday, October 10, 2015, and they certainly did offer up that amazing sensory experience! They often play shows in New Jersey and New York as well. Read more about what my family thought about the concert, learn about what makes the band tick, and see where they're playing next.
Jason Didner and the Jungle Gym Jam is a wonderful live music experience for families with young children. The energetic, interactive show came with puppet characters to help introduce the songs. Kids learned to "freeze dance" while dancing to the very catchy song about guitar pick safety. (Don't put the pick in your mouth!)
The tune, "Five Sea Lions," is immensely catchy and fun. At one point during the show, the "very famous New Jersey celebrity" flew in, who came in the form of a dinosaur puppet named Bruce. (Any guesses?) Another crowd favorite, "My Superpower," is about both superheroes and real-life heroes, like Martin Luther King, Jr.
The band brought boundless energy and enthusiasm to their show, and they certainly got my little ones dancing and singing along. Children and grown-ups alike are bound to learn something new in the process, too.
Before the show, I was lucky enough to talk with Jason Didner about the band's inspiration, and he shared a touching story that's sure to make this kindie group even more appealing to parents.

Mommy Poppins Philly: What's your favorite thing about performing for kids?

Jason Didner: Watching kids in the audience form the beginnings of friendships with each other is amazing. This is especially noticeable with our own daughter, who makes cameo appearances in the band and often makes new friends at the show. We love being the common bond that brings kids together and helps them build lasting memories with their grown-up too. It's also great when kids get inspired to learn an instrument from seeing us play.
MPP: I read that you recently donated a kidney to your band member. What was that like? What have you taken away from that experience?

JD: My wife, Amy, co-founded this band with me, as we found ourselves writing songs in our favorite musical styles for the benefit of our daughter. Over the past few years, Amy, a diabetic since childhood, saw her kidney function and energy level decline. In this process, we found out that Amy and I are a match for organ transplant.The decision to be Amy's donor was easy except for one thing: both of us would be out of commission for our 4-year-old daughter at the same time. It's a good thing Grandma and Grandpa stepped in! Seeing Amy able to rock the stage and express her sense of humor through the puppets and skits in-between songs does my heart a world of good. I definitely would have donated my kidney to her again if I had it to do over.
To learn more about the band and to see upcoming tour dates, visit their website or check our Philadelphia, New York, and New Jersey Events Calendars for even more enriching fun for kids.