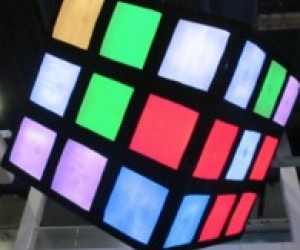 Best Spring Museum Exhibits for NJ Kids
March 20th marked the first day of spring and hard as it may be to believe, we can soon look forward to warmer weather, spring flowers, opening day celebrations, bike riding and street festivals. We can also look forward to new museum exhibits through the Garden State. From Bob the Builder to Frogs to Honeybees to a world-premiere exhibit centered around the famous Rubik's Cube, there's something for everyone this spring!
Liberty Science Center (Jersey City, NJ)
Can we build it? Yes, we can! Liberty Science Center is hosting its Bob the Builder Project: Build It! exhibit now through April 27th. Kids works with Bob the Builder and friends to make everything better in Sunflower Valley as they build, fix, plant, and improve, using team efforts. They'll use wrenches to fix a sink, climb on large construction machines, plant flowers in Wendy's garden, operate kid-safe workshop machinery, and even run a "water pump."
And starting on April 26th, LSC will present the world premiere of Beyond Rubik's Cube. The exhibition celebrates the 40th anniversary of the world's bestselling puzzle toy. Highlights include the Solve Bar, which steps visitors through solving the Cube; Robot Race, where guests will challenge a speed-cubing robot to solve any jumbled cube in record time; and a giant Rubik's Cube the size of a car for people to explore how the internal mechanism of the Cube works. Visitors can also compose their own poems on the Haikube; create symphonic melodies in Cube Symphony; and add their own pieces to the giant Collaborative Mosaic, a large-scale work of art made entirely of visitors' scrambled Cubes.

Address & Phone: 222 Jersey City Blvd, Jersey City, NJ 07305/ (201) 200-1000
Admission: Admission starts at $19.75 for adults and $14.75 for children.
Hours: Tuesday – Friday from 9:00am - 3:00pm and Saturday – Sunday from 9:00am - 5:30pm
Adventure Aquarium (Camden, NJ)
This South Jersey aquarium features a West African River experience with hippopotamuses, crocodiles, and fish inside a free-flight aviary; Amazon rainforest; Caribbean Currents; shark exhibit with 40-foot long walk-through tunnel and an Inguza Island penguin habitat. This spring will host two new exhibits: Frogs: Nature's Message through April 27th and Hippo Haven, a new theatrical environment to experience a day in the life on an African river.
Address & Phone: 1 Riverside Drive Camden, NJ 08103 / (856) 365-3300
Admission: Adult admission $24.95 (Ages 13+) / child admission: $18.95 (Ages 2-12)
Hours: Open 365 days a year from 10:00am - 5:00pm
The Morris Museum (Morristown, NJ)
Tagged as Morris County's epicenter of art, science, culture, and history, the Morris Museum hosts Super Science Saturdays and monthly family festivities. Beginning May 5th, this arts center will feature Honey and the Hive: The Sweet Story of Honeybees, a celebration of these incredible insects.
Address & Phone: 6 Normandy Heights Road Morristown, NJ 07960 / (973) 971-3700
Admission: Adults $10, children $7.
Hours: Tuesday – Saturday from 11:00am to 5:00pm and Sunday 12:00pm to 5:00pm
Newark Museum (Newark, NJ)
The state's largest museum features more than 80 galleries exhibiting American art; arts of Africa, the Americas and the Pacific; classical art; numismatics; natural science collection; a mini-zoo and a planetarium. Ongoing exhibits include Dynamic Earth, Tibet Information Zone, Fire Escapes: Danger & Survival and Generation Fit. Spring exhibits will include Generation Fit: Steps to a Healthier Lifestyle, an interactive family experience with Calorie Crank, Body Scan and Exertainment activities. emPOWERED: Your Renewable Energy Future will reopen shortly.
Address & Phone: 49 Washington St, Newark, NJ 07102 / (973) 596-6550
Admission: Adults: $12, children $7.
Hours: Open Wednesday through Sunday from 12:00pm to 5:00pm.
Yogi Berra Museum and Learning Center (Little Falls, NJ)
Nestled in the Montclair State University campus, the Yogi Berra Museum and Learning Center celebrates generations of Yankees and all of baseball. The museum now features Allyship: Combating Prejudice, Championing Inclusion, a unique sports exhibit focusing on pioneers and barrier breakers.
Address & Phone: 8 Yogi Berra Drive, Little Falls, NJ 07424 / (973) 665-2378
Admission: $6.00 for adults, $4.00 for students under 18.
Hours: Open to the public Wednesday through Sunday, 12:00pm to 5:00pm.
Monmouth Museum (Monmouth, NJ)
The Becker Children's Wing at Monmouth Museum houses a hands-on learning environment for children 7 -12 years old. Exhibitions are based on school curriculum subjects using science and cultural history in stimulating and thought-provoking ways. Ancients to Astronauts: How We Communicate explores the theme of communication through four exhibitions. Children can experience weather and learn how weather reports are broadcast, travel to Ancient Egypt in a time machine, blast off in a Friendship 7 capsule in our Space Exhibition and discover new crafting experiences in the Green Arts Studio.
Address & Phone: 765 Newman Springs Road, Lincroft, NJ 07738 / (732)747-2266
Admission: $7 per person. Children two and under are free.
Hours: Tuesday to Thursday 2:00pm to 5:00pm; Friday 2:00pm to 9:00pm; Saturday 10:00am to 5:00pm and Sunday 12:00pm to 5:00pm.