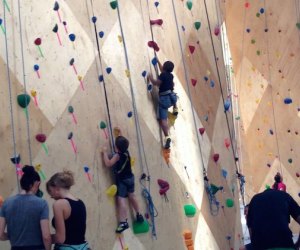 8 Somerville Day Camps to Keep Your Kids Active All Summer
If you're seeking an exciting summer day camp for your active kids, look no further than these seven options based in Somerville. They cover a range of ages and subjects, from climbing and circus tricks to canoeing and Parkour. For kids who prefer to be creative, we've also rounded up several camps in Somerville with a focus on the arts.
Adventure Summer Program
Ages: 5-12 years old
Sessions and Location: Six week-long sessions in July through August take place at the Healey School (5 Meacham St.).
About: At Adventure Summer Camp, run by the Somerville Community Schools, children move through a variety of activities each day that stimulate body and mind. Campers participate in sports and swimming as well as arts and crafts and academic enrichment. Twice a week campers go on field trips to places like zoos, farms, beaches and museums.
Esh Circus Arts
Ages: 5-16 years old
Sessions and Location:Youth Circus Intensive for ages 8-16 in June and July; Youth Circus Survey for ages 5-16 in August at Esh Circus Arts (44 Park Street).
About: Youth Summer Programs at Esh Circus Arts offer kids and teens an opportunity to explore many aspects of the circus arts, including ground acrobatics, aerial acrobatics, tumbling, juggling, wire-walking, clowning, and hula hooping, during one-week sessions.
BKB Adventures
Ages: 5-12 years old
Sessions and Location: Day and week camps take place on school holidays and during the summer (late June-early August) at Brooklyn Boulders Somerville (12A Tyler St.).
About: Brooklyn Boulders Somerville, a massive climbing gym, hosts its camp, BKB Adventures on school holidays and during the summer in single-day and week-long sessions. Attendees get to experience a full day of bouldering, top-rope climbing, arts and crafts and recess at nearby Conway Park.
Canoe Program at the Mystics
Ages: 5-14 years old
Sessions and Location: Six week-long, half-day sessions will take place at the Blessing of the Bay Boathouse (32 Shore Drive).
About: This summer, the Somerville Recreation Department is offering a half-day program where boys and girls can learn the basics of rowing and water safety on the Mystic River. Campers take multiple trips on the river after experiencing canoe safety training. In addition to rowing, kids participate in other sports like volleyball, horseshoes and dodge ball.
OPENAIR Circus
Ages: 3 and up depending on activity
Sessions and Locations: Classes take place in July with rehearsals and performances to follow. Classes are held at Nunziato Field/Community Growing Center, Foss Park and Nathan Tufts Park.
About: OPENAIR Circus isn't a typical day camp, but it's a really fun and unique summer activity for kids (and the whole family really). For five weeks during the summer, children get to learn circus skills like stilting, juggling, unicycling and more. During the sixth week, attendees participate in rehearsals that are followed by outdoor performances.
Parkour Youth Program
Ages: 8-13 years old
Sessions and Location: Three week-long, half-day sessions in July and August take place at the Cummings School Playground (42 Prescott St.).
About: Parkour is a form of movement that combines elements of gymnastics, martial arts, climbing and athletics. The Somerville Recreation Department is hosting a summer Parkour program that is open to all abilities and fitness levels where kids can learn the fundamentals and get a great workout while having fun.
Somertime Day Program
Ages: 5-13 years old
Sessions and Location: Six week-long sessions in July and August. Pick-up and drop-off is at the West Somerville Neighborhood School (177 Powderhouse Blvd.).
About: Run by the Somerville Recreation and Youth Department, the Somertime Day Program allows children to experience a wide variety of fun activities that keep them active and creatively engaged on a daily basis. Attendees will get to swim, play tennis, complete arts and crafts projects, go on field trips and much more.
Somerville YMCA Summer Day Care Program
Ages: 5-13 years old
Sessions and Locations: Week-long sessions from late June through August. Drop-off and pick-up is at the Somerville High School Field House (81 Highland Ave.) or Somerville YMCA (101 Highland Ave.)
About: Children participating in the Somerville YMCA's Summer Day Care Program will have the opportunity to take two or three field trips during each sessions to places like museums, amusement parks, sporting events and beaches. On the days when no field trip is scheduled, campers will take swimming lessons, go bowling, play softball and soccer, do arts and crafts, participate in cookouts, go fishing and more.
---
Top image of the auto-belay at Brooklyn Boulders Somerville