The Adventures of Tortoise & Hare The Next Generation
The Sheen Center

The Very Hungry Caterpillar Show
DR2 Theatre

NYC Easter Brunch Cruise 2023
Event Cruises NYC
Sign up for our free newsletters.
Staten Island's Gorgeous Mariners Harbor Library: Kids' Programs and a Terrace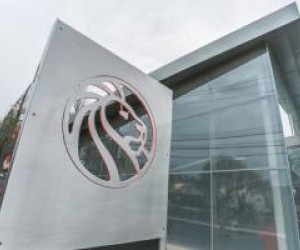 2/27/14
- By
Nataki Hewling
The opening of a new public library is a rare thing, especially on Staten Island. The state-of-the-art Mariners Harbor Library is the first new New York Public Library branch since the Battery Park City Library debuted in 2010, but it has been almost 20 years since we got a new branch on the isle. Making it happen wasn't easy: It took almost five years to build and cost upwards of $12 million. But now that it's here and my family and I have visited, I can truly say this oyster-themed branch is a true pearl in the community.
Mariners Harbor Library is the NYPL's 88th branch and the 13th library on Staten Island. Community members had been lobbying for their own branch for decades, since the closest one was more than two miles away. Designed by Atelier Pagnamenta Torriani, the one-story building has an eye-catching design meant to look like an opening oyster (a nod to the area's 19th-century seafood harvesting roots). Most of the exterior is windows and skylights, making it very bright inside the 10,000-square-foot space. There aren't any walls, either; only bookcases separate the children's, teen and adult sections, which gives the library an open community hub feel.

In addition to approximately 17,000 books, DVDs and periodicals, Mariners Harbor Library boasts 38 desktop computers (some Macs, a rarity at libraries), 10 laptops and FREE Wi-Fi. It's also ADA accessible, has a children's-only bathroom, a community room that can be used for various purposes, and a lovely garden and terrace that's going to be a great place for families to hang out in warm weather. And like all branches, it regularly hosts programs for all ages, including storytimes, crafts, movie nights and even FREE after-school homework help.

My nine-year-old, a frequent library goer, said this was his favorite yet. He loved the unique design, all of the computers and especially the fact that I allowed him to hang out in the children's area while I checked out the adult section. Since it's a big open space, it's not like leaving your kid in another room. You can just glance around the bookshelves to see how they're doing.

Two others things we liked? The self-checkout stations and the fun photo booth, where you can snap a selfie, add a few lines about what you're doing at the library, and email it or share it on social media. Even though Mariners Harbor Library isn't around the corner from our Manor Heights home, my son and I definitely plan to visit again. It's a true destination library.
Mariners Harbor Library is located at 206 South Avenue between Arlington Place and Brabant Street. It's open Monday noon-8pm, Tuesday-Thursday 10am-6pm, Friday-Saturday noon-5pm and closed on Sunday.
Find out about other cool places to visit on Staten Island.