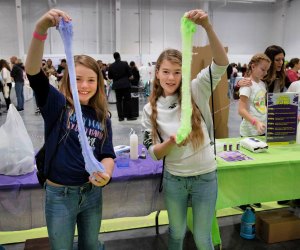 Columbus Day Weekend Things To Do in Connecticut: Parades, Pink Pumpkins, and Slime
Whether your town celebrates Columbus Day or not, Connecticut is brimming with all manner of fall fun this weekend, including country fairs, school carnivals, and Halloween adventures (for little and big kids). October is Breast Cancer Awareness month, and Lyman Orchards is sponsoring a Paint the Pumpkin Pink event on Saturday that will raise funds for the Middlesex Comprehensive Breast Center. While you're there, do some apple picking and check out the corn maze. For more non-Halloween fun, celebrate Hispanic Heritage month at the Mystic Aquarium or the Peabody Museum.
Finally, if your weekend isn't complete without taking a culinary adventure, check out the Taste of Fairfield in Fairfield or sample some chowder in Mystic and Guilford. If you are lucky enough to have a three-day weekend, check out the Columbus Day Parades in Bridgeport and Bristol, or enjoy any of these 25 Things To Do With Kids on Columbus Day.
To make sure that you don't miss any of the fun, subscribe to our weekly newsletters and follow us on Facebook and Instagram. Read on for our highlights of events happening this weekend, and check our frequently updated daily events calendar for even more ideas.