Handcrafted Marshmallows? This Burbank Sweet Shop Serves Ultimate Indulgence
Long before becoming Mommy and Daddy, my wife and I were determined to have a favorite indulgence we loved even more than cake at our wedding reception: s'mores. So when Plush Puffs Handcrafted Marshmallows opened in Burbank this fall, I jumped to take my daughter to enjoy one of my favorite, decadent treats. But take note: these are far from the average bag of mallows that are probably aging in the back of your cupboard.
Plush Puffs flavors range from chocolate chip to peppermint, caramel, coconut, and more. And though they are definitely as full of sugary goodness as the marshmallows you grew up on, they are made without corn syrup, artificial dyes, or preservatives — so you don't need to feel too guilty about plopping one on top of your hot cocoa.
Plush Puffs was founded by mom/chef Ann Hickey-Williams, because her son requested "pumpkin marshmallows" one fall. Some experimentation with another chef, a business model, and a whole lot of sweat eventually led to an online sales business and then a brick-and-mortar location right here in Beautiful Downtown Burbank. Check out the Plush Puffs website to learn more and to find a bunch of fun, drool-worthy recipe ideas utilizing their products.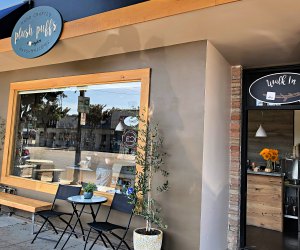 Yes, you want to stop in here. Photo by Mike Anderson
The Burbank store has a variety of s'mores options, as you might expect, and my daughter and I sampled a few of the signature marshmallows as well. Their texture is perfectly fluffy and chewy. We also indulged in a "haute s'more" featuring house-made graham crackers (gluten-free is available), dark chocolate, peanut butter drizzle, crushed pretzels, and toffee. It was somehow even more delicious than that sounds. The store also offers s'more "rice crispy bowls" if you're worried about a mess (after witnessing my daughter's chocolate-covered face and hands after the s'more, I understand). Plush Puffs offers lots of hot cocoa and espresso options to try with one of the "mug topper" marshmallow flavors to kick your hot beverage up to the next level.
The store is open from 8am-8pm, Tuesday through Sunday. If you can't make the trip to Burbank, the store's website also has easy online ordering. These outrageous gourmet marshmallows would make a spectacular addition to any party—assuming Mommy and Daddy can keep their hands off until the kids arrive.