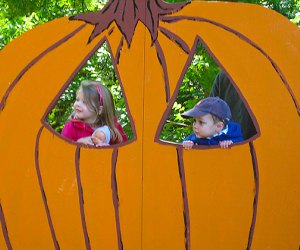 10 Fall Activities to Keep Toddlers Busy Around Boston
Fall is a lovely season in Boston, but can leave toddlers (and their parents) feeling a little bereft. With beach days behind us and big kids back in school, it can be tricky to find activities that keep little ones busy (and mama sane). Luckily, our city and 'burbs are full of autumnal treats that are especially suited to new walkers and talkers. There are lots of parent-child classes, yes, but sometimes we're all just looking for a fun outing that doesn't require much advanced planning. Here are a dozen of our favorite things to fill the time between naptime.
1. Play with bubbles. Really, is there anything more universally appreciated by this age group than bubbles? Up until early October, you and your child can experiment with the soapy stuff outdoors at the EcoTarium in Worcester. Year-round, the Bubbles exhibit, just inside the Boston Children's Museum's front lobby downtown, is open for frothy, interactive fun. Prefer to stay home? Try bubble painting!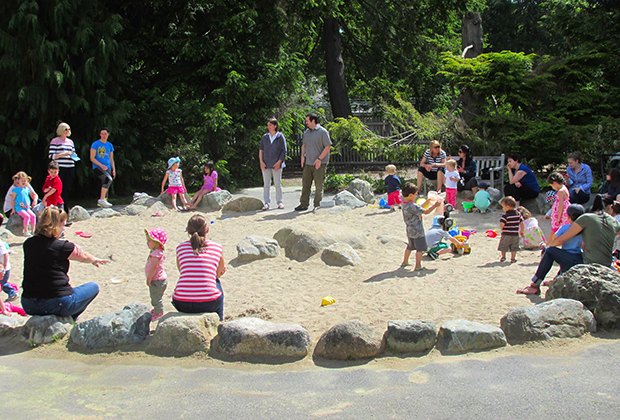 Weezie's Garden in Wellesley is a natural playground perfect for exploring. Photo courtesy of the Massachusetts Horticultural Society
2. Visit a natural playground. It's amazing how much fun little ones, in particular, can have at a playground that features more wood and rock than colorful plastic. Spaces like the Alexander Kemp Playground on Cambridge Common, Weezie's Garden at Elm Bank in Wellesley, and the Dexter-Southfield lower school playground in Brookline (accessible when school is out of session) feature creative wood, sand, and running water elements that spark curiosity and encourage problem solving in young walkers. Check out some more great playspaces here.
3. Visit the local fire station. For the most part, if they aren't in the midst of an emergency and it's a quiet day, local firefighters are happy to host a little visitor to look at the trucks and maybe even climb aboard for a few minutes. While most stations are open 24/7, it's a good idea to call ahead and make sure it's an appropriate time for a visit. Some particular cool stations include the Cambridge Fire Station Headquarters at 491 Broadway and Boston's Engine 33/Ladder 15 at 941 Boylston, near the Pru.

"Raking"—or just playing in—leaves is little-kid heaven.
3. Pick up a kid-sized rake at your local hardware store and help out a neighbor. Get some exercise, encourage selflessness, and have fun by doing some cleaning up the leaves from a neighboring yard or school with your little ones. Little ones will have a tough time getting much raking done, but they love to "help" (and play with the leaves, of course).
4. Spend a couple hours at Christopher Columbus Park. There's so much to see at this waterfront gem in the North End, and also a terrific tot lot to play in. Pack a snack or lunch and look at the boats, dig in the sand, and come home nice and tired for naptime.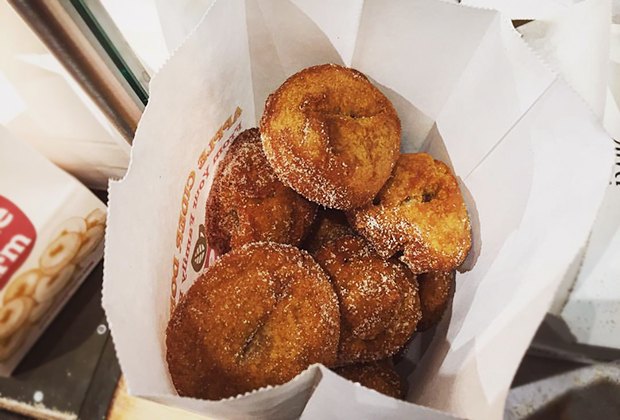 Enjoy a mini donut (or three) at Boston Public Market. Photo courtesy of Big Apple Farm
5. Get the city's best apple cider doughnut. Browsing the colorful wares at Boston Public Market is fun as it is, but topping off a visit with a delicious, warm doughnut from the Red Apple Farm stall really makes the outing worth it.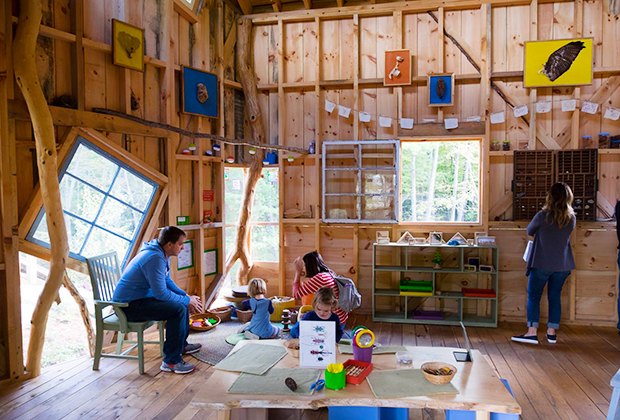 The treehouse in Discovery Woods was designed by DIY Network stars. Photo courtesy of the Children's Discovery Museum of Acton
6. Explore the Children's Discovery Museum of Acton. Arguably the best museum for toddlers in the region, the Discovery Museum is full of nooks and crannies, indoors and out, where little ones can play and explore for hours on end. Don't miss the amazing Discovery Woods treehouse built by DIY Network's The Treehouse Guys. Kids' admission is $12.50, but babies get in for free.
7. Say hi to the Mallard family and read a Boston classic in the Public Garden. Tots never seem to tire of a visit to Mrs. Mallard and her eight ducklings just inside the garden, at the corner of Beacon and Charles Streets. Bring along a library or personal copy of Make Way for Ducklings, a blanket, and a snack, and enjoy this beautiful outdoor space before it gets too cold for a comfortable visit.
8. Enjoy Toddler Tuesday at the Lego Discovery Center. Let's be honest: Older children, especially ones with a bunch of complex Lego models on their shelves at home, can suck all the air out of the room at Somerville's otherwise awesome space for kids. On the second and fourth Tuesday of the month, little ones can attend Toddler Tuesday for a discounted rate at the Lego Discovery Center, and enjoy special themed activities, storytime, and dedicated building time in the Duplo farm space just for them.
9. Let kids play at Magic Beans (while you stock up on birthday party gifts). Whether it's a rainy day or just a busy day, Magic Beans in Brookline, Cambridge, Hingham, and Wellesley have you covered. With a free indoor playspace that's close enough to the retail area, you can keep an eye on your kids while getting some shopping done. A bonus is their display of nursing chairs for sale, which are available for nursing moms to use (and relax in) if need be during your visit.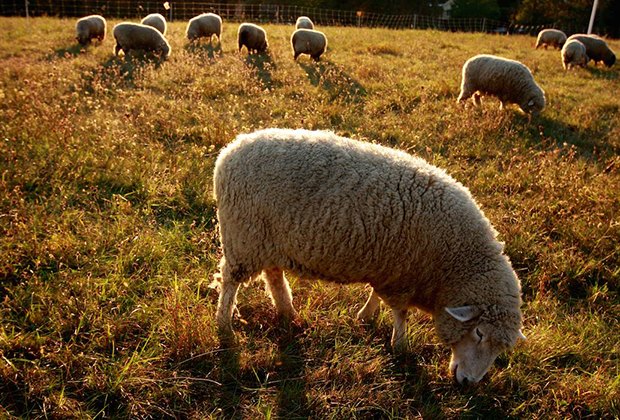 Sheep, goats, chickens and more graze the grounds at Drumlin. Photo courtesy of Drumlin Farm
10. Skip the orchard, visit a farm. Apple picking with kids is fun, but winding up and down the long, bumpy corridors of an orchard with a new walker can make everyone cranky. Until they're a little bigger, bring little kids to a small farm with animals and seasonal fun instead. Drumlin Farm in Lincoln is always a great choice; via just a short loop around the barnyard, kids can see sheep, goats, chickens, and pigs up close (without getting too exhausted). Take photos with pumpkins and finish the day with a gentle hayride that's just $1 per child and free for tots under 2.
Top photo: Kids ham it up in the pumpkin cutout at Drumlin Farm. Photos courtesy of the author unless otherwise noted