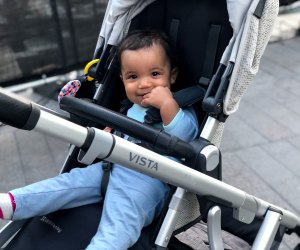 The Rocks at Harbor Way in Boston: A New Park Where the Trees Sing
The Rocks at Harbor Way is a new urban oasis in Boston with a mix of new age, modern aesthetics, and a nod to the city's maritime history with its wooden boardwalk. This new park in Boston's seaport features Singing Trees and giant boulders for climbing, and is a wonderful addition to the neighborhood. Read on to find out why this new park has us singing its praises.
For more great spots where kids can play, visit our Guide to Playgrounds and Parks in Boston.

Joe Patitucci, CEO of PlantWave, programs the Maple and Sassafras tree to sing. Photo courtesy of the Boston Seaport
The Singing Trees in Boston
To try this immersive experience, visit the newly opened The Rocks at Harbor Way in the Seaport District.
OUR LATEST VIDEOS
Electrodes are thoughtfully placed throughout the trees in this public open space. The natural sound waves from the movements of the leaves on the trees are measured and translated into music using PlantWave technology. It's getting attune to nature on a whole other level.
There are four designated pockets around the park where you can experience this technology for the first time in Boston.

Everyone is smiling during the October 13 opening ceremony of The Rocks at Harbor Way. Photo courtesy of Catherine Aillon
Urban Oasis in Boston
Once a parking lot, this new greenspace, with its mix of concrete walkways, wooden sidewalks, stone seats, coastal plants, canopy of native trees, and giant boulders sourced from local quarries, is a great place for families to unwind after a busy day.
There are tables and benches for families to sit at and enjoy a picnic lunch, or dinner. Children are welcome to climb the giant rocks.

Children climb the giant rocks at this new urban oasis in the Fort Point neighborhood. Photo courtesy of Catherine Aillon
The leaves glistened golden in the evening light, a perfect backdrop for families mingling, dogs barking, and the laughter of children as they explored the park. I couldn't have asked for a more perfect fall day to witness this tableau.

The wide wooden boardwalk is lined with trees. Photo courtesy of Catherine Aillon
Change is ongoing in the Seaport District, and there's so much more to it than the World Trade Center, Logan Airport, and seafood restaurants. It's fast becoming a hub for all things historical and modern for families to enjoy. The Rocks at Harbor Way is still in Phase 1 of development, and there's more to come at this new Boston park with completion estimated for 2024.
In the future, this new greenspace will host pop-up markets, concerts, performances, outdoor fitness classes, holiday bazaars, and a skating rink (scheduled to open in 2023). I look forward to seeing it grow and expand.
Getting to The Rocks at Harbor Way
The Rocks at Harbor Way is located at 100 Autumn Lane in Boston. Families can take the Silver Line to the Silver Line Way stop. Parking is also available in nearby garages.
It was made possible through a collaboration with WS Development, James Corner Field Operations, and Pentagram
At dusk, be sure to catch a glimpse of the sun setting on the park casting a rosy view.
Nearby Eats and Free Public Lounge
For a treat near this public open space, try Taiyaki NYC. This Japanese ice cream shop is garnering a lot of local notice. The kids will have fun picking out their flavors, syrups, toppings, including a unicorn look, and base. Options for the base include their fish shape waffle cone, bear shape waffle cone, or a traditional cone.
In addition to popular flavors such as chocolate and vanilla, there are distinctive flavors to try such as Matcha green tea, mango and watermelon, and black sesame. You can come for the ice cream, but may end up ordering the pancakes instead, once they are available.

The fish waffle cone at Taiyaki NYC, near The Rocks at Harbor Way. Photo courtesy of Taiyaki NYC
Other popular eats for families near the The Rocks at Harbor Way include Chipotle, Starbucks, Ben & Jerry's, and Shake Shack.
And, if you need to recharge your phone or electronic devices, stop in at the nearby District Hall Public Lounge, which is open to the public most days until 5 pm.