Sell-Out Alert! Victorian Valentine's Day Tea is Free Fun for Westchester Kids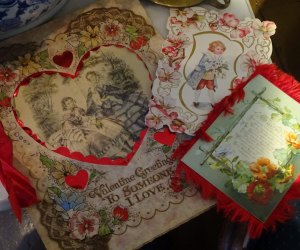 It might seem early to talk to about Valentine's Day, but given the popularity of the Victorian Valentine Tea at the Horace Greeley House in Chappaqua, you'll be glad to have the heads-up to reserve your child's spot. We attended this annual event in the past and were wowed for many reasons—including that it's free!
Read on for our review and be sure to sign up for our newsletters for more awesome events heading your way! Also consult our Event Calendar to plan ahead.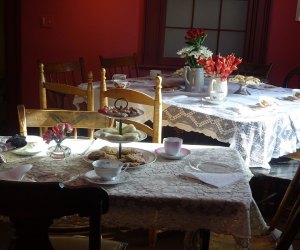 The table is set for an elegant affair.
What makes this event stand out from other Valentine's Day programs is the infusion of Victorian Era charm and the elegant tea service. The former home of Horace Greeley, whose claim to fame is founding the New-York Tribune, serving in Congress and running for president against Ulysses S. Grant, is on the National Register of Historic Places and is available year-round for tours. Whereas in most historic homes, rooms are roped off and protected from curious kids, here kids are the stars of the show and very hands-on.
We have attended in the past and entered to find tables were set with lace tablecloths and full-service tea. Tiered trays offered finger sandwiches and scones, pitchers displayed bouquets of strawberry kabobs and plates were passed with assorted confections. Never mind paper goods—only the finest china will do!
Before sitting down to tea, the children sat on the floor together while learning about local history and Victorian valentine customs. Children then took their seats (observe from these images that not all tables are created equal), while adult volunteers served. The feast was sumptuous and, fortunately for the adult guests, there were sufficient leftovers for us to indulge a bit ourselves.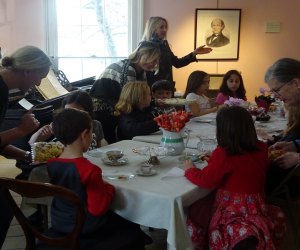 Kids only!
Following the tea party, guests were ushered upstairs to a craft room, where lengthy tables displayed construction paper, paper doilies, scissors, markers, stickers, glue sticks, artificial flowers, decorative hole punchers, pipe cleaners and Victorian images. Children were left to their imaginations.
Beyond creating valentine greetings, kids made tussie mussies, which they learned were small bouquets traditionally bestowed upon a woman by her suitor (and often used as a distraction from unpleasant street smells).
Incredibly, all this—food, supplies, a tour of the home and a major effort on the part of the organizers—is free. Produced by the New Castle Historical Society with support from the Chappaqua Public Library children's room, the event's leaders even baked for the occasion. Donations (well-deserved) are accepted.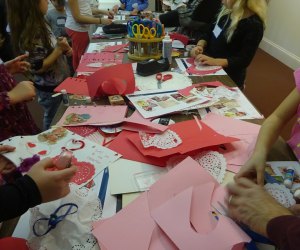 Craft supplies galore for the best kind of valentines—homemade!
Though the event is marketed to ages 4-12, the sweet spot is the middle of that range. My tweens have deemed themselves "too old" (to my chagrin, because I want to go back!).
Two sessions are now offered to accommodate the tea's popularity, but a sell-out is still expected well in advance. Sold? Make your reservation now!
All photos by the author.