Not-So-Scary Halloween Events in Westchester for Toddlers and Preschoolers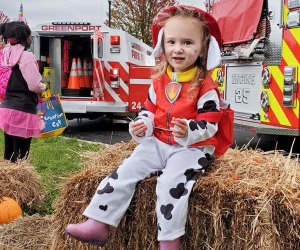 10/16/22
- By
Katherine Dhurandhar
Looking for the best Halloween events in Westchester for toddlers and preschoolers? Read on for our top picks.
Halloween can be the most fun holiday of the year, but it can sometimes be a bit scary for younger kids. Thankfully, Westchester and the Hudson Valley are full of Halloween events that go easy on the scary while still managing to be full-on fun.
So get your little ones dressed up in their favorite costumes and get ready for some not-so-spooky fun. Our toddler-friendly Halloween events include music parties, library trick-or-treating, and even zoo animals. As an added bonus, most of the events on this list are FREE to attend.
You can find more festive happenings for all age groups in our Westchester Halloween Guide and our Family Activity Calendar, which is continually updated with new, fun events as we learn about them.