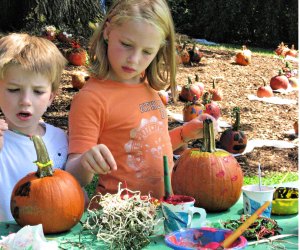 Things to Do in Philly this Weekend: Pumpkin Pawlooza, Trucks, Tractors, Trains October 5-6
It's beginning to look a lot like autumn. Pumpkins are lined up by the doorstep, cornstalks are affixed to street lights, and Philly kids are in a constant state of chatter deciding what to be for Halloween. Yes, fall is in the air and the perfect time for families throughout the Delaware Valley to create a bucket list for the season. There are festivals to attend, pumpkins and apples to pick, and foliage to admire.
This weekends presents many ideas to add to your list. In the city, Morris Arboretum provides a weekend filled with all things fall including pumpkin decorating, scarecrow making, and apple tasting. In the suburbs, Newlin Grist Mill hosts its Fall Harvest Festival; Bensalem township offers its annual Fall Festival; and Radnor township features its Fall Harvest & Great Pumpkin Patch event. For kids who love things that go, consider exploring Trucks and Tractors at Winterthur, or taking a train ride to see the changing leaves on the West Chester Railroad. Other noteworthy weekend highlights include Skippack Days in Skippack, Pumpkin Pawlooza at the Garden State Discovery Museum, and APS Annual Garden Party at Jefferson Garden.
Still looking for more ideas to create your family's perfect fall bucket list? Be sure to browse through our event calendar by using tags, location, and age.