SPONSORED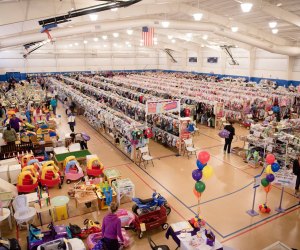 Just Between Friends Consignment Sale Coming to Glen Mills
"Solving growth spurts. Saving budgets." Um, you can say that again!
Head to upcoming Just Between Friends' award-winning children's and maternity consignment sale in Glen Mills and your wallet will definitely thank you. Stocked with 160,000 new and gently-loved items, shoppers can expect to find tons of toys, books, shoes, games, baby gear, outdoor equipment, clothes (baby to teen!), and more at 50-90% off retail prices. Considering how quickly our little ones grow and how badly we want to give 'em the best of the best, this much-loved sale is a budget-watching mama's dream come true. Oh, and if you're looking to make a little cash you can register to consign at the event too. Out with the old, in with the new-to-you.
Ready to mark your calendar, stat? Deal-hunters can shop from Thursday, March 23 to Sunday, March 26. Make a note that tickets are free from Friday to Sunday, with most items discounted 50% on the final day of the sale. The pre-sale on Wednesday is only for consignors, first time parents and grandparents only, but if you're on the hunt for something specific, consider a $15 "prime time" ticket for pre-sale access on Wednesday after 3pm. Or head there early on the first day, Thursday, for $3. But if you want to go Friday through Sunday, when tickets are free, don't worry about missing out, new items are added on Friday so there's always lots of great stuff to score.
The sale is a huge hit with savvy parents, so expect it to get pretty crowded. A fellow grown-up will be your best wing man. Kiddos and strollers are more than welcome except during pre-sale hours, but babies in carriers are allowed any time and may be a better option anyway to help maneuver the crowds. But, hey, it's totally worth it.
Register now to reserve your tickets and follow the event's Facebook page for announcements and updates.
Want to register to consign at the event? Just Between Friends makes it easy to prep, price, and tag your items, and consignors get a free pre-sale pass, make an average of $350, and have the option to donate any unsold items to a local charity that helps those in need.
Happy shopping (and saving), yinz!
Brandywine Youth Club (Field House)
41 South Thornton Road
Glen Mills, PA 19342