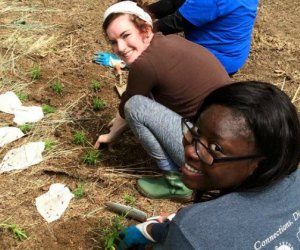 Celebrate National Trails Day on June 4
It's almost summer, which means it is time to celebrate some of the coolest spots in town - the amazing network of trails and paths that the greater Philadelphia area has to offer. With National Trails Day coming up on June 4, you can mark you calendar for a great way to catch some shade (and also note some amazing trails or parks you may not have already known about). National Trails Day events highlight the importance of the outdoors, healthy activity and supporting your local resources. Whether you are an avid hiker, or just looking for an opportunity to share some nature loving with your kids, National Trails Day has tons of events that you can access, no matter where you live in the region. Here is our roundup of some of the best.
National Trails Day at Valley Forge National Historic Park-
With 28 miles of trails, this is the top destination for many celebrating National Trails Day. Three events are taking place, and all require pre-registration.
7:15-8:15 AM go on a one-mile bird-watching hike. This is an easy hike and good younger kids.
8:30-10:30 AM take a 2-mile historic hike, and learn about the significance of Valley Forge in our nation's history.
8:30-10:30 AM take the Mount Joy hike, a more moderate/difficult hike, and learn some key elements of hiking safety.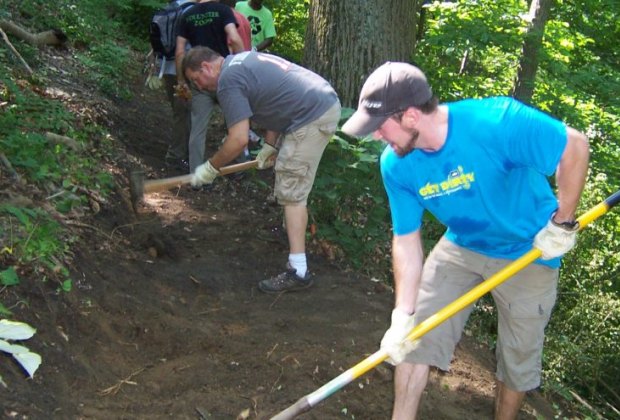 Photo courtesy of Friends of the Wissahickon
Build a New Trail with the Friends of the Wissahickon-
At this cool event, you and your family can play a direct role in building out one of the greatest natural resources within the city-limits. This is an all-day event.
Love the Trails at Saunders Woods Preserve-
This guided hike includes a volunteer service element (clean up), and goes from 9:00 AM - 12:00 PM. Learn about the natural wildlife and habitat at this preserve, and help clear out pesky overgrowth. This is a labor-intensive hike so bring sturdy gear and save it for older children or teens.
Hike and Cleanup of the D&L Trail in Bucks County-
Join the Delaware Canal State Park, Heritage Conservancy and Landmark Towns of Bucks County for a fun-filled set of activities in honor of National Trails Day. Start the day with a lovely guided hike along the Delaware Canal Section of the D&L Trail departing from Washington Crossing. Then, volunteer at Heritage Conservancy's Sol & Rose Preserve to clear the trail of winter debris, remove non-native plants and improve the trail for an enjoyable detour off the towpath through an old growth forest. All volunteers have the opportunity to enjoy a picnic lunch afterwards. This event runs from 9:00 AM - 5:30 PM.
Community Trails and Celebration Day-
Filled with food, live music, 5K, kids games, face painting, rock wall, moon bounces, sports demonstrations, touch-a-truck, local organizations & exhibitors, bike rodeo, car seat checks, vendor fair, fun and more along the Chester Valley Trail. This event runs from 4:00 - 8:00 PM.
Resolution Hike-
This monthly hike, hosted alternately by Wolf's Hollow Park and Nottingham County Park, is not specifically part of National Trails Day, but it's still a great way to get outside into nature and celebrate! The June 4th Resolution Hike will be at Wolf's Hollow Park at 9 AM.
Upper Darby Trail Day-
Start at Kent Dog Park in Clifton Heights and hike your way along the proposed site of the Darby Creek Trail. Tours will be available at the Historic Swedish Cabin, and this family-friendly event also includes a photo scavenger hunt for the little ones.
Race for Open Space-
This event takes place on June 5. Adults and children can choose to run or walk the challenging 5K course through tranquil woods, over babbling creeks and through grassy meadows in the Willows, Ardrossan, Skunk Hollow and Sawmill Parks. There will be shorter 1- and 2- mile options for participants who prefer less distance. Maps and details about regional trails and conceptual trail ideas for the new Ardrossan Park will also be available. Plus prizes, refreshments, and games for kids!
Photo courtesy of The Student Conservation Association.