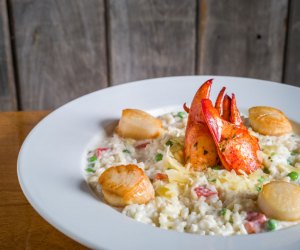 Mother's Day Takeout and Delivery from Local Philly Restaurants
While this year's Mother's Day celebrations will be different than usual (thanks, coronavirus...), that doesn't mean we can't make it special. Give mom the gift of not having to cook; we are all probably pretty sick of cooking at this point. We've rounded up 13 restaurants in Philadelphia and the surrounding suburbs that are offering special takeout menus and delivery options for Mother's Day.
For fun ideas on ways to enjoy quality family time on Mother's Day and every day, check out our Stay-at-Home Guide.
At publication time, these restaurants are offering take-out service for Mother's Day. Since the COVID-19 situation is constantly evolving, please confirm with the restaurant directly to be sure.
With more than ten locations around Pennsylvania from Philadelphia to Phoenixville (and a few more in Delaware and New Jersey), this local brewery will most likely be close to home, perfect for swinging by and picking up some of the delicious craft beer, a bottle of choice wine, and all the food to go with it. Try a craft kit, where you'll be able to bring all the fixin's home to put together your meal your way or pick up a ready-made meal like a Pub Burger or a Meatlover's Trio Pizza.
2. Market Street Grill / Green Street Grill - West Chester / Downingtown
Chester County favorites Market Street Grill in West Chester and Green Street Grill in Downingtown are open for all your breakfast and lunch needs every day of the week, including Mother's Day. Both locations have an extensive menu so Mom will have plenty to choose from. Favorites include Bullotta (bacon and bananas sauteed with honey and poured over Texas toast-style French toast), Kennet Omelet complete with local mushrooms, and a variety of different club sandwich options.
Take brunch (or lunch or dinner) home for Mother's Day with The Twisted Tail's takeout menus. Enjoy items with a southern flair, including Cornbread and Crawfish Mac 'n' Cheese or Fried Chicken with Rosemary Honey, or give a family meal a try with a whole rack of BBQ ribs plus fixin's. Delivery is available through Uber Eats or for free within a 3-mile radius.
Treat Mom to the delicious food from Talula's Table in Kennet Square with curbside pick up available from 7 a.m. to 6 p.m. Items are available all day off the special curbside pick-up menu including the Chorizo, Egg, Potato, Pepper Jack Breakfast Burrito, Carrot Cake Cookies, Cheese Boards, Mushroom Mac & Cheese and lots more. Talula's is also offering a Mother's Day Brunch to go that serves four and includes crepes, bacon, and more. Don't forget a mason jar full of mimosas either!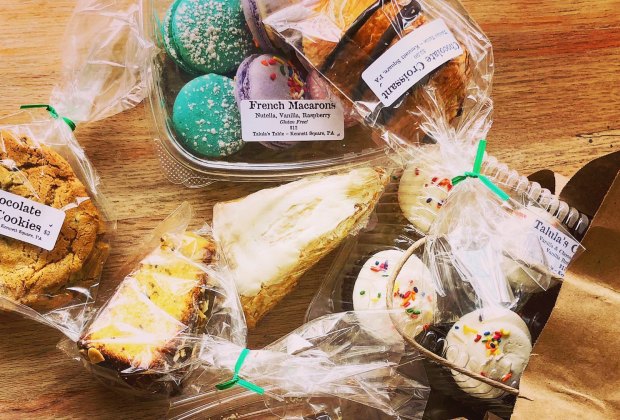 Photo courtesy of Talula's Table
5. Aneu -

Paoli
Aneu Catering is offering both a la carte and shared plate items on its Mother's Day menu. Order Nathan's Famous Cinnamon Buns, mini acai parfaits, Short Ribs, The Queen's Risotto, and takeaway Bloody Mary Mix. Closed on Sundays, Aneu will be offering curbside pickup and home delivery on Friday and Saturday, May 8-9, so be sure and place your orders early so you can enjoy Aneu on Mother's Day.
From whole wheat everything bagels smeared with jalapeno cream cheese to blueberry bagels slathered in butter, Philly Style Bagels can provide you with a very tasty Mother's Day breakfast. Choose from loose bagels, sandwiches, a variety of cream cheese and other spreads, and lots of morning beverages. Then call in advance to place your order and pay via Venmo (cash, credit cards, and PayPal are not accepted). Delivery is available through Uber Eats and Caviar.
Both of The Classic Diner's locations are open and offer their full menu with items such as Egg Platters, Pancakes, Belgian Waffles, Salads, and Sandwiches for Easter. Malvern is open from 7 a.m.- 3 p.m. and West Chester is open from 8 a.m.-3 p.m. Delivery is free.
Christopher's Wayne location is open for carryout for items on its take out menu. Place an order for Proscuitto Pizza, Crazy Chicken Wrap, or a quart of soup to go, among many other items. A variety of kids' items are available on the menu so both Mom and her little ones will find something they'll enjoy for Mother's Day dinner.
Email (preferred) or call your order into Izenberg's Catering. Offering contact-free curbside pick up or delivery, this spot has a wide variety of brunch dishes, includes Smoked Fishes with your choice of bagels and the Royal Brunch, which serves four to six people favorites like Poached Salmon with Dill Sauce, Bacon Brussels Sprouts, pastries and more. Sweet endings such as Lemon Rosette Cake and Strawberry Cheesecake.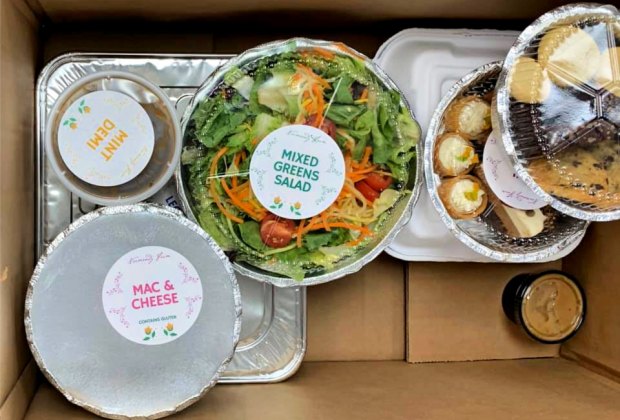 Photo courtesy of Normandy Farm
Families can select a special Mother's Day dinner from Normandy Farm and simply pick up the meal, ready to go via curbside delivery. Besides the special menu, family-style meals are also available, including options to feed two, four, or six people with items such as Chicken Pot Pie and Tortellini with Pesto Cream. You can also grab soup by the quart and bring home a dessert including Peach Cobbler or Bread Pudding. No matter what you choose, it's sure to be a tasty way to celebrate Mom!
There are five locations and one simple process. Call your local store, place your order, and pick up via curbside. Mom won't be disappointed with breakfast from Philly Bagels. And with five locations and one simple process (call your local store, place an order, and pick up curbside), you'll be back home in a jiff with her favorites, whether that's a classic like the Lox Special or a more inventive treat, like Rainbow Brite, a tie-dyed bagel smeared with birthday cake cream cheese.
Whether you go sweet with Pecan Praline French Toast Casserole or opt for savory with Buttermilk Fried Chicken and Deviled Eggs, you'll be sure to enjoy a beautifully cooked meal on Mother's Day thanks to the special menu that Southern Cross Kitchen is offering. Preorder to pick up the day before or pick up, hot and ready to eat, on Mother's Day.
The Gypsy Saloon is making Mother's Day meals easy and delicious. The special menu includes items such as a Pancake Board (eight pancakes, bacon, and fixin's), Crab & Asparagus Frittata, Filet of Beef, and Chocolate Peanut Butter Cake. There's lots more to choose from so be sure and check Gypsy's website. Place your order by early for Mother's Day pick up.