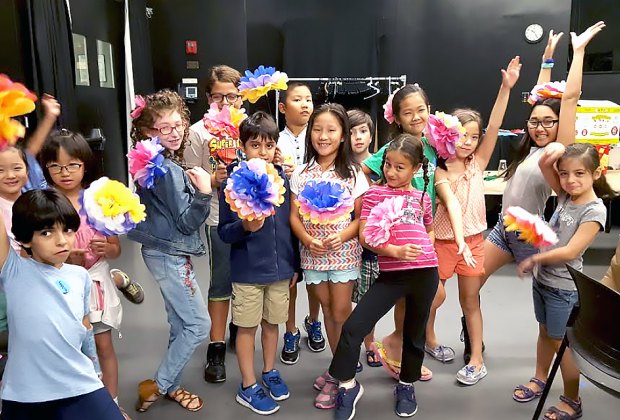 Presidents Week Camps and Classes for Long Island Kids
Presidents Week 2020 is approaching, leaving many parents wondering how to keep their kids occupied with school out. Chase away the winter blues and boredom cries with these classes, activities, and camps during the break.
From science experiments to jewelry making and sports skills, these Long Island camps have it all. Drop in for a day or the entire week.
For more activities during the week off, check out our Best of February Break list of events and activities, February GoList, or our daily events calendar.
You can always find more camps for kids in our Camps Guide and full directory of listings.
Science and Nature
Garvies Point Museum — Glen Cove
50 Barry Drive
February 15 & 18-21, 2020
Drop in each day to make a different craft, including totem pole sand art, Native American games and more. Face painting and films are also available.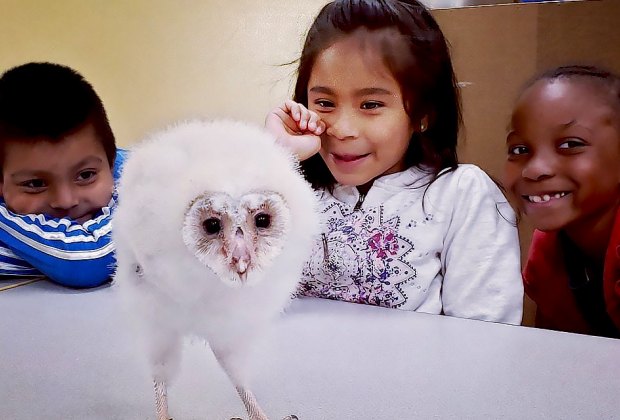 Holiday Discovery Camp — Sweetbriar Nature Center, Smithtown
62 Eckernkamp Drive
February 17-21, 2020
Ages 5-11
Sweetbriar offers a number of natural science programs. Each day children participate in hands-on activities, crafts, wildlife presentations, and more. Themes include; Sonic the Hedgehog, Doctor Dolittle's Animal Adventures, Land of the Snowy Owl and Treasures of the Tropical Rainforest.
RELATED: 100 things to do with kids on LI before they grow up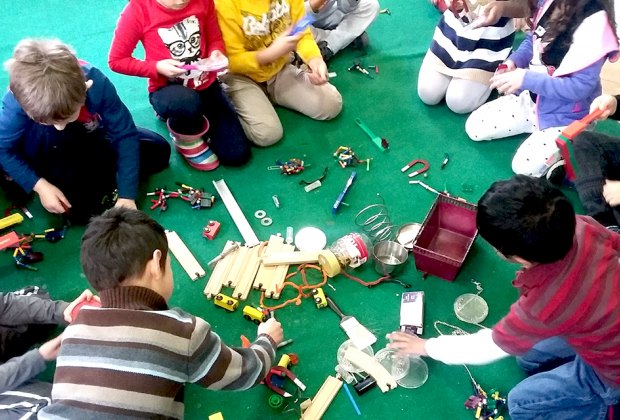 Discover the power of science at the Center for Science Teaching and Learning.
School's Out! Winter Camp — Center for Science Teaching and Learning, Rockville Centre
1 Tanglewood Road
February 17-21, 2020
Ages 4-12
Children can explore 17 acres of nature, visit and encounter live animals, conduct experiments, and take part in science shows and demonstrations conducted by a staff of professional teachers. After-care options are available.
Winter Recess Workshops — Science Museum of Long Island, Plandome
1526 North Plandome Road
February 17-21, 2020
Ages 3 and older
Explore a new area of science, engineering, history, or nature at the Science Museum of Long Island's drop-off workshops. Attend for a single day or the entire week.
RELATED: 50 fun things to do indoors with LI kids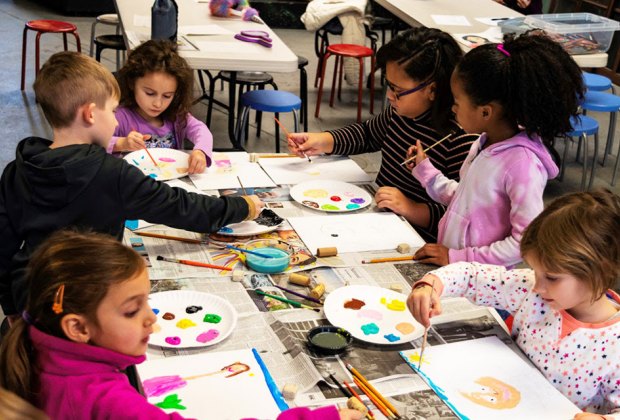 Kids will be inspired by the hands-on projects at the Winter Recess Children's Workshop at the Vanderbilt Museum.
Vanderbilt Winter Recess Children's Workshops — Vanderbilt Museum, Centerport
180 Little Neck Road
February 17-21, 2020
Ages 5-10
Children in grades pre-K through 3 can learn, create and have fun in February school break workshops offered by the Learning Center at the Suffolk County Vanderbilt Museum.
Winter Break Nature Programs — Ward Melville Heritage Organization, Stony Brook
97 Main St.
February 18-20, 2020
Puppet Making Workshop is for ages 6-11, runs Feb. 18-20 from 10-11:30am. Liz Joyce from Goat on a Boat Puppet Theatre teaches kids who to shadow, move and make puppets. This is a hands on workshop. Music Mornings with Jonny Cuomo is for ages 3-5, runs Feb. 18-20 from 10-11:30am. Music, songs, movement, activities to celebrate winter. $85/all three days or $30/day.
Winter Break Robotics Experience — Long Island Explorium
101 East Broadway
February 17-21, 2020
Grades 2-5
The Long Island Explorium is offering FIVE days of Robotic experiences!​ Sign up for one week of Engineering Design and Introductory Robotics.
Winter Fun-Cation — Long Island Aquarium, Riverhead
431 West Main Street
February 17-21, 2020
Ages 6-14
Kids can tour the aquarium, including the "Butterflies, Bugs & Birds" exhibit, feed the stingrays, check out the sea lion show, visit the arcade, make a craft, and more. Send your child for the entire week or for just a day or two.
RELATED: LI's best museums for kids and families

Learn about the East End's natural world at the Quogue Wildlife Refuge.
Winter Wildlife Camp — Quogue Wildlife Refuge
3 Old Country Road
February 18-21, 2020
Ages 5-11
Experience wildlife, education, and fun at the refuge. Each day includes a hike, craft, and encounters furry and scaly animals.
Art, Music, Theater, and Writing
Break for Art — Nassau County Museum of Art, Roslyn Harbor
1 Museum Drive
February 18-20, 2020
Ages 3 and older
Drop in between 11 am and 2 pm for art making and gallery tours inspired by the exhibitions on view.​
VacationArts — Gold Coast Arts Center, Great Neck
113 Middle Neck Road
February 18-21, 2020
Ages: Pre-K through grade 7
Children enjoy sessions in art, music, ceramics, chess, and acting taught by experienced teachers and artists. Attend one or all days.
Winter Recess Mini Camp — As You Wish, Merrick
418A Bedford Ave.
February 17-18 & 20, 2020
Ages 4-12
Enjoy a cool craft, lunch, and games. All materials are included and each day is assigned a different theme.
Drop Off Workshops — AR Workshop, Bellmore
2930 Merrick Road
February 19 & 21, 2020
Drop off the kiddos at AR Workshop during the winter break to make a personalized Youth Canvas Tote Bag or Canvas Pillow.
Sports and Gyms
M.A.T.S.S. Mini Camp — Bellmore, Syosset
2629 Grand Avenue, Bellmore; 171 Eileen Way, Syosset
February 18-21, 2020
Ages 2-12
Kids enjoy play, crafts, snacks, and more at this drop-off daily camp. In the gym, kids can balance, jump, and tumble their way to fun.
Sportime Junior Tennis and Multisports Camps — Islandwide
February 17-21, 2020
Locations in Amagansett, Bethpage, East Quogue, Kings Park, Lynbrook, Roslyn, and Syosset
Some Long Island Sportime centers offer tennis-only camps while others feature multisport camps. Multisport programs teach fundamental skills for basketball, baseball, and soccer. Prices vary by center. See the website for full listings and details.
Swim-Skate-Sports — Freeport Recreation Center, Freeport
130 East Merrick Road
February 17-21, 2020
Swim in an indoor heated pool, ice skate on an indoor rink, or play a sport in the gymnasium. Ages 4 and older. NOTE: An adult must remain on the premises.
RELATED: Sports centers and fun zones for LI kids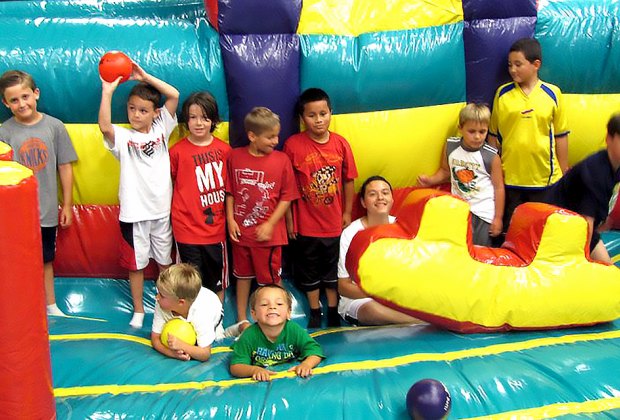 Enjoy a host of athletic activities during open play at Long Island Sports Complex in Freeport.
Long Island Sports Complex Open Play — Freeport
103 Mill Road
February 17-21, 2020
Ages 6-12
Enjoy two indoor drop-off sessions daily, or kids can stay for the whole day. Indoor sports include soccer, baseball, Gaga, basketball, dodgeball, Pillo hockey, kickball, football, and more.
Photos courtesy of the camps. This post is updated annually.