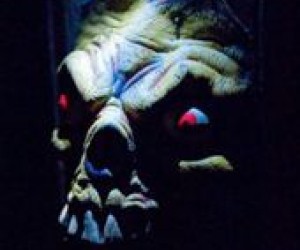 Haunted Halloween Hayrides in New Jersey For Tweens and Teens
Things that go bump, bump, bump in the night… It's the season for shivering and quivering; howling and frowling (that's not a real word, but it should be). Take your love-to-be-scared tweens and teens and hayride through the darkness full of wicked witches and the undead. And if you make it out alive, take a deep breath and take on the haunted houses and spooky trails in these five great New Jersey haunts.
Haunted Hayride of Terror (Holmdel, NJ) People say they see and hear things that come alive. So maybe if you're lucky you may see their shadows and hear the horror of the victim's cries as they roam by...C.Casola Farms combines four terrifying attractions into evening of thrills. Start off with the hayride of terror, followed by 3D haunted barn, the haunted wooded trail and end off with the living maze. Take fear to a new level with Zombie paintball and exterminate psychotic zombies! Open every Friday and Saturday from 7:00pm to 11:00pm and Sunday from 7:00pm to 10:00pm. Click here for pricing details.
Hayride of Horrors (Hackettstown, NJ) Beware of the creatures of the night! The usual serene Corrado's Farm turns into 45 minute haunted hayride full of wicked witches, the walking dead and few spine chilling surprises. Stop by the haunted house or venture through the corn maze to complete your family night out. Open Fridays, Saturdays and Sundays from 6:30 pm - 12:00 am. Reservations are suggested for parties of more than 10. Not recommended for children under nine. Click here for pricing details.
OUR LATEST VIDEOS
Field of Terror (East Windsor, NJ) By day, K&S Farms presents Sunshine Acres -- hours of fall family fun. By night, visitors can "experience unique terror-filled attractions ang to survive the Field of Terror," including the zombie attack haunted hayride. Now open Thursday to Sunday after 7:00pm. Click here for pricing details.
Frightfest at Schaefer's Farm (Flemington, NJ) Spend 45 minutes making your way through 200+ acres of fright. It starts with a hair-raising hayride that "Scares the YELL out of You", then the ride lets you off in the middle of nowhere for a Treacherous Trek through the Trail of Terror. And just when you think you have had enough and are almost home, you realize the only way back is through the MassAcre Maize, a Casual Run for your Life; once it is over you find that the path is blocked, and you must enter your final Nightmare, the Carnival of Chaos. Throughout the month, Frightfest will be running every Friday, Saturday and Sunday night. Doors open Friday and Saturday from 7:00 pm-10:00 pm and 7:00 to 9:00 pm on Sundays. Patrons must be at least eight years old. Click here for ticket details.
The Haunted Mill (Clinton, NJ) Covering over nine acres of truly haunted terrain, the Haunted Village offers three horrifying adventures at the Historic Red Mill Museum Village, including a haunted hayride and infamous walking terror trail. Performances are scheduled for the evenings of Fridays and Saturdays (October 10-11, 17-18, 24 & 25) starting at 7:00 pm. Group sales (available for parties of 10 or more) receive a 10% discount. Click here for pricing details.

Want to make it a great night out? Here are some helpful hints to make it a great (and creepy!) family outing. Make sure to leave the little ones behind. Many haunted hayrides are recommended ages eight and older.
Dress for cool or wet weather, and bring a rugged, washable blanket for your laps for really chilly nights.
Wear pants to cover your legs if allergic to grass or straw. Stay away from open-toe shoes or sandals for the same reason.
Dress in clothes that provide freedom of movement when climbing into and out of the hay wagon.
Visit the hayride websites with your child, view the images, and confirm that your child is comfortable with the level of fright.
Bring extra cash for hot chocolate, warm apple cider, cider doughnuts and even Halloween costumes.
For more Halloween Fun, check our Halloween Guide.