Virgin Hotels New York City Offers Family-Friendly Amenities in Heart of Manhattan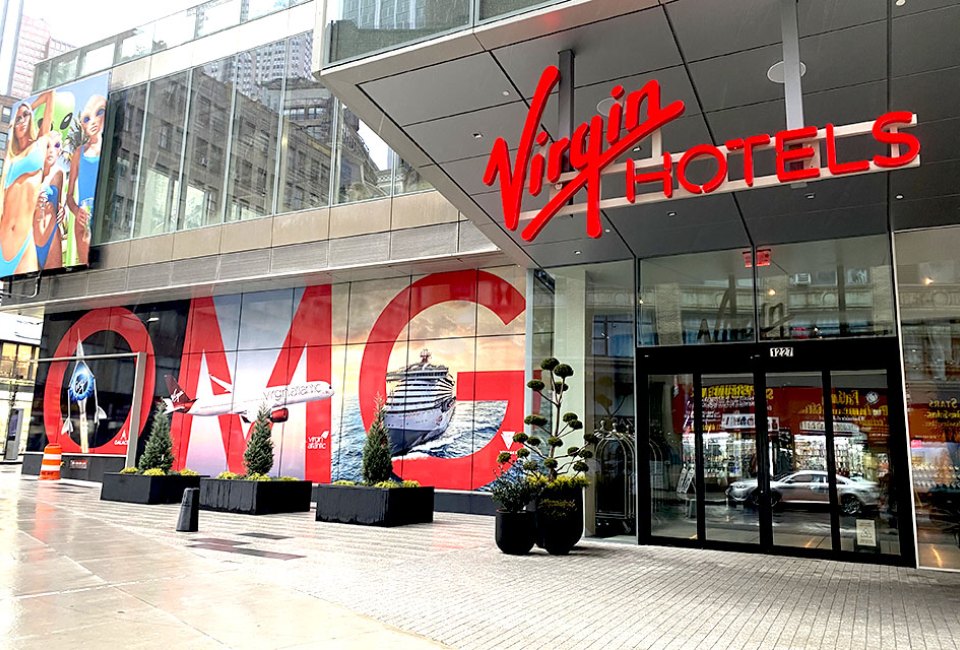 4/20/23
- By
Jamie Davis Smith
Booking a great, family-friendly NYC hotel might be the most difficult part of a family trip to New York City. After all, it's easy to formulate an action-packed itinerary, but finding a hotel with rooms bigger than a shoebox, located in a central location, that doesn't break the bank is more challenging. Enter Virgin Hotels New York City. The Richard Branson-backed chain recently opened a new location in the heart of New York City and it's a great NYC hotel for families that checks all the boxes.
Read on to find out what we loved about our stay at Virgin Hotels New York City and find more parent-tested picks for family-friendly hotels in New York City in our Guide to Weekend Trips and Getaways.
Subscribe to our newsletters to get stories like this delivered directly to your inbox.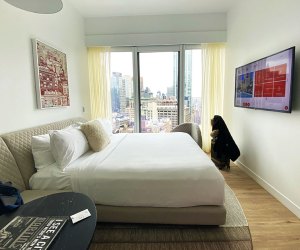 The comfy beds at Virgin Hotels New York City double as lounging spots to watch the oversized TV.
Accommodations at Virgin Hotels New York City
This family-friendly NYC hotel offers a variety of room configurations and suites, including some with two double beds that work well for families. These standard rooms have a sliding door that separates the sleeping area from the rest of the room, where you'll find a bathroom, shower, storage cubbies, and a vanity.
Virgin Hotels New York City offers a unique bathroom design that works very well for families: The toilet is in its own room, the shower is accessed through another door, and the sink is in an open part of the room. This design makes it possible for multiple members of the family to get ready at once.
We also loved the fact that Virgin Hotels New York City offered tons of storage space, including two cubbies great for storing clothing and luggage, along with a bench that opens for additional storage.
Each room also has a table and chair and a small sitting area great for working, watching TV, or hanging out without being relegated to the bed.
RELATED: Midtown East: 41 Best Things To Do with Kids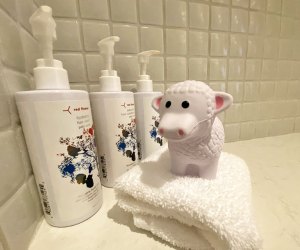 Luxury linens and spa-inspired bath products await during your stay at Virgin Hotels New York City.
Family-Friendly Amenities at Virgin Hotels New York City
The hotel is family-friendly from the moment guests walk through the door. The small lobby has friendly staff and a large Where's Waldo-style mural featuring multiple drawings of Richard Branson. The hotel has plans to open an enclosed pool and large patio in the coming months, and there is also an on-site gym.
Where To Eat near Virgin Hotels NYC
There is an on-site restaurant, Everdene, that serves breakfast, lunch, dinner, and brunch.
There are also multiple kid-friendly restaurants within a few blocks walk. The huge Italian marketplace, Eataly serves plenty of pasta, gelato, and specialty items. In nearby Madison Square Park, find the original outpost of Shake Shack. Take an international tour through Koreatown, and for a sweet treat, visit Dominique Ansel Workshop.
RELATED: NYC on a Budget: Cheap Things To Do and Money Saving Tips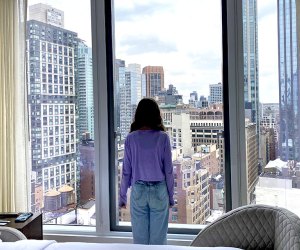 Take in the sweeping city views from the floor-to-ceiling windows at Virgin Hotels New York City.
Virgin Hotels New York City Location
The Virgin Hotels NYC is in a perfect location, centrally located near many of New York City's top attractions including the Empire State Building, Harry Potter New York, and all the fun in the Flatiron District and Union Square.
If you plan to arrive by train, Virgin Hotels New York City is within walking distance of Penn Station and just a few blocks away from the multiple subway lines at 34th Street, so it's easy to get to just about anywhere in the city.
Photos by the author
Places featured in this article:
---
Virgin Hotels New York City