The Very Hungry Caterpillar Show
DR2 Theatre

NYC Easter Brunch Cruise 2023
Event Cruises NYC

Easter Fun Cruise with Egg Hunt 2023
Event Cruises NYC
Sign up for our free newsletters.
Interactive "Crash, Splash, or Moo!" Invites Young Readers to Play Along
9/18/18
- By
Janet Bloom
My daughter and I have read Bob Shea's brand new Crash, Splash, or Moo! so many times now that I'm pretty sure I could transcribe it here from memory. But instead of giving away the much-anticipated outcomes of the interactive book that plays out like a totally wacky quiz show, I'll tell you why it's quickly become "The Song that Never Ends" delivered in book form to our household.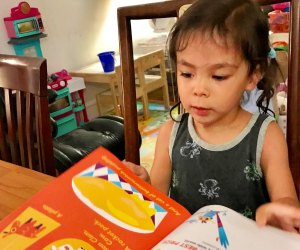 With a knack for creating seriously kid-approved personalities, Shea kicks off the energetic picture book by introducing young readers to a colorful cast of characters: a tongue-in-cheek game show host named "Mr. McMonkey," a banana "Vanna White"- type, and quirky contestants "Action Clam" and "Cow." Mr. McMonkey invites readers to play along from page one, promising a prize each time they guess the outcome of one of Action Clam and Cow's wild and wacky stunts. It certainly didn't take long for my three-year-old to catch on, shouting out her guesses with unbridled enthusiasm each and every time.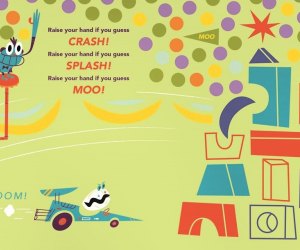 The book's lively, colorful illustrations and typography encourage kids to delight in each outcome while teaching valuable lessons in cause and effect, prediction, charting, and counting. And the endlessly entertaining, silly stunts—which are basically fantasy scenarios that most kids would love to play out with their toys—truly engage little ones' imaginations. In fact, I've definitely seen my daughter and her friends attempt one of the stunts with a Lego car and a giant tower of blocks. Another has been accomplished with some Magnatiles, a mini Hatchimal figurine, and a cup of water. And while the final stunt would be tough to recreate (it requires a rocket pack, a piñata, and a vat of butterscotch pudding…), it's memorable enough that my daughter is still talking about it nonstop.
Best known for other hilarious hits like Dinosaur vs. Bedtime, Unicorn Thinks He's Pretty Great, and the Ballet Cat series, it's no surprise that Bob Shea has delivered another crowd pleaser for his pint-sized fans. In fact, the new release has already been tested in front of thousands of kids in schools across the US—and it's always a favorite. Here in our home, my daughter responds to the book's final line, "See you next time for more stunt-guessing banana-style action!" with "It's already next time!" And we read it again. And again. As it turns out, the biggest challenge of Crash, Splash, or Moo! is undoubtedly figuring out how to get your kid to put it down.
Ready to get in on the action? Crash, Splash, or Moo! is on sale now.