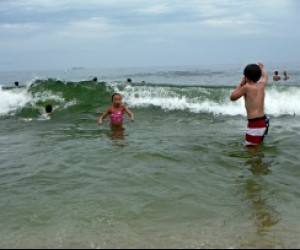 5 New Jersey Beaches & Swimming Lakes Near NYC
While there are certainly plenty of wonderful beaches in New York City, none of them give you that total out-of-town feeling. Much as we love NYC in the summer, sometimes even we natives want to escape for a day trip to swim and sun on a more suburban shore.

Happily, neighboring New Jersey is home to lots of pristine beaches and swimming lakes, and some of the best ones are less than an hour by car from midtown Manhattan. And if you don't have access to a vehicle, a few are also accessible via public transportation.

To find the five most fun-filled NJ swimming spots, we turned to the experts: local parents Cheryl and William de Jong-Lambert, who regularly blog about their family excursions at the Appalachian Mountain Club's Kids Outdoors New York City, a FREE online community for families featuring alfresco activities in the NYC area. Remember, these beaches and lakes are only open for swimming through Labor Day, so start planning your city escape right away.
Sandy Hook
How often can you say that getting there is half the fun of going to the beach? Well, that's the case with Sandy Hook, a largely preserved barrier island off the Atlantic Highlands in the Gateway National Recreation Area. During the summer, the Seastreak commuter ferry runs daily from piers in Manhattan, cruises through New York Harbor and under the Verrazano-Narrows Bridge. Once you arrive, multiple wide, clean and popular beaches are just a quick shuttle bus trip away. (Take note: Gunnison Beach is clothing optional!) If you tire of swimming, there are lots of other things to do on the isle, like biking, fishing, bird-watching, hiking and boating. Don't want to lug your own food? Food trucks selling all kinds of cuisine are stationed in the parking lots. Restrooms are available at each beach. Lifeguards are on duty 10am to 6pm through Labor Day at all oceanside beaches.

Asbury Park
Long before Snooki threw the national spotlight on Seaside Heights, Bruce Springsteen put the Jersey Shore on the map and Asbury Park was his backdrop. Home to a quintessential big-town boardwalk, Asbury Park has ridden essentially the same economic and cultural roller coaster as Coney Island. The mile-long, lifeguarded beach is wide and seemingly endless to the north and south, and it has a play structure and splash park for kids. The boardwalk, which stretches four miles down to Belmar, has put-put golf, arcades, pedal boats on Wesley Lake just a few blocks from the beach, and a growing variety of restaurants along the boardwalk and nearby streets. Without traffic, the drive is precisely an hour from midtown Manhattan, or you can pack your beach bag and hop on New Jersey Transit.

Keansburg Beach
If you want to add a touch of altruism to your beach daycation, then Keansburg is the destination for you. While some recovery efforts from Hurricane Sandy are still going on around town, the beach itself is back in fine form with a lovely view of the Manhattan skyline on a clear day. The refurbished fishing pier has also reopened for business, with poles, nets, bait and tackle available for a small fee (park along Beachway Avenue). The quaint boardwalk (which is actually a blacktop) is also fully restored with Keansburg Amusement Park offering rides aplenty, and the adjacent Runaway Rapids Water Park, which is open through Labor Day.

Lake Hopatcong
As any parent of a toddler knows, lake waves are easier to manage than ocean ones. Fortunately, there is no shortage of beautiful lakes in northern New Jersey. Lake Hopatcong is the state's largest lake and its southwestern zone is conveniently protected by Hopatcong State Park. The lake's wide sandy beach has a lifeguard, bathrooms and a concession stand. The park itself has easy hiking trails, a boat ramp, two playgrounds and designated picnic areas where you can barbecue. The lake is also an angler's delight, stocked with brown, rainbow and brook trout, as well as large-mouth bass, catfish and plenty of Jersey's ubiquitous sunnies. Hopatcong State Park is open daily 8am to 8pm; the beach stays open through Labor Day. Lakeland Bus Lines offers direct service on Routes 46 and 80.

Hooks Creek Lake
For a more secluded lake-beach escape (that's still surprisingly close to the Garden State Parkway), head to Cheesequake State Park in Old Bridge Township. The park's six-acre Hooks Creek Lake has a mellow, if popular, beach with playgrounds and concessions nearby. While there, plan a break from the midday heat to visit the Interpretive Center where you can learn about the area's unique ecology: Cheesequake State Park is situated in a transitional zone and features salt and freshwater marshes, pine barrens and hardwood forest. There's plenty of parkland to enjoy away from the shore as well. You can also give chase to surprisingly quick and canny crabs near the Crabbing Bridge, take a kayak eco-tour, or use your binoculars to spy a great variety of fresh and saltwater birds. Cheesequake State Park is open 8am to 8pm. Swimming is permitted through Labor Day. The Interpretive Center is open daily from 8am to 4pm through Labor Day, and Wednesday through Sunday thereafter.
About the authors: Cheryl and William de Jong-Lambert live with their two children in New York City. Cheryl is a writer at NYU Langone Medical Center. William is an associate professor of history at Bronx Community College, City University of New York.
OUR LATEST VIDEOS