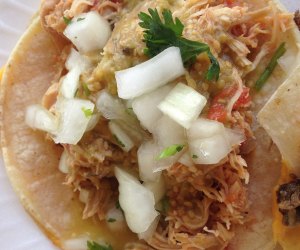 Tacos and Toddlers: 5 Hidden Gem Glendale Taco Restaurants Kids Love
The taco has overtaken the burger as the cheap-and-cheerful, kid-friendly meal choice of so many Los Angeles families, and the best tacos don't just come from trendy food trucks or hole-in-the-wall stands. In fact, Glendale sports some of the most kid-friendly, parent-friendly taco spots in the city.
From chicken tacos to cheese quesadillas, these five taco treasures satisfy both big and little foodies in a casual, tot-friendly environment.
Note that these small gems don't have websites for us to link to; full addresses are on the map below.
Taqueria El Tapatio
While covering parenting necessities like high chairs and ample parking, Taqueria El Tapatio is great for toddlers because of its defining taco ingredient: melted cheese. Yes, between the taco's two traditional corn tortillas, toddlers will find a layer of melted American cheese. Young ones can even skip the meat toppings all together for a compact quesadilla that any toddler will love. Taqueria El Tapatio confirms that cheese makes everything better.
Epic Taco Shop
A relatively new restaurant bordering the Montrose neighborhood, Epic Taco Shop brings a fun aesthetic to both its décor and its cuisine. Inside Epic Taco Shop, families find pink picnic tables and wall-to-wall posters featuring many of Dad's favorite rock bands. While Dad relives his glory days, the whole family can enjoy creative taco fillings like pork belly carnitas, yam and sweet onion, and poke fish. Also, the vegetarian tacos—like avocado and potato/green chile—are great choices for little eaters.
RELATED: 10 Kid-friendly Happy Hours in Silver Lake and Los Feliz
Taco Azteca
One of Glendale's most popular eateries, Taco Azteca is perfect for families looking to find quality food at affordable prices. The shaded patio is made for toddlers who want to make a little noise while they eat, and Mom and Dad will love spending only two dollars for one of the best carne asada tacos in Los Angeles. Skip the spicy salsa for the young ones, and snap photos of your food to post later.
Victoria's Tacos & Grill
With its free parking lot, indoor and outdoor seating, high chairs, and bubble gum/mini toy dispensers, Victoria's Tacos & Grill caters to young families. For parents watching their waistlines, Victoria's seafood menu, with choices like fresh ceviche and grilled shrimp tacos, offers a guilt-free meal with tons of flavor. For families looking to pig out, throw an order of "Super Fries" in the center of the table—french fries piled with meat, cheese, salsa, and a healthy dollop of guacamole.
Ana's Kitchen
This festive restaurant in downtown Glendale delights toddlers with colorful flags hanging from the ceiling and sombreros pinned to the walls. Ana's Kitchen makes crispy and soft tacos, along with a robust menu complete with burritos, tostadas, and enchiladas. For toddlers craving breakfast, Ana's Kitchen prepares breakfast burritos and egg dishes all day long.