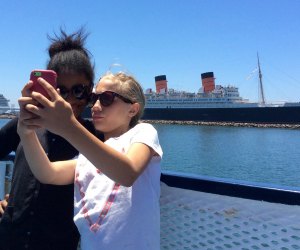 12 Very British Experiences in LA for Kids with Royal Fever
Whether we're getting excited about a royal wedding or just in the mood for a crumpet, it's always jolly good fun to let our inner Anglophiles run wild. After all, the British royal family is poised to include a gal from Los Angeles. Once Prince Harry and Megan Markle are officially hitched, that makes us all members of the extended royal family, so let's have some fun checking out kid-friendly ways to explore English culture (and cuisine) while staying planted right here in town.

Photo courtesy of the Fox and Hounds
1. Chow some authentic pub grub
If you really want a taste of Brit culture, start with food. UK-style pubs abound in LA, and several of them are very family friendly. In addition to the Robin Hood British Pub in Sherman Oaks and Ye Olde Kings Head in Santa Monica, there's our nearest local spot, The Fox and Hounds in Studio City. Classic pub specialties such as bangers and mash and fish and chips are on the menu, and older kids will get a kick out of ordering Spotted Dick—that's warm sponge cake with sweet cream to you.
Consider this a big kid destination—little kids won't love the long wait for food, the TV playing for adult pub customers, and the limited pint-sized seating options. And forget about parking—there pretty much isn't any! Want to hang with fellow Anglophiles during the big wedding? The Cat and Fiddle in Hollywood is staying open all night May 19 so customers can watch the wedding live; pajamas and fascinator hats are encouraged.
RELATED: Legoland's Castle Hotel Is Open for Your Royal Family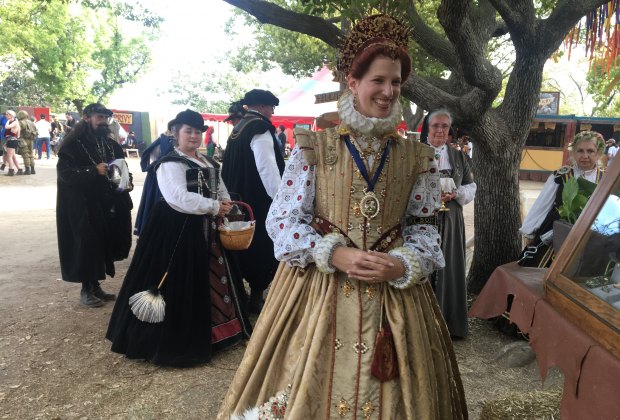 Anyone can meet the queen at the Renaissance Pleasure Faire. Photo by Roberta Brown
2. See wenches and knights at The Original Renaissance Pleasure Faire
The yearly Renaissance Pleasure Faire at Santa Fe Dam is truly an institution about the life and times of Elizabeth I, and kids can learn a lot (really!) while having fun. Look for entertaining accents, archery, ax throwing, a fully-costumed joust, and opportunities galore to make things (baskets, leather work, candles) just as they were created in the 1500s. If you're lucky, you could get knighted by the red-haired queen herself, with a certificate to bring home.

In England they call it football, of course. Photo courtesy of UK Soccer
3. Attend International UK Soccer
Sign up for a summer soccer clinic. They're held all over Southern California, with locations in LA including Santa Monica, Redondo Beach, and Sherman Oaks; your child might just end up bending it like Beckham. All coaches are card-carrying UK passport holders and pro soccer coaches moonlighting here in the States. For those who want more of an in-home British experience, the company's "host to host" program allows you to play host to a visiting coach inside your home for up to several weeks—in exchange for free camp for the kids.
4. Visit the Queen Mary
You can't get more British than the Queen Mary. The late, great Cunard luxury ocean liner was christened by King George V himself after he suggested its moniker honor his wife. Making its maiden voyage from Southampton, England in 1936, the ship soon went on to host such world-famous Brits as the Duke and Duchess of Windsor and Winston Churchill before participating in World War II and retiring Stateside in 1967. Today, you can take a fab historical tour of the boat, view the ballroom, decide for yourself if there are ghosts, and dine or even stay overnight onboard in one of 346 luxury staterooms. And for true fans of British royalty, a visit to the Princess Diana exhibit is a must.

Decide for yourself if the Queen Mary is haunted. Photo By Bill Rich
5. Indulge in horse play
The English are known to love all things equine. English-style riding lessons are available throughout the city, including at the popular Westside Riding School. There you can choose from different disciplines including dressage, a strenuous form of the sport that's popular with Britain's Princess Anne, among others. If actually getting on the horse is too much, simply dress up, "My Fair Lady"-style (you'll need a fancy hat) and hit the racetrack; horse racing is the second-largest spectator sport in Great Britain. You might even trick yourself into thinking that a day at the races at Santa Anita is the Royal Ascot.

Real princesses love tea. Photo courtesy of the T-Room
6. Go out for High Tea
While everyone's got a favorite place for high tea with kids — fans of Pasadena's Rose Tree Cottage, for example, will claim the scones are far better than those found at the similar-sounding Tea Rose Garden room — there's no doubt that you can get a very authentic British afternoon eating experience down to the finger sandwiches and pastries at any good tearoom. Just make sure your kids have been clued in to dining etiquette such as pinkies up. We've heard gossip that Meghan had the same type of lessons during her palace "training."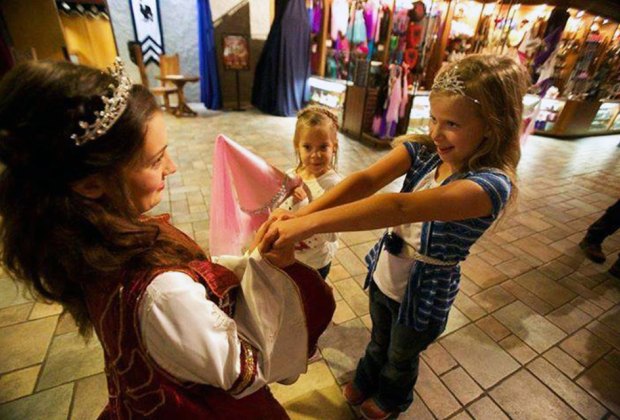 Royalty rules in Medieval Times. Photo courtesy of Medieval Times
7. Kick it really old school at Medieval Times
Party like it's 1199 at this jousting-and-dinner venue, a must at least once in your kids' lifetime. While the quality of the turkey leg, corn, bread, and soup dinner feast — no silverware! — may upset the true food snobs of your party, the kids will thrill at the opportunity to eat while cheering along to a fully-costumed joust featuring handsome knights, real weapons, gorgeous steeds, and beautiful damsels in period costume.

What's more British than playing with bulldogs? Photo courtesy of the London Hotel
8. Hit the London Hotel West Hollywood
For the family seeking the royal treatment, you don't have to hop across the pond. Just check into this luxury boutique hotel in the heart of West Hollywood for the ultimate "staycation." Adults can dine on Dover sole while kids nibble fish and chips. Packages allow kids to enjoy a match of wits at the hotel's giant chessboard and rose garden, or socialize every afternoon in the lobby with Winston and Churchill, the hotel's resident bulldogs. Drinks at the British-inspired and newly-refurbished Boxwood Restaurant include Her Majesty's Mojito. High tea service is also available on a seasonal basis.
10. The Wizarding World of Harry Potter at Universal Studios
It may not be as ginormous as the Orlando version, but Los Angeles' Harry Potter World is definitely fun enough to give a sense of the olde English magic felt in the books. The attractions include a replica of Hogwart's Castle, a shopping street that replicates Hogsmeade, and the atmospheric Three Broomsticks Cafe for authentic British specialties and, of course, Butterbeer. Don't forger Ollivander's Wand Shop, where accented wandsmiths help the proper wand find its rightful owner, not the other way around.

One turn of the time turner, and you're in Hogsmeade. Photo by Roberta Brown
11. Try Traditional Christmas Caroling
Want to get the feel of an old-fashioned London Christmas? You'll have to wait until the holidays, but many local cities partner with popular shopping districts to boast tree-lighting events featuring Victorian-attired Christmas carolers straight out of a Charles Dickens novel, including Beverly Hills' Two Rodeo shopping complex, the Original Farmer's Market, the Music Center in Downtown, Glendale's Americana at Brand, Tujunga Village in Studio City, Honolulu Avenue in Montrose, Forest Avenue in Laguna Beach, and Main Street in Huntington Beach. Meanwhile, Wolfgang Puck restaurants and Lawry's both typically feature pro carolers in costume as part of the seasonal dinner festivities. (Check their websites closer to the time for more info.)
12. See some Shakespeare
For a real taste of Britain, you just can't beat the Bard. One of the most popular Shakespeare companies in LA, Griffith Park's Independent Shakespeare Company rolls out a pair of Will Shakespeare's classics between June and September each year, on a picturesque hillside by the old zoo, with an appealing pay-if-you-can policy. This year's titles include the perfect-for-kids Midsummer Night's Dream, debuting June 30. Just remember, if the English of Shakespeare's day doesn't slip off your kids' tongues easily, better to prep them with a summary of which characters and plots to look out for. It makes the evening much more fun.