Best Spots for Tea Parties or High Tea with Los Angeles Kids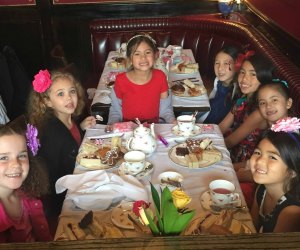 While I miss the days of my son's impromptu tea parties, these days his (and our) tea party tastes are far more grown-up. Forget make-believe beverages and fake cakes—we're now in the market for three-tiered trays of pastries and little sandwiches with the crusts cut off (because why not?). Lucky for us, we have many options in and around Los Angeles for pretending we're in an episode of The Crown or Downton Abbey. So here's a toast (with pinkies raised) to the best afternoon tea spots in the Southland.
Westside & Hollywood
1. Ye Olde Kings Head
116 Santa Monica Blvd.
Santa Monica, CA 90401
310.451.1402
What Ye Olde Kings Head may lack in fanciness, it makes up for in authenticity. This British pub could survive in the heart of London, but lucky for us it's here in Santa Monica. Trays of finger sandwiches, sausage rolls (so good) and scones with Devonshire cream are served alongside pots of the finest tea. (And for those mommies who may need the, er, royal treatment, there's the Royal Tea option, which includes a glass of bubbly: champagne, a mimosa, or Kir Royale.) Bottoms up!

2. Olivia's Dollhouse Tea Room
1450 S. Robertson Blvd.
Los Angeles, CA 90035
310.273.6631
(Other locations in Lomita, Santa Clarita, Thousand Oaks and Tustin)
Unlike the other venues on our list, Olivia's Dollhouse Tea Room is only open for private parties. But if it's a fancy tea party your little darling wishes, a most festive tea party she will get here. Olivia's has the party angle down. Situated in a quaint pink house just south of Pico, Olivia's Doll House fancies it up, from dress-up to make-up (nail polish included), to a fashion show followed by tea and plates of goodies galore. The only downside? There's little parking and almost no room for adults; parties are best when kids can be dropped off.

Downtown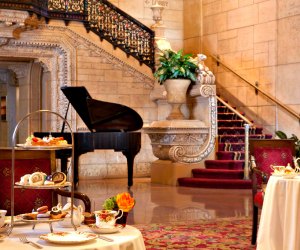 Afternoon tea in the Rendezvous Court. Photo courtesy of Millennium Biltmore Hotel
3. Millennium Biltmore Hotel - Rendezvous Court
506 South Grand Ave.
Los Angeles, CA 90071
213.624.1011
Reservations Suggested
Downtown LA offers a fine afternoon tea as well at the Millennium Biltmore Hotel. Here you and your wee guests get classic scones (pistachio & currant, if you call that classic), delectable finger sandwiches, a whole host of desserts, and your choice of tea (White Vanilla Grapefruit sounds about right) all in Rendezvous Court - a space that served as the hotel's lobby when it opened in 1923.

The Valleys

4. The High Tea Cottage
21938 Costanso St.
Woodland Hills, CA 91364
818.887.2117
Reservations highly recommended
A true British establishment that celebrates the formalities and rituals of afternoon and high tea, the High Tea Cottage welcomes guests to enjoy a proper cuppa. The five-course Royal High Tea includes a "crystal flute of sparkling cider."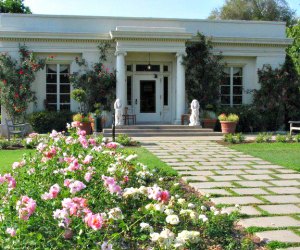 Rose Garden Tea Room feels like a trip to the UK. Photo courtesy The Huntington Library, Art Collections, and Botanical Gardens

5. Rose Garden Tea Room - Huntington Gardens
1151 Oxford Road
San Marino, CA 91108
626.683.8131
Reservations Required
Afternoon tea with a buffet? And not just any buffet, but one that includes finger sandwiches, salads, cheeses, and desserts? While the price for grown-ups is a bit higher than it is for kids, the good news is that it includes a glass of prosecco. Mimosas, white wine and rose are also available.

6. Rose Tree Cottage
801 S. Pasadena Ave.
Pasadena, CA 91105
626.793.3337
Prices fluctuate. Call for current prices.
Telephone reservations required one week in advance
Owned and operated by Edmund and Mary for more than 40 years, Rose Tree Cottage promises a "total British experience" with each visit. Rose Tree Cottage bakes all its scones on the premises and serves them with clotted cream from Devon. USA Today voted Rose Tree Cottage one of the top ten tea rooms in the country. Anglophiles will want to visit the English Village Shop to purchase tea, tea pots and cups, Barbour clothing, antiques from England, books, and even tiaras (should your little princess want a more legit and extra sparkly royal treatment).

7. Tea Rose Garden
28 South Raymond Avenue
Pasadena, CA 91105
626.578.1144
Reservations advised, especially on weekends
A one-stop-shop for all your tea and flower needs, this florally-themed tea spot serves afternoon tea in the "secret garden;" where visitors can also consider one of the English garden floral arrangements. Other gifts and gift baskets are available as well.

8. The T Room
2405 Honolulu Avenue
Montrose, CA 91020
818.249.6677
Located in the Montrose Shopping Park, this authentic British tea parlor is a perfect place for a sophisticated afternoon with little ones. The tea room hosts a Prince & Princess Tea for kiddos in its sunny yellow main dining room.
Orange County

9. Pamela's Tea Room and Brit Shop
12752 Valley View St.
Suites P&Q Bridgecreek Business Park
Garden Grove, CA 92845
714.897.9442
Reservations strongly recommended.
Sure, you can get a traditional high tea here -- but why limit yourself when Brit favorites like ox tail soup and a traditional ploughman's lunch are on the menu? For those in a rush, there's even The Quickie -- a pot of tea with two crumpets, butter, and jam. And at $7.50, it's a bargain, too.

10. Tea and Teacups
18154 Imperial Highway
Yorba Linda, CA 92886
714.572.9825
When the owners recently decided to retire, an ardent fan of the tea shop refused to let it go out of business, going so far as to buy the place with her daughters. Though the scones remain the same, choices are being added to the menu, including Indian sandwiches and sweets new owner Dolly Shewa remembers from her own mother's English high tea services. The tea selection here is long and varied, and you can order a different tea flavor if you desire a second pot.