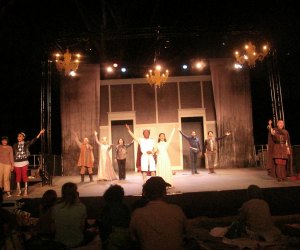 Free Shakespeare in LA's Griffith Park: Take That, New York!
Fear not, good friends, to bring your children to the Shakespeare in Griffith Park, for it is both free and a fine evening out. The Bard of Avon does not need to be your usual thing for this outing to be a success. Our fun-loving, fair weather friends at LA's Independent Shakespeare Company know how to entertain a family on a picnic blanket. Their mouths may say, "Now is the winter of our discontent," but their eyes say, "Isn't this a glorious summer evening?"
I confess to having missed the first five seasons that the ISC has performed its free shows in LA's biggest park. But when I saw it featured in our Weekday Picks post this week, I decided it was an idea whose day had come. I packed a picnic and a not-so-willing tween and braved the weeknight traffic to see Richard III. It is a testament to the enthusiastic performers that barely a few minutes into the show, my son was glad to be there. And by the intermission he was already dying to talk about what we were seeing.
Richard III is not exactly what you'd call a knee-slapper, with its infamously nasty, murderous, hump-backed hero carving his way through man, woman, and child in his own family to become king. But the ISC knows its audience—namely SoCal families enjoying a meal under the stars—and finds a way to make Richard a likable enough villain to have us laughing with him at his exploits. The pace is fast enough so that no one gets bored, without being so fast that it risks losing an audience unfamiliar with the complex history of the British monarchy. Purists will forgive the players the points they gloss over, while audience members more familiar with Captain America than kings of England should have no problem keeping track of who's killing whom and why.
RELATED: Los Angeles Zoo Hippo Encounter at Griffith Park
The second show scheduled this summer season is The Tempest, which lends itself even more readily to a comic touch; I have little doubt that the ISC will make a fine evening's entertainment out of that stormy fairy tale.
Keep in mind that, while Griffith Park can be murderously hot while the sun is up, the sun sets not long after the show begins, at which point you will surely want some extra layers. It's also a good idea to bring bug spray, if you want to spend more time dining than being dined upon. Early arrival assures a good spot (blankets or very low chairs only), particularly on the weekend, though running in last minute works, too. Weeknights are much easier, and you can enjoy the park instead of spending that last hour in traffic. The Old Zoo is a fun place to run the wiggles out while parents relax over a discreet bottle of wine. The evening we went, there were children of all ages in the audience, and it seemed to work out well for everyone.
Parking is free. The first to arrive get the lot closest to the Old Zoo, a minute or two's walk to the stage. Later arrivals end up parking near the carousel and walking 10 minutes or so.
Grants from city and local councils as well as the Ahmanson Foundation have supported the company in its growth to a full-fledged summer theater festival, with a beautifully lit stage against a comfortably sloping grassy hillside at the park's Old Zoo site. Admission is completely free, though naturally donations and purchase of concessions are passionately encouraged.
Don't let the lack of price mislead you, though; this is an entirely professional production and well worth driving across town for, even if Griffith Park is not your local. Unlike New York's famous summer Shakespeare in Central Park, though, you don't need to worry about being turned away. Head for Griffith Park any Wednesday through Sunday evening this summer to be royally entertained.