Legoland California's Castle Hotel Is Perfect for Your Royal Family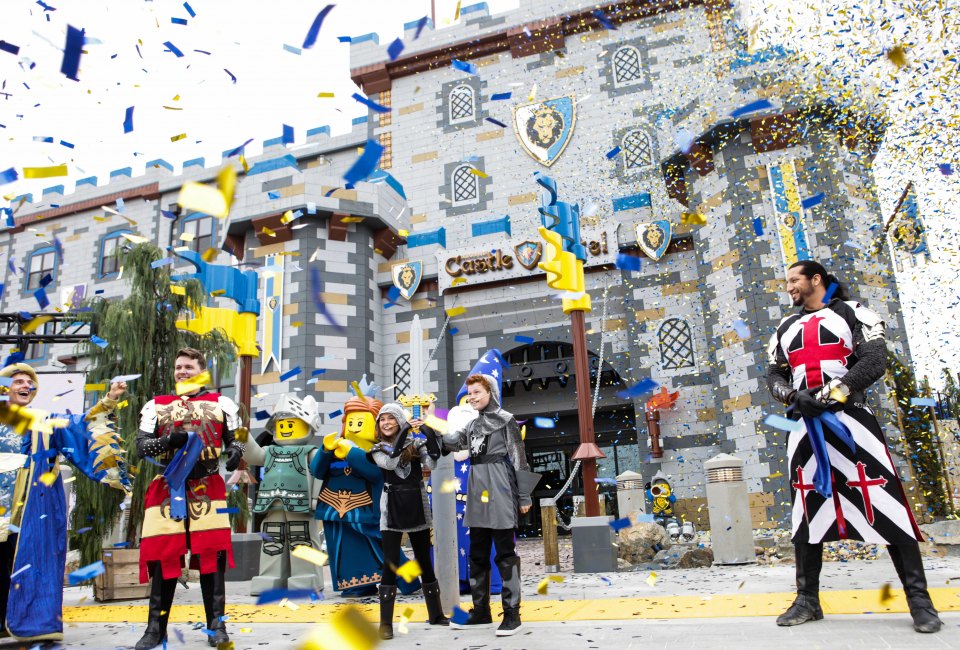 5/8/18
- By
Roberta B
Hear ye, hear ye! After much anticipation, the Legoland Castle Hotel has opened to young knights, princesses, and wizards of all sizes at the Legoland California Resort. Families now have two choices for staying overnight when visiting the brickiest of theme parks. We attended the opening ceremony for the new hotel and were royally impressed.
The Castle Hotel is directly opposite the existing Legoland Hotel and shares many of its appealing features, including the prime, walk-straight-from-breakfast-into-the-park location. Legoland knows its biggest fans are at the younger end of the theme park crowd, so the hotel caters to parents with tots by keeping distances short, elevator rides entertaining, and opportunities to play everywhere you look—literally from the moment you walk through the lobby door to be greeted by a pit of Lego bricks. The main staircase even has a slide for coming back down.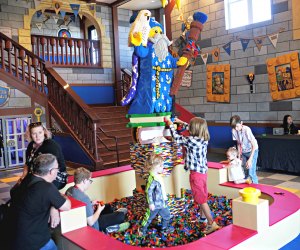 Kids walk in the lobby door and can start building immediately.
As the name implies, the new hotel has a royal theme, with an emphasis heavily on magic and wizards; the whole place exudes Hogwarts for Preschoolers. Rooms are decorated with potions and owls (made of Legos, of course), and the elevators claim to run courtesy of some magic spell. Lego portraits on the walls are created to change as guests walk by, like 3D images; the design is ingenious enough to impress big kids and adults walking by as well. As anywhere in Legoland, the brick design crew have clearly had a wonderful time creating works of art for visitors to enjoy.

No one tells kids not to slide downstairs in this place. Photo by Mommy Poppins
Outdoors, the Castle Hotel has more than just Legos to keep young guests happy. The hotel's 250 rooms are built around a central courtyard with a lawn, a Lego-themed play structure, and a small stage for entertainment throughout the day. There is also a giant movie screen for nightly outdoor movies (The Lego Movie, anyone?), and of course a wonderful swimming pool, heated to over 80 degrees for little tyke comfort all year round.
RELATED: 25 Things To Do in Carlsbad Other than Legoland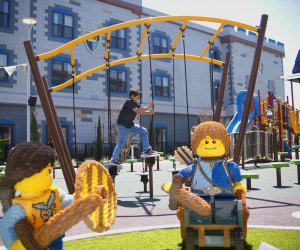 There's nothing like a fresh new playground!
Legoland's Castle Hotel is the first in North America; the theme park chain has one in Germany already and in England (in case anyone needs a place to stay for a royal wedding), but lucky SoCal gets the first one this side of the Atlantic. And whether you treat your posse to the Castle Hotel or the regular Legoland Hotel, it is a treat to stay on the property. In both hotels, every room has space to comfortably sleep two adults and three kids (in a separate bedroom with bunk beds and a trundle), and kids get Lego surprises in return for solving a scavenger hunt. ​Staying over means walking straight from the breakfast buffet through the gate, and hotel guests get early access to the park. Plus, there are several ways to buy two-day tickets or ticket and hotel combos that make a second day essentially free.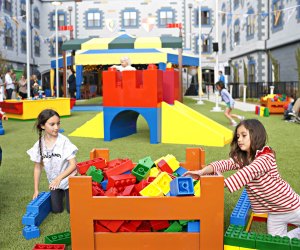 Giant Lego bricks and the space to build with them...
The great thing about spending two days with an overnight at Legoland, beyond the obvious, is that you can break up the entertainment, spending time at the waterpark, or at the wonderful Sea Life Aquarium. A family in a hurry might understandably skip the aquarium in favor of rides, the Lego Factory tour, or splash pads. But with an extra day, there's time to be pleasantly surprised by the treat that is Legoland's beautifully designed aquarium. The wide variety of fish swimming among the Legos, in environments impressively close to natural ones, delights visitors of every age—and offers a cool, quiet, educational escape from amusement park mayhem.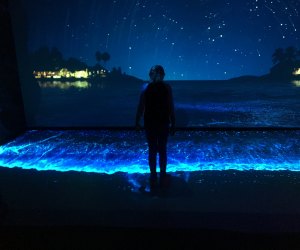 The interactive phosphorescent beach at Sea Life Aquarium feels amazingly real. Photo by Mommy Poppins
More than anything, though, a stay at the Legoland Castle Hotel keeps the fun going all day and into the night. Parents get a big comfortable bed with a little privacy, and kids get their own fantasy hideaway, plus an entire castle to explore, with bricks to play with, climb on, and take to bed at night. Staying over at the Castle turns a day's outing into a knight's adventure.
Photos courtesy of Legoland California, except where noted
Sign up for the Mommy Poppins Newsletter today!