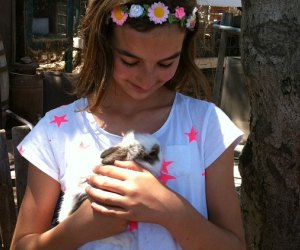 Down the Bunny Trail: Where To Pet Bunnies in LA and Orange County
Spring is springing and there is just something about the baby animals that come with this season: downy ducks, luscious lambies, and beautiful bouncy bunnies. Who among us does not love cuddling a rabbit, especially with Easter on the horizon? Talk about a cute photo op. If your kids love bunnies, we know a few places where they can go to meet them, hands on. A word to the Margaret Wise Browns: as anyone who has read The Runaway Bunny knows, bunnies are fast on their feet. These sly little puff balls can be here today and gone tomorrow; while all of the following places have bunnies today, it's a good idea to call first just in case it's not hoppening tomorrow.
Note that some venues may limit touch time with rabbits, to protect the young animals' health.
1. Big Bunny's Spring Fling at the L.A. Zoo is possibly the most reliable spot for a bunny encounter. The annual Easter weekend event has crafts, music, photo ops, and live bunnies available for petting.
2. The Wildlife Learning Center in Sylmar offers a Furrific Trio animal encounter which costs $40 for up to 4 people and lasts fifteen minutes. One of the three animals in the trio is a bunny, and you can pet him. The other two are a hedgehog (can't pet her) and a chinchilla (so soft...). The price is a bit steep, but since this center rescues wildlife and promotes education, presumably it is money going toward a good cause.
3. Danny's Farm at Cal Poly Pomona is geared for children and adults with autism. The bunnies can be found on site but also travel as part of a mobile petting zoo. Their schedule is changeable, so call to be sure they are there; or maybe if there is an occasion that merits it, bring the bunnies to you. Either way, you will be able to pet them.
4. Centennial Farms at the Orange County Fair & Event Center has free parking and free admission when no events are scheduled on the Fairgrounds. This is a working farm with fruit and vegetable gardens, livestock, a big red barn, and bunnies. You don't get to pet them though. Animals, including goats, sheep, and pigs, are viewable but not touchable.
5. The Orange County Zoo in Irvine Regional Park does not have an official petting area, but it is possible to purchase food and feed some of the animals through a fence. On Tuesdays and Thursdays, interns on site may bring out bunnies for petting, but it is best to call first if the rabbit lover in your household might be disappointed by just looking.
6. The Bunny Museum in Pasadena is possibly the most unique way to experience rabbits. This privately owned temple of the lagomorphic is dedicated to all things bunny: stuffed, porcelain, and real. The museum is open to the public on holidays, including Easter, and on all other days by appointment, with a suggested donation of $5. Visitors are discouraged from petting the bunnies that run freely through the yard, but they may bring vegetable treats. Carrots are a "no" though; too many people do that, and the bunnies like variety in their diet.
7. If you or someone you know really loves bunnies and wants to have unlimited access to petting, Sundays at Petco in Pasadena are for adoptions sponsored by the Bunny World Foundation. One caveat: bunnies may not make the best pets. This hot tip comes from the web site of (surprise!) The Bunny Museum, which lists more than a dozen reasons why you wouldn't want to own a bunny. Go figure.
8. The bunnies at Zoomars petting zoo in San Juan Capistrano may be fed through a fence, but rumor has it that one or two may be circulating for petting on Easter (that is just a rumor though, don't hold me to it). In any case, this is a petting zoo, and there are plenty of other adorable creatures that like to be encountered up close and personal.
9. If you need to stock your organic pantry, McGrath Family Farm in Camarillo has a few bunnies running around. They are pretty shy. You probably won't get to pet them, but they never say "no" to a healthy vegetarian snack.
10. Finally, the wee bunny in the photo below lives with its furry family at Ojai Valley Trail Riding Company. The ranch doesn't specifically have a petting zoo, but kids who do a pony ride get to visit the other animals that live at the ranch as well.
RELATED: Animal Birthday Parties That Come to You