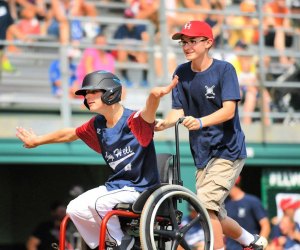 Classes for Kids with Special Needs in LA: After School and Weekend Sports Activities
I have a child on the Autism Spectrum, or, as I like to call it, the Anxiety Spectrum. Every quirk and disability on the Spectrum—from OCD to sensory issues to ADD to dyslexia—goes hand in hand with lots of anxiety. So if you're like me, you can't simply throw your little one into any ol' extracurricular activity and assume it will go well. Noise levels, group-think, verbal directions, physical coordination... these can be overwhelming challenges for some children.
Over the last few crazy years with my family, I've discovered many classes and sports around town for special kiddos. And while I'm no PhD-degreed expert, parent-to-parent I would like to share some ideas with the Mommy Poppins community as we immerse ourselves in another school year.
GYMNASTICS
Kids with special needs often need occupational therapy, and old-school gymnastics classes can be a great supplement. All that tumbling and bouncing around is called proprioceptive feedback in OT terms, and it helps kids regulate their bodies and minds. LA has a great selection of fully equipped gymnasiums; these offer special needs accommodations:
Broadway Gymnastic School
5433 Beethoven Street
Los Angeles, 90066
310-302-0035
Boasting a huge facility adjacent to Playa Vista, BGS is designed for recreational tumblers and competitive gymnasts alike. There's a class or a camp for just about everyone, including a special needs program serving ages 1.5 to adult.
Los Angeles School of Gymnastics
8630 Higuera Street
Culver City, 90232
310-204-1980, ext. 31
This gym is another large facility equipped for Olympic hopefuls but open to the masses, and it has a special education program. It's located on the east side of Culver City, convenient for mid-city parents.
Gymnastics For Life
Coach Shawn Marsh
818-636-3397
Founder Coach Shawn is an award-winning gymnast who worked at several other gyms before starting his own "non-traditional" program. Bonus: He has personally trained a Special Olympics gold medalist. Classes are offered at LA Valley College, or he makes house calls, bringing the gym to your home.
MARTIAL ARTS
Recent research has shown that the discipline and teaching style of martial arts mirrors many professional behavioral strategies used on disabled kids. They also get exercise and learn the concept of individual victory, which fosters self-confidence. These businesses are a sampling of those experienced with special needs:
Jun Chong Tae Kwon Do
6340B Wilshire Blvd.
Los Angeles, 90048
323-658-7570
This mid-city studio has been around for 40 years and has seen its fair share of autism spectrum kiddos. Jun Chong specializes in Hapkido as well as Tae Kwon Do and has extra belt levels early on for kids to promote a feeling of accomplishment.
Five Star Martial Arts
4201 Wilshire Blvd, #105
Los Angeles, 90010
323-933-1708
and
464 East Colorado Blvd.
Pasadena, 91101​
626.644.2054
Those entering the children's mixed martial arts program receive a free trial run (two private lessons, a uniform, and a parent conference to discuss progress and needs) all before committing to a class - very enticing for anyone on the fence.
Dawn Barnes Karate Kids
Multiple locations
After 20 years of teaching traditional Karate to children, Sensei Dawn founded her own simplified style called Gozen, targeted for pre- and grade-school aged kids. Locations span from the South Bay to West Valley.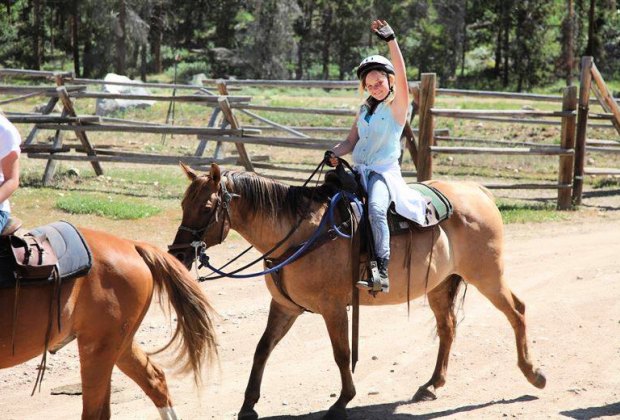 Photo courtesy of Kids Like Me
HORSEBACK RIDING
The pros are still learning ways that riding is therapeutic for many disabilities like cerebral palsy and ADHD. At the very least, it acts as physical therapy and has a calming effect on children. Some special needs kiddos are such riding naturals that they do well with standard lessons, while others need a little extra help at ranches like these:
Ride On
10860 Topanga Canyon Blvd.
Chatsworth, 91311
818-700-2971
Ride On is flush with certified instructors and various therapists. It offers affordable 30 minute to one hour classes for everyone, from the disabled to the "typical" person, so whole families can enjoy this ranch in the San Fernando Valley.
ELSA
Calabasas, 91302
310-403-9665
email
Located in Malibu Canyon, this ranch is also open to the masses. In addition to riding lessons geared toward autism spectrum kids, ELSA offers a general "growth and learning" program pairing individuals with rescued horses and other farm animals. Plus there's a monthly open house Ranch Fun Day for special needs families.
The Children's Ranch
4007 Verdant Street
Los Angeles, 90039
213-447-6456
Serving children and teens of "all abilities," this facility in Glendale emphasizes social skills as well as horsemanship with an array of programs for beginners to seasoned riders, plus other classes fostering ownership and responsibility at the ranch.
SWIMMING
Long recognized as beneficial to the special needs community, swimming is especially great for kids with environmental allergies and asthma who don't do so well on grassy fields or chalky gyms. Like horseback riding, some do well with standard private or group lessons; others need a more specialized approach:
One With The Water
Multiple locations
323-364-SWIM
This business operates out of several community pools around town, offering special needs classes, or appropriately-trained instructors can come to your home for private or semi-private lessons.
Leaps 'n Boundz
Multiple locations
310-821-0963
Known in the autism community for great social skills groups and gym classes (located within Broadway Gymnastics above), Leaps 'n Boundz also offers special needs swim lessons either at your home or at pools in Culver City, Santa Monica, and Pasadena. Its staff is widely experienced and schooled in behavioral strategies.
LA Surf and Swim
310-954-7909
email
The gem here is owner Coach Syd, a competitive body surfer and ex-school coach who gives swim lessons in the ocean or out of a private pool (location given upon enrollment). He has worked with disabled children as well as Olympic trial qualifiers. And yes, he teaches surf lessons, too.
SPECIAL TEAM SPORTS
Kids with disabilities and special needs find team sports especially challenging, so oftentimes families shy away. But there are a some programs around town on a mission to make them more inclusive:
The Help Group "Kids Like Me" Program
13164 Burbank Blvd.
Sherman Oaks, 91401
also: 4160 Grand View Blvd.
Culver City, CA 90066
818-778-7136
This amazing, non-public school, specializing in autism spectrum disorders, offers an array of "typical" extracurricular classes and camp experiences that are tweaked for the autism community. Basketball and soccer are on the current menu (as well as art and dance), which changes seasonally.
AYSO Soccer "VIP" Program
Multiple locations
800-872-2976
email
Something to keep in mind for next soccer season is the VIP program with AYSO. The motto "Everyone Plays" truly means everyone here, and a VIP team can be started in any division where one does not already exist. Typical peers buddy up with the players to provide support, and special accommodations are made for special needs, like shorter game times.
Little League "Challenger" Division
Multiple locations
909.887.6446
Challenger is to baseball what VIP is to soccer: a special needs division that incorporates a buddy system and adjusts the game rules for its disabled players. Teams are formed within a division based on ability. Search for the nearest participating program by zip code on the website.

Originally published October 15, 2013