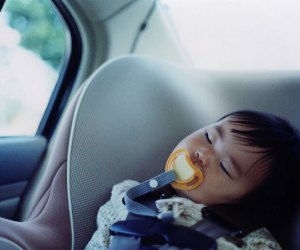 LAX with Kids: Rideshare, Drop off, Pick up, LAXit Shuttles, and Car Seat Options
Hooray, we can travel again, this holiday season! That thought quickly becomes: Oh-oh, we can travel again this holiday season. LAX plus kids plus holidays? There's really no cheap and easy way to do it. Calling Uber or Lyft while pulling bags off the belt doesn't work anymore, and even old-school taxis aren't allowed to wait outside every terminal as they do at other airports. With or without a car seat, departures and arrivals at LAX with kids require a plan.
We've made some calls, followed some links, and shaken some people by the lapels to gather the info below, all of which provide safe transport to the airport for your most precious cargo. And if all else fails? The Proud Bird by LAX has just been given a complete overhaul as a cool food hall that comes complete with a playground AND a liquor license...
LAX Car Services, Limousines, and Rideshares with Car Seats
If you are traveling with a little one who needs a car seat, the best LAX solution may be to book a car service that offers car seats. These services listed below not only drop you and baby off at LAX—they can also pick you up inside the terminal, with car seat installed and ready to go outside.
Choose from a variety of cars including Cadillacs, Mercedes, BMW 5 series, and Suburbans. All drivers have had background checks, and all cars are licensed, insured, and bonded. But the biggest perk of all is that booster, infant, and convertible car seats are available for the entire brood free of charge. For more information call 657.231.6297.
OUR LATEST VIDEOS
This limousine company includes cold bottled water, magazines, snacks, and car seats on request for every vehicle in its fleet. Kick back and relax while somebody else fights bumper-to-bumper traffic in a luxury sedan, stretch limo, SUV, or passenger van. Infant seats, toddler seats, and booster seats are provided for an additional charge. Riders can also save money by joining SafeRide's Frequent Riders program.
Rates start at $125 one way, including gratuity. Families can select rear-facing infant seats, forward-facing toddler seats, or boosters for no additional fee. For more information, call 877.889.4779.
This Westside-based company services all local airports and offers car seats in sedans, SUVs, and limos. Service can be booked 24/7 by calling 310.920.5494.
Although not the cheapest option, LAX Transport has a reputation for solid reliability and flexibility. Car seats are available, and the reservation system is entirely online.
Taxis, Rideshares, and LAXit (BYO Car Seat)
Taxis, Ubers, Lyfts, and other rideshares can drop off but not pick up at the terminals at LAX. Catching one of these for a ride home means first catching the free LAXit shuttle outside of baggage claim, then either calling your ride or lining up for a taxi at the LAXit pick-up area. LAXit is adjacent to Terminal 1, in the old Park 'n' Fly lot, making it a convenient solution for Southwest passengers. If you arrive at Terminal 1, there's no need to catch the shuttle; you will get to LAXit faster walking. From deeper into the airport, it's a bit more of a trek. The shuttle is generally frequent enough to beat walking from Terminals 2-7, though (especially with kids and luggage).
Taxis also have two new spots inside the airport for pick-up: inside Parking Structure 3 between Tom Bradley International Terminal (Terminal B) and Terminal 3, or at the far end of Terminal 7 outside of baggage claim. If you use one of these taxi stands, get a jump on the queue by calling 310.646.9177 as you grab your bags from the belt, so the dispatcher knows to send a taxi to your stand.
Uber Black (the luxury version of Uber) is allowed to pick up at any terminal, and for a large family, the price may well be worth it. But note that Uber does not provide car seats in Los Angeles, even in the luxury version. So this option is only for families who are traveling with car seats.
Public Transport to and from LAX
In addition to all of the various car options, free shuttles run regularly between all terminals and the LAX City Bus Center and Metro Green Line Aviation Station. Low-priced LAX FlyAway buses travel between the bus center and Union Station or Van Nuys. Even cheaper options leaving from the bus center include local bus services to Santa Monica, Culver City, Torrance, and other beach communities.
The Green Line station has low-cost connections to areas served by the Metro system. And all of the airport shuttles are trackable online.
Friends and Family Pick-Up at LAX
At the end of the day, though we are encouraged to keep airport traffic to a minimum, the easiest way to get to and from LAX with kids is still calling in a big favor from friends or family. A great option is to offer the money you might spend on a car service to a trusted babysitter instead. That way your little one can have his or her own car seat and a familiar face. Individuals and private cars are still allowed to pick up at arrivals, on the island across the road from baggage claim.
Happy holidays, and safe travels!
Photo by Miki Yoshihito via flickr