There's A New Co-Working Childcare Lifesaver for East LA Parents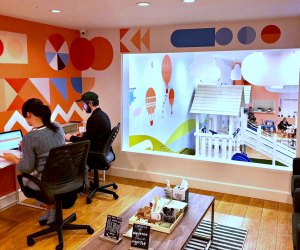 Let's face it, it's extremely hard to squeeze in some extra hours to work with a toddler at home. These days, my son's schedule and needs are unpredictable: naps are shorter and hanging out with mommy is much more fun. The right daycare can come to the rescue, and the Eastside of LA now has a creative new childcare option with an appropriate name—Wiggle & Work.
Wiggle & Work is a co-working space and childcare open six days a week (Monday through Saturday). That means moms and dads are getting actual work done in the same building where their little ones are playing happily. Perhaps it's no coincidence that this place is located in a former East Hollywood church; the huge, colorful space with high ceilings can be something of a paradise for children (ages 4 and under) and their parents.
The indoor playground features a giant structure with slides, a climbing wall, a ball pit, and several stations for different sensorial and interactive experiences. There's a sweet market complete with miniature shopping carts and shelves with grocery items and a kitchen area filled with pint-sized appliances, pots and pans, and wooden food for aspiring little chefs. Little builders and mechanics can revel in the blocks, magnetic tiles, trucks, and train tables area, while mini bookworms can sit in the quiet reading corner, grab a book, and let their imagination soar.
A few working desks are located in the snack/lunch area by the playground's entrance. These are for parents who need to get work done but prefer to stay in close proximity to the action in case their tots need an extra hug between play sessions. Professional caregivers are there to comfort and interact with kids, too, but sometimes (especially during the first visits) nothing equals mommy's or daddy's attention.
Photo by Margaret Gruesbeck / Gruesbeck Studio Heirloom Portraits
In the back, past the playground and the cozy breastfeeding zone, there's a small childcare room designed and equipped for babies and one- and two-year-olds. The floor is covered with colorful foam puzzles and, like every room at Wiggle & Work, the walls display some whimsical murals in warm shades. There are pack-n-plays for naptime, highchairs, a mini table with chairs, and baby toys—but, most importantly, another set of highly-qualified nannies.
Parents whose brave toddlers are already over their separation anxiety usually sit in the co-working area located on the second floor, overlooking the playground. The room—stocked with coffee, tea, and water—comes with four desks and three armchairs and features a tv screen showing the childcare room. Every parent who sits upstairs is given a pager in the event they're needed in the small or big playroom. Yup, even brave toddlers sometimes get nostalgic or unruly! Momentary crises are usually solved in a few minutes, with all parties going back to their business (work and play, of course). Next to the co-working office, there's a private talk box for conference calls, and a large room with a sofa and coffee table which serves as a space for brainstorming sessions, meetings, and networking events.
Work sessions are divided into two-hour slots from 9am to 5pm and can be booked or canceled up until an hour in advance through Wiggle & Work's app. (Hurray for that! I can't count how many times I've decided to go on a whim and successfully booked a session last minute.) The app is a great tool to buy and manage memberships (hourly rates range between $10 and $17), and stay current with events (like weekly storytime). The indoor playground is available for open play to any child supervised by his or her own parents, caregivers, or nannies for $15 per day (in and outs are allowed), for a monthly membership, or a prepaid package. The playground can also be rented for birthday parties on evenings and weekends.
Wiggle & Work plans to expand the current eight co-working spots up to 20. But even on a busy day, I've always been able to find my quiet and inspiration there, and my toddler is engaged and happy. Amen!
Photos courtesy of Wiggle & Work, unless otherwise noted