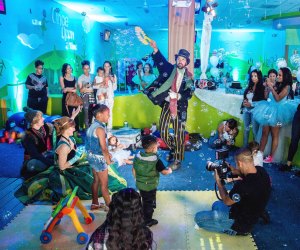 6 Restaurants Ideal for Throwing a Kids' Birthday Party in LA & OC
Planning a birthday party for your kid can be tough, no matter how easy-going your little one might be. Beyond balloons and party favors, there's the question of where to have the shindig (unless you have a large home you're willing to clean extensively before and after). The location has to be family-friendly, fun—and has to serve food your kids (and a lot of other kids) will eat. A restaurant is a good pick, but which one will let you bring in a horde of hungry, bouncy kids? We've found six that serve up lunch and a side order of playtime so you can relax (or, more likely take lots of photos) while the kids run off all that great food you didn't prepare.
• Pirates Dinner Adventure
7600 Beach Blvd
Buena Park, 90620
While by no means a cheap option, Pirates Dinner Adventure is a chance for pirate-obsessed kid to see real swashbuckling and maybe even get involved (up to 150 volunteers are pulled into the show) while filling up on fine pirate fare. There's a variety of meal options (even vegan and gluten-free), but this adventure is definitely about tuning in to what's happening on stage. Bring your party guests and you can also get a birthday shout-out during the show. Cake (complete with candles) is available for an extra fee.
• Giggles 'n' Hugs
6600 Topanga Canyon Blvd. #2008
Canoga Park, 91303
or
3222 Glendale Galleria Way
Glendale, 91210
How about a superhero party? Or a princess party? Maybe your kid would prefer a mermaid theme or a rock star shindig? Giggles 'n' Hugs offers two-hour private and semi-private parties with colorful themes and play admission for all your guests, at both of its Valley locations. This kid paradise offers organic, locally-grown, and vegan dining options, and after the kids eat you can toast to the birthday kid (yes, they serve wine) and head back to the play area for group activities such as karaoke, face painting, dance parties, and zip line (part of what makes this place so fantastic for birthday parties).
OUR LATEST VIDEOS
• Great Wolf Lodge
12681 Harbor Blvd
Garden Grove, 92840
You probably don't associate this Disneyland-adjacent water park with its restaurant, but believe it or not, the Loose Moose restaurant at Great Wolf Lodge has wonderful variety, healthy options, and a darn good buffet that accommodates food allergies and other dietary needs. Not everyone realizes that you don't have to be a hotel guest to eat at the restaurant, which also has frequent character appearances and a super kid-friendly staff. Time your party right and your kids can catch story time in the lobby, a character breakfast, or over-the-top holiday decor. There is also the option to add on any of the fun that isn't about getting into a swimsuit, including an arcade, bowling alley, glow-in-the-dark mini-golf, a 4-D theater, nail salon, and an interactive scavenger hunt game. The restaurant itself has no view of the water park, so eating there won't feel like a cheat to unsuspecting kids.
• Farrell's Ice Cream Shop
8650 Beach Blvd
Buena Park, 90620
Who doesn't love an old-fashioned ice cream shop for a birthday party atmosphere? Just reserve a table (it gets busy) and bring the celebration with you. For countless families over the generations, Farrell's has been a birthday tradition, so the crew is happy to celebrate with your kid. There are party packages available, plus a full lunch and dinner menu if you're going to stay a while.
• Lemon Tree Kids Cafe
621 S. Western Ave. #111
Los Angeles, CA 90005
Koreatown's Lemon Tree Kids Café is a great solution for a party, offering a private room (or the main dining room if your little one has at least 50 friends coming), full meals for all the kids, and two hours of play time in the kids' area with the carousel, mini train, jungle gym, ball pit, face painting, etc. If your goal is to feed everyone well, run them till they drop, and finish the day in a home untouched by children, a Lemon Tree party checks all the boxes.
• Medieval Times
Knights, horses, eating with your hands —what's not for a kid to love? Your little princess will appreciate that the storyline now has a queen overseeing the jousting, too. Medieval Times also has a special offer for birthday parties -- for an additional $10 per person, guests receive a group photo, a slice of cake, and a frozen strawberry slushie in a souvenir castle cup. The birthday boy or girl also gets a birthday announcement during the show and there's a cheering banner for the party.
Want an entertainer to turn up for your party? Check out some of these ideas.