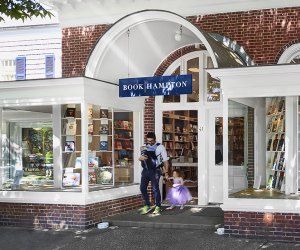 Storytimes on Long Island for Children and Toddlers
It's always a good time to enjoy a good book and Long Island offers an array of storytimes -- many of which are free -- that will captivate your little listener. From inspiring museums to cozy independent bookstores, storytimes are happening all over the island and many of these read-a-longs offer children the chance to express their own creative spirit with a fun craft or activity afterward.
There is no shortage of indoor activities on Long Island during these chillier months. Be sure to check out Mommy Poppins' Guide to Indoor Play Spaces for Long Island Kids. For more active indoor fun, you'll love The Best Indoor Ice Skating Rinks for Long Island Kids.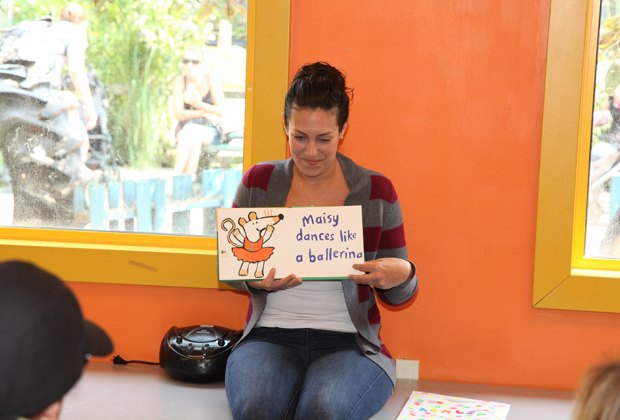 Children listen to this fun story about Maisy the ballerina at Long Island Children's Museum stART (story + art) time. Photo courtesy of Long Island Children's Museum
Nassau
One of the most prized locations in Port Washington, the Dolphin Bookshop has been a family favorite in this area since 1946. This store offers a variety of special children's events, including children's story hour. Children are invited to come in and listen to a story, as well as interact with each other. Often times the author visits Dolphin Bookshop, reads their story and engages children in a themed craft. Storytime is every Sunday morning at 11:30 a.m. It's free and appropriate for children ages two to seven years old.
Rock Hall Museum's unique storytime regales the story of American Girl doll Felicity: she has a special connection to the house. Felicity's story can be heard one to two times throughout the year in the Guest Parlor at Rock Hall. Additionally, groups of 15 or more can arrange and schedule to have an American Girl doll story read especially for them. Guests choose their story and, of course, the guests' American Girl dolls are invited too. There is a $5 fee and refreshments and a tour of the museum are included. Check the website for scheduled storytime or to arrange a private story book reading. Storytime is for children six to ten years old.
The Long Island Children's Museum celebrates children's literature with their captivating storytime: stART, story plus art. Children gather in a reading circle for thirty minutes of storytime and are then given materials related to the story and its illustrations to create a craft at the workshop tables. Storytime is held twice weekly, Tuesday and Thursday from 11:30 a.m. to noon. stART is geared for children ages three to five years old. The stART workshop fee is $4 with museum admission and $3 for LICM members.
Combining storytime and art, Nassau County Museum of Art's Story Tots is an exciting and interactive experience for children and their caregivers. Children listen to a carefully selected story and then express their artistic talent by creating a work of art related to the story's theme. Story Tots is located in The Manes Center and held most Fridays from 10 to 11 a.m. Story Tots is free for members and $5 for non-members. It's recommended for children ages three to five years old.

Children show off their shimmering crafts after listening to stories at Long Island Maritime Museum's storytime in West Sayville. Photo courtesy of Long Island Maritime Museum
Suffolk
Children will dive into the underwater world of the ocean and marine life at Story Time by the Bay at the Long Island Maritime Museum. This storytime starts with a fun sea-themed story followed by a related craft. Caregivers must stay with their children and everyone is welcome to explore the museum after storytime. Reservations are recommended and this program is free and geared toward children ages three to five years old. Storytime is held most Thursdays from 10 to 11 a.m. Check the website for specific dates for storytime. Storytime is not offered during summer break.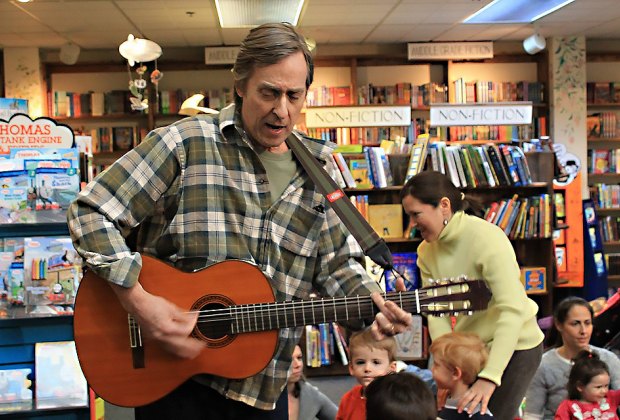 Guitarist Jeff Sorg adds a musical touch to storytime with singing and dancing for children and families at Book Revue in Huntington. Photo by AnnaLee Barclay
Long Island's largest independent bookstore offers a lively storytime that's fun for children and caregivers. At Toddler Time children will hear a fantastic story, make a craft and once a month guitarist Jeff Sorg hosts a musical storytime with dancing and singing. The children's area includes a wooden fire truck book reading nook. After all of the storytime excitement, visit the cafe for freshly baked cookies, specialty sandwiches and delicious coffee. Storytime is every Thursday at 11 a.m.; it's free and geared toward toddlers. Check the website for specific storytime events and dates when Book Revue is closed.
The Whaling Museum & Education Center located in Cold Spring Harbor hosts a storytime that's perfect for sea-loving children. The classic One Fish, Two Fish, Red Fish, Blue Fish is among the many stories read to children to capture their interest and imagination. Children enjoy a snack, make a craft and even go on a scavenger hunt around the museum after the story. Storytime is appropriate for preschoolers. A $12 fee covers one child and their two grown-ups; members pay half price. Times and days vary, check the website for details of upcoming storytimes and other events for children and families.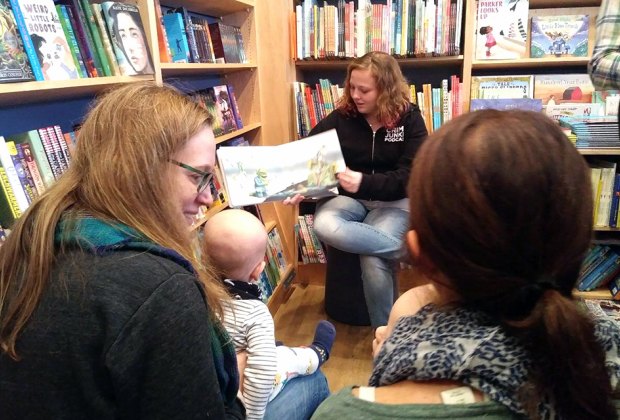 Families share in the joy of storytime on Sunday morning at BookHampton in East Hampton. Photo courtesy of BookHampton​
East End
On the first Friday of the month, children enjoy Pizza & Pajama Night at The Children's Museum of the East End. This popular monthly event includes an endearing story read to the children, delicious pizza, open play in the museum, crafting or an engaging activity – all while children are cozy wearing their favorite pajamas. The museum also has occasional live readings from authors: visit their website for all upcoming family-friendly events. Pre-registration is encouraged. Call the museum or register online. The program is for museum members only and there's no fee. Children need to be accompanied by a caregiver. All ages are welcome.
You won't want to miss storytime at Greenport's beloved independent bookstore. Whether it's a children's author or devoted staff member reading for storytime, children will delight in the experience of listening to magical stories. Storytime includes an exciting activity for children after the story. Be sure to allow time to browse their beautifully curated children's section. Please check Burton's Bookstore calendar on their website or call for more information about storytime.
BookHampton is a Long Island staple of more than 40 years. Stories are read by the store owners or other employees, authors, and even celebrities. (Alec Baldwin is known for stopping in and reading a story from time-to-time.) Storytime is usually on Sunday at 10 a.m. and it's free. Give them a call or visit the website to find out about upcoming storytimes.
Book Warehouse of Riverhead hosts storytime for children of all ages. Stories, crafts and surprises entertain children and promote a love of reading. Special holiday-themed storytimes are sure to bring joy to children and families. Call Book Warehouse to learn about upcoming storytime events.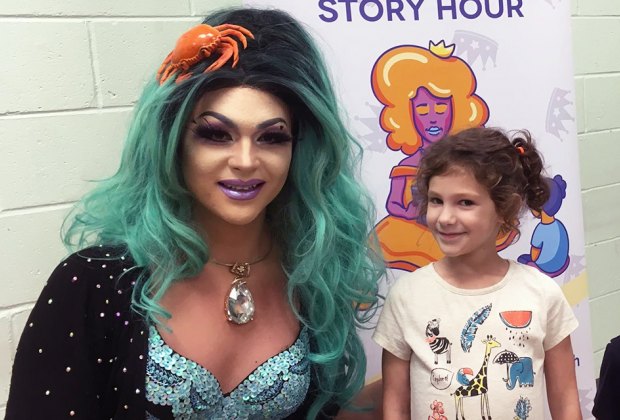 Drag Queen Story Hour's Bella Noche brings big smiles and broadened minds to children and families on Long Island. Photo courtesy of Drag Queen Story Hour
Multiple Locations on Long Island
This unique storytime broadens the minds and imaginations of both children and adults. Stories of love and kindness are read by Bella Noche, Drag Queen Story Hour's Long Island chapter storytime reader. Children will engage in songs, interactive stories, crafts and more. This storytime is open to children of all ages. Visit Drag Queen Story Hour for times, locations, fees and more information.
With multiple locations throughout Long Island, Barnes and Noble hosts special events, including children's storytime. Often, authors arrange to read their books to children at storytime. In addition to being able to hear some great works of children's literature, your little ones will also be able to browse through the books, play with toys and make crafts. Check out Barnes and Noble in your area to see if they offer a storytime event.
Local Library
Many local libraries on Long Island offer fun and engaging storytime for children. Ensconced in the library's endless shelves of children's literature, children are bound to fall in love with reading. In addition to storytime, children will enjoy an array of activities, workshops, educational programs, musical classes and more. Call or visit your library's website to find out if they have storytime.
This post was originally published in 2014. It was updated by Molly England in 2019.