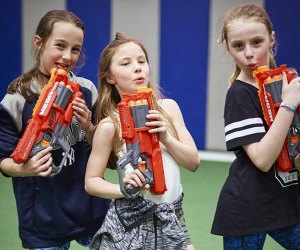 Best Places on Long Island to Host Nerf Parties
Nerf parties offer a fun and safe way to play indoor war games without the threat of breaking Grandma's prized china cabinet. Bonus, these indoor games are available year-round and aren't dependent on weather or time of day. So let the kids loose at these indoor obstacle courses, where they can have a rootin' tootin' shootin' good time.
Ready, set — pew pew!
Check out more birthday parties for active kids here or obstacle courses, rock walls, and ninja training here.

Get geared out in Nerf at Ricochet Tactical in Levittown. Photo courtesy of Leah Walsh
OUR LATEST VIDEOS
Nassau County
516-581-1620
Located in the basement of Tri-County Flea Market, a Nerf party at Ricochet Tactical includes three hours of gameplay, all equipment, and safety gear, as well as a party room for celebrating. Inside The Clubhouse, is a Nerf/Rival and Tactical Dodgeball indoor arena. They also offer Bazooka Ball, a children's friendly version of paintball. Instead of actual paintballs, kids use 2" foam ball, which are spongy and gentle and GOTCHA, which has evolved from the fast-paced sport of paintball to incorporates elements of tag. They recommend these parties for ages 8 and up.
516-536-8451
Customize a birthday party at Sportset Kids with a Nerf game add on (recommended for ages 7 and older). Party peeps will lead all of the fun in the 5,000 sq. ft. state-of-the-art indoor turf field. Parties also include invitations, paper goods, one hour of games, and a half-hour for pizza. Families supply the dessert.

At Long Island Sports Hub, kids ages 6-13 can play Nerf Wars on a giant indoor obstacle course. Photo courtesy of Long Island Sports Hub
516-364-4000
At Long Island Sports Hub, kids ages 6-13 can play Nerf Wars on a giant indoor obstacle course, complete with 30-foot ceilings that bring games like Capture the Flag to the next level. In addition to birthday parties, Long Island Sports Hub hosts drop-in events on various evenings that are broken up into two age groups; 6-9 and 10-13. Boys and girls welcome!
Ultimate Performance + Fitness — Jericho, Glen Head, Glen Cove, Port Washington, Old Westbury
Parties at these Nassau County spots are packed with tons of activities like Nerf war, ninja warrior, color war, flag football, soccer, basketball, wiffle ball, dodge ball, hockey, kickball, relay races, obstacle course challenges, tug-of-war, dance, and glow-in-the-dark parties. They're 60-90 minutes in duration and include two party coaches, set up clean up, equipment and more. Enjoy a party structured right to your own backyard or local park. Indoor options are available in Glen Cove, Glen Head, Jericho and Port Washington.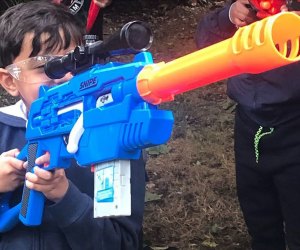 The Snipe is always the crowd favorite at NY Dart Zone in Holbrook. Photo courtesy of NY Dart Zone
Suffolk County
631-954-8021
Birthday parties include 110 minutes of foam play in the arena — referees included, paper goods, and a half-hour of soda and pizza! Check NY Dart Zone's webpage for drop-in open Nerf play dates as well! Kids can bring their own blasters, just make sure it is labeled and leave the ammo at home. Bonus, their NY Dart Zone Mobile Division brings the Nerf parties right to you for birthday parties, block parties, field day, and more. They even set up an inflatable obstacle course for optimal hiding and dodging.
631-242-1197
Hit up a public Nerf session for ages 12 and younger at StrikeForce Sports. Bring your own blaster, but the venue will supply the ammo. Or set up a custom two-hour birthday party, which includes 60 minutes of gameplay, rental Nerf blasters, safety glasses, and darts for every player (recommended for ages 5 and up). They also offer GOTCHA as well for ages 8 and up.