Where Aspiring Ice Hockey Stars Can Learn to Play in Westchester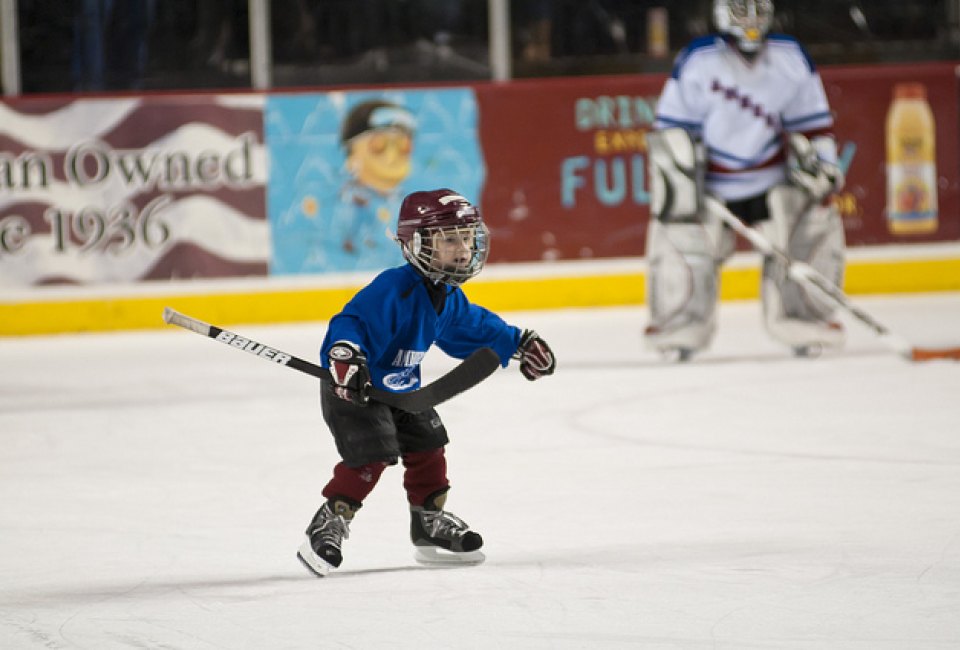 2/15/14
- By
Christi O'Donnell
At the 2006 games, 15 year old Valentina Bettarini broke world records by being the youngest Olympic hockey player, male or female, that the sport had ever seen. That means that today's 7 year olds already have a shot at Olympic gold in the 2022 competition. Set them on the right course early with a good ice hockey program.
Earlier this week, we let you know about the many places around Westchester where kids can learn figure skating. If hockey's more your thing, try out one of the beginner, intermediate or advanced ice hockey programs offered by these Westchester ice rinks.
Westchester Skating Academy - Elmsford
91 Fairview Park Drive
Get your preschooler out there on the ice with the Westchester Skating Academy's Super Tot Hockey program. After completing Snow Plow Sam Learn To Skate classes 1-3, skaters age 4-6 learn the fundamentals needed to participate in one of the academy's leagues. After Super Tots, girls and boys ages 4-6 move up to the Mini Mites Rising Stars league. This 13 session program requires full equipment and gets kids on the ice with 40 minute instructional periods and 20 minutes of scrimmaging each week. Following Mini Mites, kids move up to the Youth Metro League which continues to have teams for a variety of levels, as well as the option of being part of a traveling team. An extensive selection of camps are also available during school breaks.
Hommock's Park Ice Rink - Larchmont
140 Hommocks Road
At Hommock's Park, hockey players between the ages of 5 and 8 start the program off with a mandatory Pre-Hockey Group Skating Lesson, offered through the rink's skating school. It is a single session that allows kids to refresh their skills and instructors to gauge kids' levels of experience and confidence. The House League Hockey Program takes place twice a week (practice on a week day, games on Saturdays) and is divided into 4 levels based on ability. Kids age out of this program at 12 and generally switch over to the Mamaroneck Youth Hockey Association. The Mamaroneck Youth Hockey uses Hommock's Park Ice Rink as its home rink.
Edward J Murray Skating Center - Yonkers
348 Tuckahoe Road
The Edward J Murray Memorial Rink in Yonkers offers two house leagues for aspiring hockey stars; one for ages 11 to 14 and the other for ages 10 and under. Hockey clinics are offered frequently and last for 29 weeks. These clinics are unique because they are prorated; rather than signing up at the start, participants can sign up at any point during the clinic. It is suggested that novice players participate first in the ice skating classes to gain their footing. There are also a number of recreational travel leagues that use Edward J Murrary as home turf.
Brewster Ice Arena - Brewster
63 Fields Lane
Just a hop across the Westchester boarder in Putnam County, the Future Rangers program at the Brewster Ice Arena is affiliated the the New York Rangers. Designed for beginners ages 4 though 10 the program consists of 10 sessions designed to teach basic hockey skills (participants must be able to skate!). Once they have the basics down, kids can join one of the skill-level based in-house league teams for an entire season of ice-hockey fun. Travel leagues are also available. Both programs require full equipment to participate.
Find more winter activities for kids in our Winter Fun Guide.
Creative Commons image credit: Ryan Scott
Sign up for the Mommy Poppins Newsletter today!
i