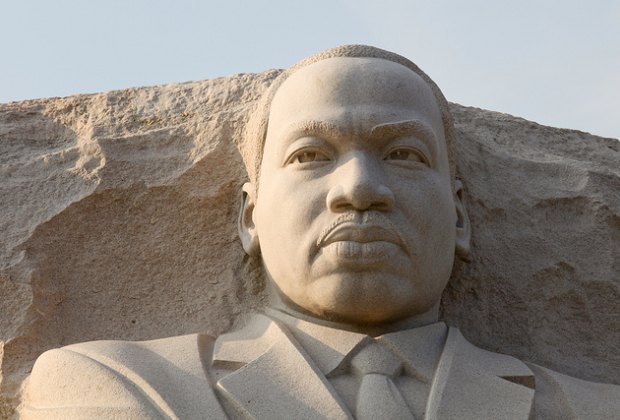 Kid-friendly Volunteer Opportunities for Martin Luther King, Jr. Day of Service
Are you hankering for a day off? (Okay, rhetorical question.) How about a day on? That's right, a day on: a day in service to your neighborhood and community. We agree, it's an appealing idea. And the good news is that not only is the third Monday of January a federal holiday with parades (and more parades) honoring the legacy of Martin Luther King, Jr.; it's also a recognized day of service, a day to honor Dr. King's teachings and good work by volunteering. Opportunities abound, so why not consider joining the effort? The kids are invited, too.
The MLK Day of Service has been observed for nearly 20 years but didn't gain widespread attention until 2009, when President Obama encouraged Americans to support their communities by lending a hand. Said the then President-elect, "As we honor [Dr. King's] legacy, it's not a day just to pause and reflect—it's a day to act." The MLK Day of service is now part of United We Serve, an initiative that encourages volunteerism and social action all year long - a way for all citizens to manifest Dr. King's powerful ideas through "...service projects that strengthen communities, empower individuals, bridge barriers, and create solutions."

How do you find an opportunity right for you and your family? Serve.gov is one place to start. LA Works also maintains a list of project ideas, dates, and times, as does idealist.org. Or consider one of these:

Feed the Hungry
Torrance Farmers Market
Most Saturdays
12pm-2pm
Ages 12+ (youth under 18 must be accompanied by an adult)
Food Forward regularly visits farmers markets as they close for the day, to collect food that might otherwise be wasted and bring it to people in need. Boxes are distributed to farmers at the beginning of the market and picked up for charitable organizations at the end - a great opportunity to bring home a message about wasting food! Full details are given upon registration.

Care for Rescued Rabbits
Hawthorne, CA (specific address given upon registering)
Most Saturdays
10am-12:30pm
Ages 5+
Join the PetSave Foundation in feeding, cleaning, and socializing rescued rabbits in need of some attention at this no-kill shelter. Rabbits may be available for adoption. Sign up at the link above for any of the available Saturday morning shifts.

Tree Care Program
Agoura Hills (specific site address given upon registering)
Saturday, Jan 16, 2016
9am-12pm
Volunteers under the age of 13 must be accompanied by an adult. Youth under 18 without an adult must provide a signed parental consent form.
Volunteers help to halt the invasion of weeds on the trails and wetlands.

Creative Corner
Gardena (specific address given upon registering)
Most Sundays
1pm-4:30pm
Ages 14+
Trash for Teaching helps cultivate creative upcycling by inspiring imaginative projects. Volunteers ages 14-17 must bring a signed volunteer agreement from a parent. Check the website for specific requirements.
School Beautification Project
Woodcrest Elementary School
Monday, January 18, 2016
8am-2pm
Ages 5+ (youth under 18 must have signed Volunteer Agreement and Release; youth under 14 must be accompanied by an adult)
Pull out a paint brush, pick up a shovel, and help a local elementary school transform its grounds and repair its murals. Volunteers must sign up to participate, and full location details are provided with registration.

If you can't find an a project that's right for you, consider organizing your own service activity. The MLK Day of Service website offers a toolkit that guides you through the process of organizing your own event and team. The website also offers other kid-inclusive volunteer ideas.

Lastly, don't worry if you have other plans on the actual day. Instead, use the Day of Service initiative as motivation to volunteer another day. There are seemingly endless, on-going opportunities. Or do something spontaneous and informal like picking up litter in your neighborhood, helping an elderly neighbor with yard work, assisting a burdened friend with childcare - anything that helps bridge community gaps, mends, inspires. We all have something to give. And as the great leader himself said, "Everybody can be great...because anybody can serve. You don't have to have a college degree to serve. You don't have to make your subject and verb agree to serve. You only need a heart full of grace. A soul generated by love."

Photo by PBS NewsHour via flickr
Post originally published January 10, 2013