Indoor Gyms Where Westchester Kids Can Learn, Play, and Exercise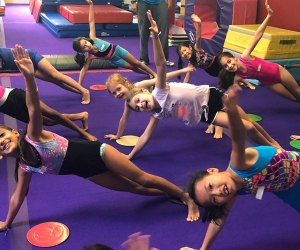 We've rounded up seven fun-filled kids' gyms (many with more than one location) that offer everything from classes and camps to open play and more. Whether you're looking to drop off the older kids for a class, join in with the little ones during a parent-and-me, or simply sit and enjoy a nice break while the tots get their sillies out, these gyms are sure to please both kids and their parents.
Read on for more details on seven indoor kids' gyms in Westchester. And be sure to sign up for our FREE weekly newsletter to have all our latest posts delivered straight to your inbox!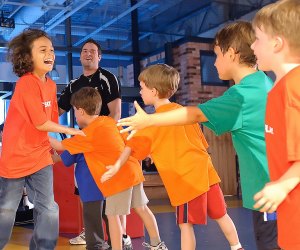 Great Play's Interactive Arena offers programs for kids ages 6 months to 10 years.
Great Play – Scarsdale
6 months – 10 years
We mentioned Great Play in our roundup of indoor play spaces, but it's worth another mention here. Great Play is all about making it fun for kids to develop motor skills, sports skills, fitness and coordination, with unique programs for each stage of development. With open-play hours, parties, and classes specifically tailored to every age and skill level, this kids gym has so much for little ones.
Gymboree Play & Music – Scarsdale, Yorktown, Nanuet
Infant – 5 years
Gymboree has two locations in Westchester, plus one in Rockland. Its programs are designed to help young children learn and develop as they take part in everything from gymnastics to music and art, social skills and more. Classes are available for kids up to 5 years old—and you can either join and pay a monthly fee or stick with a 10-class card.
Jodi's Gym – Mount Kisco
9 months – 14 years
If you're looking for a place to take your kids from when they're little ones up through the early teenage years, Jodi's Gym might be the place for you. It starts with "playtime" from 9 months old, and then kids can take a variety of classes, depending on their age—from Mighty Muscle Movers starting at age 1 to tumbling classes for preschoolers to a Ninja Challenge for kids from age 4 through 5th grade. Plus, there are a series of gymnastics classes available for kids up to 14 years old. The gym offers parties, camps, and mini-camps
Kids U – Port Chester and Pleasantville
18 months – 6 years
Founded by parents of young children in 2003 who were frustrated by their own experiences with other gyms, Kids U is an exclusive activity center offering classes, parties, camps, and more. Enrolling in a class at Kids U comes with unlimited access to the PlayQuad—a large, multilevel gym in a 2,000-square-foot facility offering dynamic and exploratory play at various hours during the week and weekends. (Don't want to take a class? The Pleasantville outpost also offers PlayQuad Passes.)
Kidville – Mount Kisco
4 months – 5 years
This gym for the 5-and-under set offers a variety of kids' gymnastics classes, as well as music, art, science and dance. With open play space hours for members, in addition to scheduled classes and events, camps, and parties, it's sure to keep kids entertained.
The Little Gym – Scarsdale
4 months – 12 years
This learning and physical development center strives to help kids become more confident through classes such as gymnastics, karate, dance, and sports skills. It also hosts specialized events, parties, camps, and more.
My Gym — Larchmont, Dobbs Ferry, Yorktown, Nanuet
6 weeks – 11 years
With four locations in the area—including the newest in Dobbs Ferry—this gym offers classes for kids as young as six weeks old and goes up from there, with activities based on the child's age. It also offers special events, like the Be My Valentine party in Yorktown, along with camps during school breaks and the summer.
The Play Place — Elmsford
6 months – 10 years
Whether the weather isn't cooperating, or you're just looking for something to do on a Saturday afternoon, The Play Place in Elmsford offers an indoor playground where kids can run around for up to two hours at a time. Plus, it offers classes—from soccer and tennis, to karate and dance—and are a popular spot for birthday parties for the preschool set. Planning to visit often? There are monthly membership plans available.
24-Hour Fitness – Pelham and Nanuet
6 months – 11 years
While parent-and-me classes are fun, sometimes it's nice to know you can drop the kids off while you do something for yourself. The two 24-Hour Fitness locations listed here offer a Kids' Club (there are others in the area, like in Yonkers, without the option) for kids up to 11 years old, where they can take part in various activities.
Originally published in 2014.