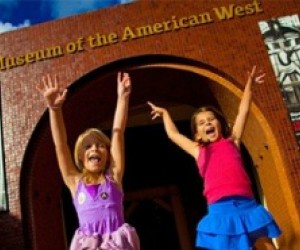 Fun & Free Things to Do This Weekend with LA Kids: Frozen, Hanukkah Festivals, & the Autry is 25, Nov 23- 24
Okay, you've got like maybe a five minute breather before all holidays break loose. You know what I'm talking about. The Thanksgivikkah convergence, in which you must ask your child to channel sublime gratitude while opening the floodgates to eight crazy nights of "me want." I'm talking about the late-on-the-scene Turkey Day resulting in a shorter than usual shopping season, (though someone might want to tell that to the elves already decorating our local malls). I'm talking about non-stop jingling bells, twinkling lights, and shaking jelly-bowl bellies from now until the new year.
But this weekend, and probably this weekend alone, does not HAVE to be about the holidays. You can celebrate fandom and circus life, toast the Autry on its anniversary, or call me Ishmael with all the other whale-heads reading Moby Dick on the beach. You can see Disney's Frozen a full five days before the rest of the country. You can dance in your pj's, bust some myths or bust some moves with female mariachis. You can give thanks, not in a turkeys and pilgrims way, but in a grateful for good health way.
Or you can dive in with both feet and make this weekend an all Hanukkah, getting ready for Christmas, holiday superfun time for the ages. We've got your back either way.
To get you started, here are our favorite picks for the weekend:
ALL WEEKEND
Autry 25th Anniversary Weekend - Griffith Park
The Autry celebrates its 25th with tours, screenings, and a scavenger hunt. And cake, of course, there's cake.

Long Beach Comic & Horror Con - Long Beach
Move over, San Diego. This weekend, Long Beach is bringing the fan boy fun.

Circus Vargas - Torrance
The family-friendly, animal-free circus continues its run at the Del Amo Mall this weekend.

Frozen (PG) - Hollywood
El Capitan audiences can see Disney's latest animated feature a full five days before its national release. While you're there, be sure to check out the new Ghirardelli Soda Fountain next door – serious chocolaty action.

Moby Dick Reading on the Beach - Venice
Know what would make an awesome storytime book? Moby Dick! All 209,117 words of it. Sit back and listen as the whole book is read aloud on Venice Beach.

Westfield Santa Anita Free Ice Skating - Arcadia
The free skating at Westfield Santa Anita continues this weekend. Pardon my triple Salchow. (Plus two more outdoor ice rinks open this weekend.)

SATURDAY NOVEMBER 23

A Faery Hunt - Simi Valley - Simi Valley
If you're heading to Corriganville Park, be on the lookout for faery folk.

Saturday Morning Concerts at Books and Cookies - Santa Monica
Teacher Davis brings the musical fun to Books and Cookies.

Free Crafts for Kids - Multiple Locations
A silly turkey hat is just what you need to finish off your Thanksgiving look. Make one at the free weekly craft at Lakeshore Learning.

Baby Loves Disco LA - Downtown
Break out your pjs, because Baby wants to dance. And eat cereal.

FIGat7th Kids Club - Downtown
Kids can get ready for Thanksgiving at FIGat7th Plaza with a mat-weaving placemat craft.

Santa Monica Place Kicks Off the Season with HGTV - Santa Monica
Santa Monica Place gets the holiday season off to a good start with the music of Il Volo, HGTV host Carter Oosterhouse, and a visit from the Claus man himself.

MythBusters: Behind the Myths Tour - Costa Mesa
You know them, you love them, you've watched them blow things up – all in the name of science. The MythBusters bring their unorthodox approach to experimentation to the Segerstrom Center for the Arts.

SUNDAY NOVEMBER 24

Hanukkah Family Festival - West LA
Hanukkah and Thanksgiving falling on the same day? That calls for some serious partying! The Skirball Cultural Center obliges, with festive, original and "outrageously hip" performers, and fun Hanukkah themed crafts.

St. Jude Give Thanks. Walk. - Hollywood
Paramount Pictures Studios plays host to a 5K walk to raise funds for St. Jude Children's Research Hospital.

Mariachi Festival - Boyle Heights
It's a day filled with Mariachi at, where else, Mariachi Plaza!

Hanukkah Family Fun Day - Malibu
The Shalom Institute uses one day to provide enough fun for eight nights, with farming fun, cider making, tree planting, archery, a zip line, climbing wall, and much more.

Stories in the Afternoon - Pasadena
Climb aboard the Norton Simon's Stories in the Afternoon for tales of travel.

Family Jam: Peruvian Dance and Music - Westwood
At this month's Family Jam families can listen to the melodic sounds of music from Peru, then make a pan pipe.

Make a Gift Workshop: Wine Bottle Candle Making - Culver City
Parents and kids can work together to transform old wine bottles into candle holders at the reDiscover Center.

Zimmer Sunday Family Programs - Mid-Wilshire
Kids can create garlands of gratitude to decorate their home for Thanksgiving.

Rodeo Drive Holiday Lighting - Beverly Hills
Rodeo Drive does the holidays in style, with more than 150,000 lights, ice sculptures carved with chainsaws, and more.